Oh No They EsconDIDN'T: BHP Stares Down Barrel of Strike Action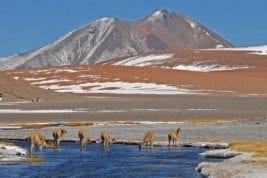 Anglo-Australian miner BHP Billiton is facing possible strike action at its Chile-based Escondida mine, the largest copper mine in the world.
The unionized workforce at BHP's (ASX:BHP,NYSE:BBL,LSE:BLT) Escondida copper mine in Chile has overwhelmingly voted to take strike action after rejecting the Anglo-Australian miner's counter offer to its demands.
Reuters reported on Thursday (August 2), that of the 2,330 union members that voted over the four-day period, a whopping 1,955 voted to go on strike, or almost 84 percent.
The news of strike action brings back echoes of 2017's 44-day strike, which reduced copper output at Escondida by 63 percent in Q1 of that year.
BHP's offer to head off similar action in 2018 of a US$27,000 signing bonus and a wage hike tied to inflation rates appealed to less than a fifth of the voting workers, with 370 voting to accept the offer.
In a communique sent to Reuters, the leaders of the union said the expectations of the workers were crystal clear and the only way forward was a better offer.
"We hope that given this clear wish to reject the company's offer, which has been expressed in a mature and democratic way by our bases, the company will see the need to find an agreement that recognizes our rights," they said.
BHP is yet to comment on the development, having stayed mum on the subject since the union indicated workers were not satisfied with the company's "final" offer.
The union and its workers had been requesting a bonus equal to 4 percent of profits (or up to US$40,000 per worker) and a pay rise of 5 percent. When the demands were revealed in early June, the union said rising copper prices were part of its justification for the demands.
The union has offered BHP a window to avoid a strike though, giving them until August 6 to improve its offer before preparations for strike action took place. The company is expected to seek assistance from Santiago to mediate a resolution and delay action by up to 10 days.
Escondida is the largest copper mine in the world, accounting for 5 percent of global production and producing over a million tonnes of copper in 2017 despite the strike action then. The next largest mine, Freeport McMoRan's (NYSE:FCX) Grasberg in Indonesia produced 550,000 tonnes.
As of the August 1, copper was trending down again at US$6,136.5 on the London Metal Exchange after 5 trading days of recovery between July 19 and July 26, where it rose from US$5,981 to US$6,254.
The July 19 low represents the floor (so far) for the red metal's value for 2018, after starting out the year at US$7,180.5.
More noises from tariff-happy Donald Trump appear to be behind the interrupted recovery of the copper price, with the US President reportedly considering a 25-percent tariff on an additional US$200 billion worth of goods from China.
On the Australian Securities Exchange, BHP was trading at AU$33.92, closing down 3.3 percent on Thursday.
Don't forget to follow us @INN_Resource for real-time updates!
Securities Disclosure: I, Scott Tibballs, hold no direct investment interest in any company mentioned in this article.