Overview
Back in 2001, the National Human Activity Pattern Survey by the United States Environmental Protection Agency already stated that Americans spend around 90 percent of their time indoors. Author and Stanford University Professor Wayne Ott studied this data from 12 western countries and concluded, "The finding that emerges is that we are basically an indoor species."
Fast forward to 2020 and the world is hit by a pandemic caused by a highly transmissible, airborne virus that reinforces the need for safe and effective sanitizing solutions to protect facilities, employees and consumers.
Indoor air quality has become an even more important issue as world economies start the recovery process. In 2021, 39 scientists reiterated the need for a "paradigm shift" and called for improvements in, "how we view and address the transmission of respiratory infections to protect against unnecessary suffering and economic losses."
In addition to this, the global air purifier market size is set to grow exponentially. It was valued at USD 9.24 billion back in 2021 and is predicted to hit around USD 22.84 billion by 2030. According to Precedence Research, the immense demand for air purification and sterilization in the US will be driven by the commercial sector.
Applied UV (NASDAQ:AUVI, AUVIP) is poised to benefit from both increased awareness and commercial demand. The company is focused on innovating new products to combat infections with products covering both airborne particles and surface sterilization and designed for a variety of industries, including healthcare, hospitality and other commercial applications.
Applied UV has two subsidiaries:
SteriLumen
and
Munnworks
. SteriLumen has three fully developed and released products that are actively combating pathogens using Photocatalytic Oxidation (PCO) and or advanced UVC sterilization technology. Munnworks, on the other hand, is a legacy company that is still active, however, it is focused on expertly designed backlit mirrors for high-end hospitality businesses.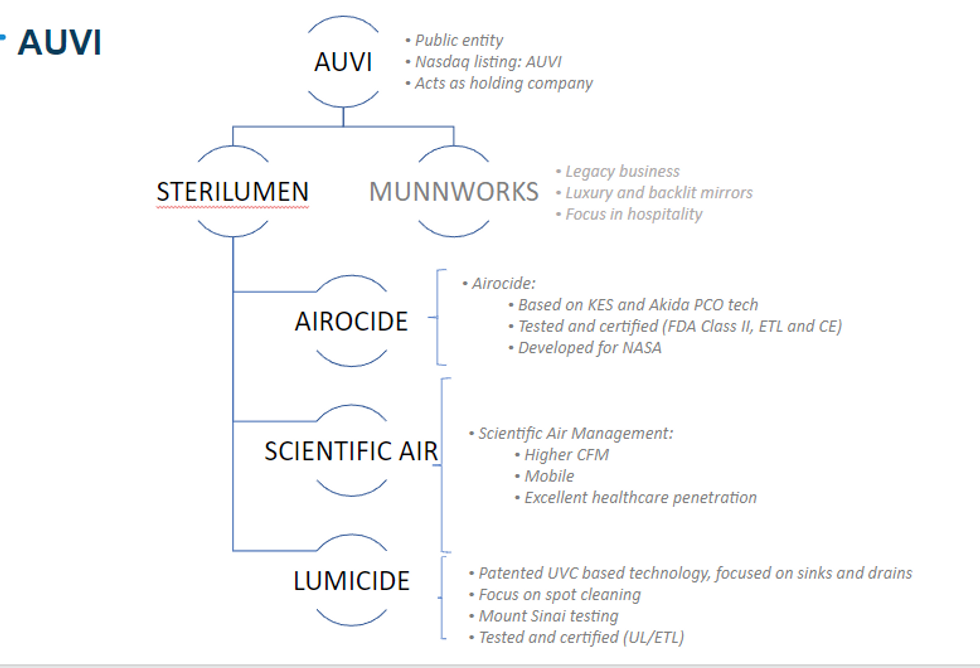 The union of these companies has helped ensure the success of both ventures. "By joining forces, we can distribute a combined catalog of SteriLumen and Airocide® products through the Applied UV supply chain and accelerate deal flow in the hospitality, hotel, cruise ship, health care, nursing home, grocery, wine, commercial building and retail sectors," said Applied UV Interim CEO & Director Max Munn in an interview with INN.
SteriLumen's products do not create byproducts as HEPA filtration systems do and are independently tested to ensure they are continually effective against COVID-19 variants and other harmful pathogens. SteriLumen's line of products attack harmful in the air, and pathogens on surfaces, plus the SteriLumen app for asset management that provides data-driven disinfection insights.
A strong management team leads Applied UV with experience in R&D, corporate finance, and various healthcare sectors, providing a stable foundation for the company to scale and grow. Interim CEO and Director Max Munn, Mike Riccio Chief Financial Officer, Interim Chief Operating Officer John Hayman III and Chairman Joel Kanter are respected in their specialties and have already demonstrated their expertise by building Applied UV to where it is today.
Company Highlights
Applied UV is creating strategic products that cater to a direct market need, both during the pandemic and in a post-pandemic world where health and safety continue to be top priorities.
Applied UV's patent portfolio covers 62 patents granted and pending in the United States, Canada, Europe, Australia, South America, and Asia. Applied UV continues to expand this.
Applied UV has two subsidiaries, SteriLumen and Munnworks.
Applied UV has acquired all of the rights to all of Scientific Air's patented, air disinfection and purification technologies.
Applied UV received an initial order from the Tennessee Department of Correction for Scientific Air S-400 for use in its Prison and Correctional Facilities.
Applied UV's Airocide® is technology developed for NASA and is used by globally recognized brands. such as Del Monte, Whole Foods, Supervalu, Walmart and the Boston Red Sox's Fenway Ballpark.
CUBRC INC, an independent scientific not for profit testing laboratory, confirmed by a reputable Biosafety Level III Laboratory, Lumicide is proven to kill 99.9% of SARS-CoV-2 (COVID) within minutes.
An independent study by MRIGlobal, an independent not-for-profit, contract research organization concluded that Airocide's HD Air Purification System was proven to kill SARS-CoV-2 (COVID-19)
Since 2015, Hungary's leading wine technology company, Cellarius, has installed Airocide® systems in more than 100 wineries in Europe.
The US Army has installed Airocide® systems at its Aberdeen Proving Ground facility in Maryland, with the potential for future opportunities in other facilities.
Key Air Disinfection Products
Airocide® / ScientificAir
Airocide® was originally developed for NASA by the University of Wisconsin, and was named a 2014 Gold Edison Award Winner. Has been featured on a number of media such as Fox News, CNN, Maxim and others. Airborne pathogens are a major problem and these two products attack them head-on.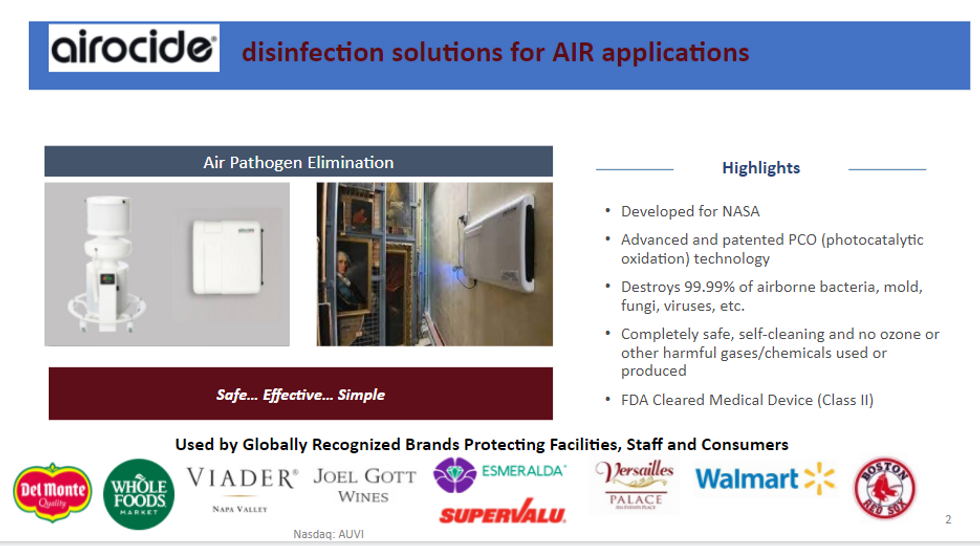 ScientificAir is a larger unit for use in commercial spaces, like venues, airports and nursing homes. Meanwhile, Airocide® is designed for smaller rooms where aesthetics matter. Both products produce no harmful byproducts and are designed to produce safe, clean air.

Product Highlights:
Actively In Use: Airocide® is currently used by cold storage, distribution centers, retail stores, food processors, wineries, dental facilities and healthcare.. ScientificAir is in use in hospitals around the country, such as NYU Medical Center, Baptist Health South and Kaiser Permanente.
Laboratory Validated 99.99 Percent Kill Rate: Both products have been independently tested and evaluated by multiple laboratories and healthcare institutions and have demonstrated a 99.99 percent kill rate on viruses, mold, bacteria, odors and VOCs. MRIGlobal, Texas A&M and NASA have evaluated these products.
Ongoing Development: Applied UV aims to deliver new products that provide better coverage in the second half of 2022, with the goal to give customers the option to purchase one larger unit for coverage as opposed to multiple smaller units.
Lumicide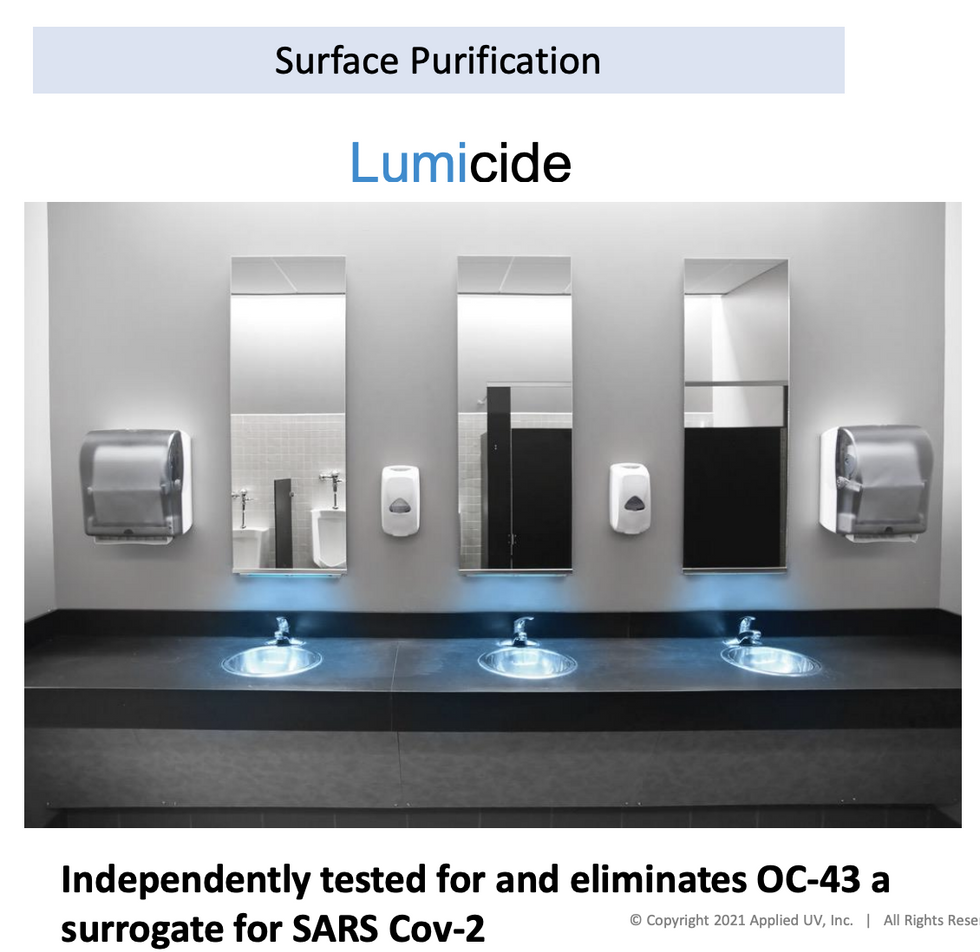 Lumicide™ has two products that use similar UV technology to attack harmful pathogens on surfaces. The Lumicide™ Ribbon is a long UV light designed to sterilize surfaces and is the only known UVC solution ETL certified for safe operation while people are present in the room. The Lumicide™ Drain complements the Lumicide™ Ribbon and disinfects sinks and drains. Independent scientific not-for-profit testing laboratory CUBRC, Inc., confirmed that the SteriLumen Lumicide™ Ribbon kills SARS-CoV-2 (COVID-19 Virus).
Product Highlights:
Configurable Options: The Lumicide™ Ribbon can be configured to be placed in restrooms, countertops, or restrooms.
Intentionally Overpowered: The Lumicide™ Ribbon generates 35 times the energy required to kill pathogens during a disinfection cycle, while the Lumicide Drain generates nine times the energy required.
Eco-Friendly LEDs: It's no secret that LEDs are better for the environment than their traditional counterparts. Applied UV uses LEDs to create a safer and more eco-friendly solution than other UV sterilization systems.
SteriLumen App
Every modern system should have a dashboard for easy monitoring and asset management, so Applied UV created SteriLumen App to manage all Applied UV devices, including providing smart management and essential reporting solutions.
Project Highlights:
Required Reporting: Customers will have access to every device throughout the organization, along with disinfection efficacy reporting.
Easy Management: Every device throughout the enterprise can be configured with a custom disinfection schedule and even offers remote monitoring and disinfecting.
Intelligent Maintenance: SteriLumen App includes fault detection, automatic system updates and lifecycle alerts.
Management Team
John F. Andrews - CEO & Director
John F. Andrews has over 30 years of senior leadership experience in telecom and technology companies, both public and private. He has been CEO of several public companies as well as started and founded companies from ground zero. His experience includes leading three (3) companies to strategic exits (two (2) private and one (1) public), raising over one hundred (100) million dollars of public and private capital, managing numerous mergers and acquisitions, leading companies through explosive growth as well as rightsizing, and being recruited to turn around stalled companies. He recently was the CEO and Co-founder of Trinity IT Services LLC and CEO of TrekSecure LLC. A seasoned executive, his experience also includes being Chairman and EVP of ShipXpress which GE acquired, being CEO of Giga (NASDAQ GIGA) where he led the company's sale to Forrester Research (NASDAQ FORR) and being the CEO of e-Medsoft which went public. His fortune 300 corporate experience includes being CIO and SVP of CSX Transportation at CSX (NASDAQ CSX) corporation managing thousands of employees. During his tenure at CSX, he was credited in achieving over five hundred (500) million dollars in operating expense reductions through his visionary and portfolio technology projects. As CIO he received several industry awards to include CIO of the year from Information Week and top industry visionary from Computerworld. While at CSX, Andrews also consulted with Sun Microsystems (NASDAQ SUNW) on the development of JAVA. Prior to CSX Andrews held executive positions with telecom giant GTE, to include division CIO, President Government Information Systems and President Healthcare Information Systems. Andrews has an MBA from the University of Puget-Sound, Seattle WA, and a BA, Business Administration and Finance from Whitworth University, Spokane WA.
Max Munn - Interim CEO & Director
Max Munn has held this position at Munn Works for over 20 years. Munn is also Co-chairman of Dieu Donne Inc., a not-for-profit and a leading, world-recognized atelier wherein dimensional, handmade paper is utilized in the making of art. Munn attended MIT from 1961-to 1966, majored in chemistry and architecture; and received a Bachelor of Architecture degree. Munn also attended Columbia University for post-graduate studies from 1966-1968, working toward a Ph.D. in architectural history.
Michael Riccio - Chief Financial Officer
Mr. Riccio is a highly accomplished CFO who brings an extensive array of financial experience to Applied UV, including a background with global public companies in corporate finance, operations management systems, and corporate M&A planning and integration. Riccio joins Applied UV to oversee the company's finance team reporting directly to the Chief Executive Officer.
John Hayman III - Interim Chief Operating Officer
John Hayman served as Kes Science's President and CEO for 18 years leading the company's growth, R&D and new product development. Before Kes, Hayman was an accountant where he earned his COA Certification and ended his tenure as a Certified Public Account with KMPG.
Joel Kanter - Chairman
Joel Kanter has served as President of Windy City, Inc., a privately-held investment firm, since July 1986. From 1989 to November 1999, Kanter served as the President, and subsequently as the President and Chief Executive Officer of Walnut Financial Services, Inc., a publicly-traded company (NASDAQ:WNUT).
Monica Woo - Director
Monica Woo is a seasoned Fortune 100 Executive and Board member with many years of accomplished experience and is known for her strategic insights and contributions serving in C-suite level positions on numerous Companies; her ability to position new and existing companies for long-term success and her extensive national and international network of senior-level contacts in business, government, and nonprofits will be extremely valuable to Applied UV's growth. Monica Woo's distinguished career brings Applied UV a strong track record in delivering profitable growth for multi-national globally recognized B2B and B2C eCommerce, food & beverage, investment banking and technology companies, including: the former President of 1-800-Flowers.Com, Inc., flagship Consumer Floral Division, the former Chief Revenue & Strategy Officer of FreshDirect (Ahold Delhaize), the former President of Bacardi Global Brands, the former Chief Marketing Officer of Diageo PLC Europe, former Executive Vice President of Nutrisystem's, the former Chief Marketing and Strategy Officer, Deutsch Bank's Online-LATAM, Sao Paulo, Brazil/NY, NY and the former Chief Marketing Officer Citibank Online & Citibank Private Bank. Monica Woo holds an MBA from the Wharton School of Business, University of Pennsylvania.
Request an Investor Kit
EXCITING upcoming projects!
IN-DEPTH reliable insights!
SUCCESSFUL growth strategies!
VALUE-BASED content!
Applied UV