Overview
As mineral exploration companies across Canada seek new mining locations, one location stands out every year as a top contender. New Brunswick is a province rich in natural resources with mining-friendly policies, substantial infrastructure, a comprehensive regulatory regime and a competitive tax regime. Each year, New Brunswick ranks among the top places in the world for mineral exploration in the Fraser Institute's Annual Survey of Mining Companies.
New Brunswick is home to the Bathurst Mining Camp (BMC) which is one of the most prolific mining camps for base metals in Canada. The BMC hosts 46 mineral deposits of which 25 comprise reserves of 1 million tonnes or more. The BMC also hosted the Brunswick #12 mine, one of the largest underground zinc mines in the world. As a result, companies with mineral projects in New Brunswick's Bathurst Mining Camp will likely be of particular interest to investors seeking upside potential.
Puma Exploration Inc. (TSXV:PUMA,OTC:PUXPF) is a Canadian mineral exploration company focused on developing a portfolio of high-grade precious metals projects, in an up and coming gold Camp, located near the prolific Bathurst Mining Camp in New Brunswick, Canada. The company is led by a highly experienced management team with decades of experience in mining exploration and development. In 2014, the company received the Prospector of the Year award from The New Brunswick Prospectors and Developers Association.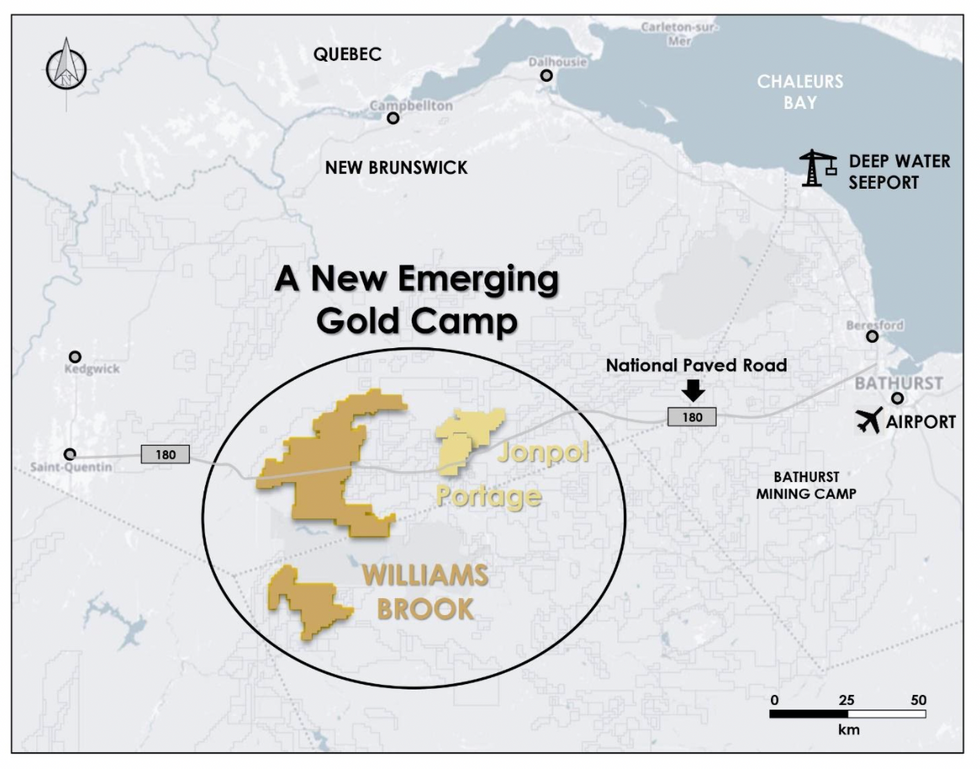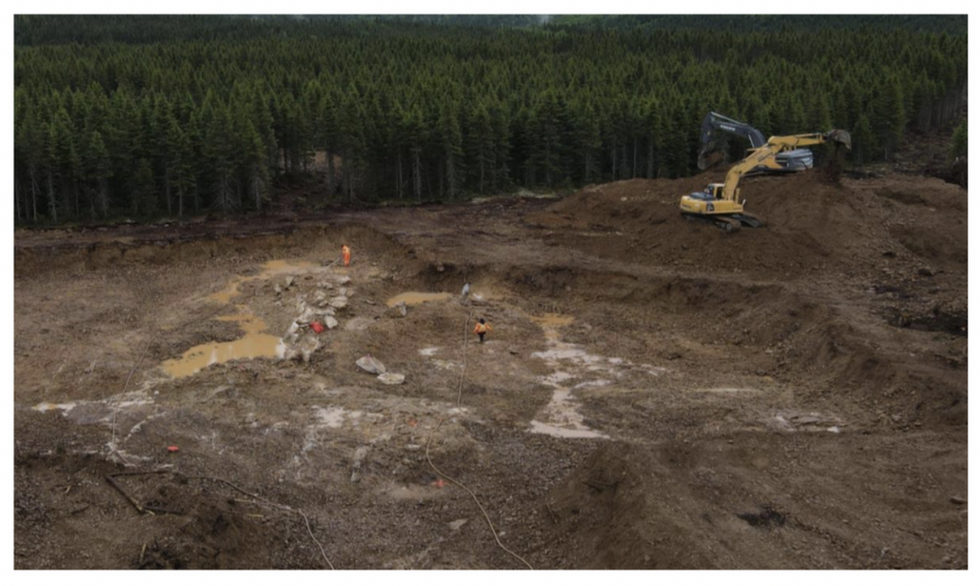 Puma Exploration's controls more than 30,000 ha of land, made up of three highly-prospective properties, approximately 60 kilometres west of the Bathurst Mining Camp. The Company's exploration program is currently focused on its flagship Williams Brook Gold Project.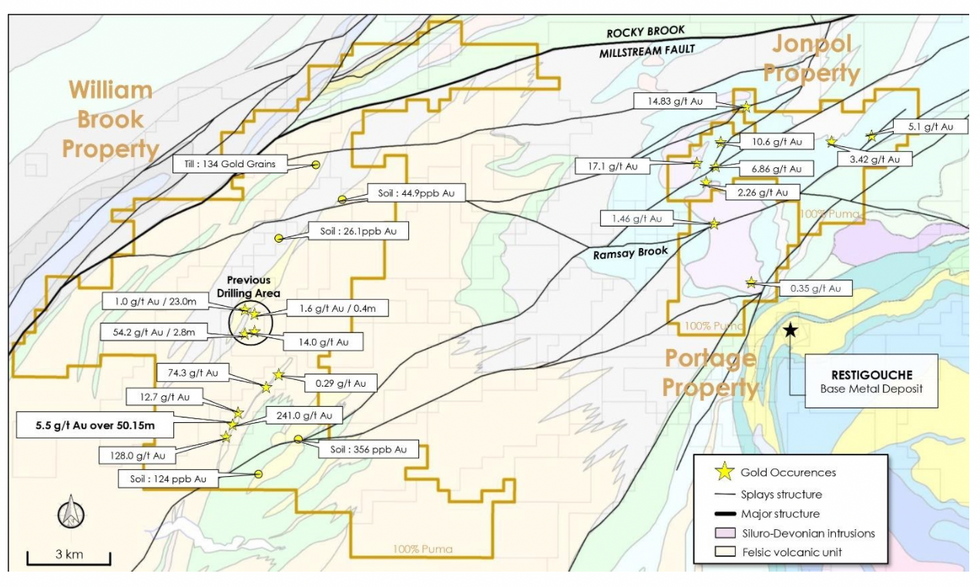 "We have found the best hole ever, it's a dream come true," said CEO of Puma Exploration Marcel Robillard.
In September 2021, the company announced impressive initial drill results of 5.55 gpt of gold over 50.15 metres from the surface of its 20,000-hectare Williams Brook Gold property. The notable property is a major discovery for Puma Exploration and is fully controlled by the company. In October 2021, the company announced high-grade gold assays recovered from its 2021 field exploration surface sampling program on its Williams Brook Gold property. The results include 199 g/t Au, 192 g/t Au, and 170.5 g/t Au. The company also drilled 1.00 g/t Au over 40.6 metres extending the gold mineralized zone into the sediments.
The company is committed to its DEAR strategy (Development, Exploration, Acquisition and Royalties) to generate maximum value for shareholders with low shares dilution and follows robust ESG initiatives that ensure a sustainable approach to all its activities.
The company launched its fully-funded $5M 2022 exploration program in January 2022. It is currently awaiting assay results from more than 700 grab samples from its 2021 surface sampling program at the Williams Brook property. This, compiled with geophysics, structural and geological data will inform the company's upcoming drilling targets to maximize success.
Company Highlights
Excellent Access - paved road, airport, rail and seaport
Aggressive 2022 Exploration Program - >10,000 metres of drilling
Underexplored Gold Land Package - > 30,000 ha
Strong Financial Position - $6M cash in treasury
Major Gold Discovery in 2021- 5.55 g/t Au over 50.15 m
Mining Infrastructure Nearby - famous Bathurst Mining Camp
Blue Sky Drill-Ready Targets - kilometre-long gold trends
Proven Management - experienced and diversified team
Key Projects
Williams Brook
The Williams Brook property is located on the western edge of the Bathurst Mining Camp. It covers more than 20,000 ha of prime exploration land and benefits from excellent access, water, electricity and the availability of an experienced workforce.
Exploration work to date has identified at least four (4) different kilometre-long gold trends on the Williams Brook Gold Project. Puma is currently focused on the newly discovered O'Neil Gold Trend, a pervasive altered and brecciated rhyolite unit. The rhyolite is in contact with sediments and is characterized by quartz veins and veinlets, stockworks and breccias. Visible gold is present, and grab samples have returned high-grade gold up to 241 g/t Au.
The first-ever drilling campaign on the O'Neil Gold Trend was completed in August 2021. The 2,360 metres drilling program was devised to intersect the down-dip projection of the high-grade gold veins exposed at surface. It was also designed to help better understand the spatial geometry of the mineralized envelope. The oriented NQ drilling was planned with the support of Terrane Geoscience Inc. after a detailed structural analysis.
The drilling returned exceptional results with an intersection of 50.15 metres grading 5.55 g/t Au in WB21-02. The holes were characterized by pervasive sericite and iron alteration over large sections. The presence of abundant quartz veins and veinlets with disseminated sulphides and oxides was also observed. Often, visible gold ("VG") was present.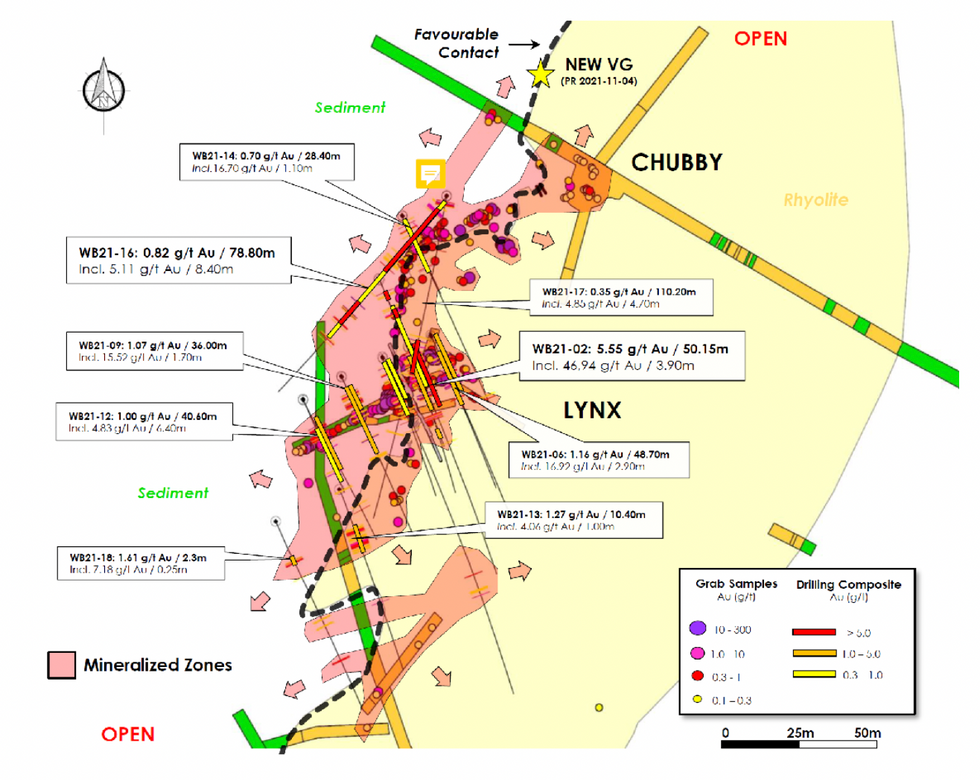 An induced polarization (IP) geophysical survey and an aggressive grab sampling program have yielded excellent results. A follow-up 10,000-metres drilling campaign is underway in 2022.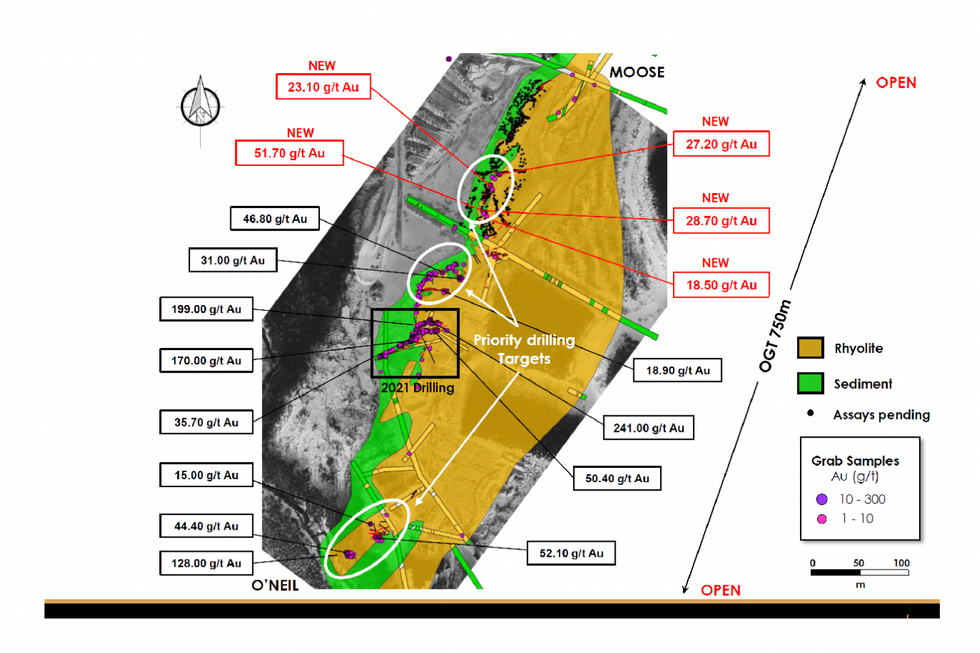 Jonpol and Portage
Puma's contiguous Jonpol and Portage properties are located approximately 10 kilometres east of Williams Brook and are underlain by the same geology. They cover an area of approximately 6,000 ha. Several gold occurrences grading up to 17.1 g/t Au are reported on both properties. While the Company is currently focused on advancing exploration on its flagship Williams Brook property, work on Jonpol and Portage will resume in the future.
Management Team 
Marcel Robillard, P.Geo. - President & Chief Executive Officer, Director
Mr. Robillard became President and CEO of Puma in 2010. He is currently a Director of PEZM Gold Inc. (PEZM-H) and reviewing potential strategic acquisition opportunities in the green energy sector. From 1998 to 2007, Marcel held the position of Project Geologist and Project Manager at Géominex, a geology and exploration consulting Company, before taking on the role of President from 2007 to 2015. Marcel has a B.Sc. in Geology and an M.Sc. in Earth Sciences from the Université du Québec à Montreal, Canada.
Ginette Gosselin Brisson - Chief Financial Officer
Mrs. Brisson is a Chartered Professional Accountant (CPA) with more than 40 years of experience working with and auditing public companies listed on the TSX-V. Ginette joined Puma in 2014. She was previously Chief Financial Officer of Appalaches Resources, Inc. and an auditor at Mallette LLP. Ginette is a graduate of the University of Quebec at Rimouski (UQAR), Canada.
Dr. Laura Araneda - Director
Dr. Araneda has been President of Vic Progressive Drilling for over 20 years, starting as a clerk in 1987. Laura is very active in her home province of New Brunswick. She guides and mentors education, business, and mining organizations and possesses an enviable professional network of contacts in Atlantic Canada and across the country. Laura graduated from the University of New Brunswick with a Bachelor of Business Administration, completed an Entrepreneurial Leadership Program and was awarded a Doctorate in 2014. She's been named Canada's 100 Top Female Entrepreneur for four consecutive years.
Michel Fontaine - Director
Mr. Fontaine is a private investor, entrepreneur, and independent board member with over two decades of experience working in the mining sector. Michel worked at Merrill Lynch and BMO Nesbitt Burns as a financial advisor before founding Windfall Geotek (TSXV: WIN), a public software firm, in 2005. Windfall Geotek leverages artificial intelligence (AI) and machine learning to optimize and significantly improve exploration, development, operations, and financing outcomes in the mining sector. Michel was previously a director of Metanor, Majescor, Everton and AEMQ.
Réjean Gosselin - Director & Executive Chairman Of The Board
Mr. Gosselin has worked in the mining sector for over 42 years serving as CEO and Director for various Canadian junior mining companies. In 1980, he co-founded with Jean Descarreaux Claude Resources that Silver Standard acquired for $450M in 2016. Réjean was President & CEO of Diabras Exploration (now Sierra Metals) that reopened the Bolivar Zn-Cu mine and the Cusi Silver mine in Chihuahua, Mexico and discovered a Cu-Au-Fe skarn-hosted deposit adjacent to the Bolivar mine. The three mines are still in operation today. In 2007, Réjean formed Maya Gold & Silver and served as its President and CEO before becoming Chairman of the Board until 2017. Now Aya Gold & Silver, Maya is a 1-Billion market cap company with projects in Morocco and Mauritania. He also formed and led Origin Gold Corporation (now O2Gold) with projects in Colombia from 2015 to 2019. Réjean became a Director at Puma in 2020 and was recently appointed Executive Chairman. Réjean holds a Master's Degree in Geology from Laval University, Canada.
Richard Thibault, P.Eng. - Director
Mr. Thibault is a professional engineer with over 42 years of mining experience in engineering, operations, management and consulting in North and South America and Southeast Asia. He is currently the President and Principal at Avot Consulting Inc., a private company that provides mine engineering services to clients in South America. He has worked in Argentina, Australia, Bolivia, Canada, Chile, Colombia, Ecuador, Malaysia, Mexico, Panama, Peru, the United States and Venezuela. Richard was previously the Vice-President and Director of Mines at Muzo Columbia; the Chief Operating Officer, Mining at Malaysia Smelting Company Bhd., Senior General Manager of its subsidiary Rahman Hydraulic Tin Sdn. Bhd.; and Chief Executive Officer and Director of Antioquia Gold Inc. He currently serves as a director of Argentex Mining Corporation (TSX-V: ATX) and the private companies XACT Contracting Services Ltd. and The AVOT Group. He holds a B.Sc. in Mining Engineering from Queen's University, Canada.
Request an Investor Kit
EXCITING upcoming projects!
IN-DEPTH reliable insights!
SUCCESSFUL growth strategies!
VALUE-BASED content!
Puma Exploration