Overview
It's been 125 years since George Carmack found himself in Yukon, Canada, after a failed attempt to capitalize on the reported gold strikes in Alaska. What started as a lucky discovery of a few gold nuggets in a creek bed ended up becoming one of the last great gold rushes in North America.
Gold mining in Canada occupies a rich and vital place in the country's history. Mineralization of the precious metal exists throughout its landscape, including Ontario, Newfoundland and Labrador and Yukon Territory. Over the 70 years following Carmack's discovery, Yukon would yield over C$250 million in gold. Even with that much already found, these historical discoveries are only scratching the surface.
Metals Creek Resources (TSXV:MEK) is a Canada-based mineral acquisition and development company focused on exploring future mining opportunities throughout Canada. The company is currently operating world-class properties in Ontario, Yukon Territory and Newfoundland and Labrador. The mining and investor-friendly jurisdictions and rich resource histories of these properties primes Metal Creek Resources for significant high-grade discovery and yield.
The company has two key projects in operation: its Dona Lake gold project and Ogden gold project in Ontario. Metal Creek's flagship projects are well-positioned for advanced exploration in collaboration with strategic partners and joint venture agreements.
Metal Creek's Ontario properties' biggest attractions are their high grade drill results, location and history of past-producing high-grade gold exploration.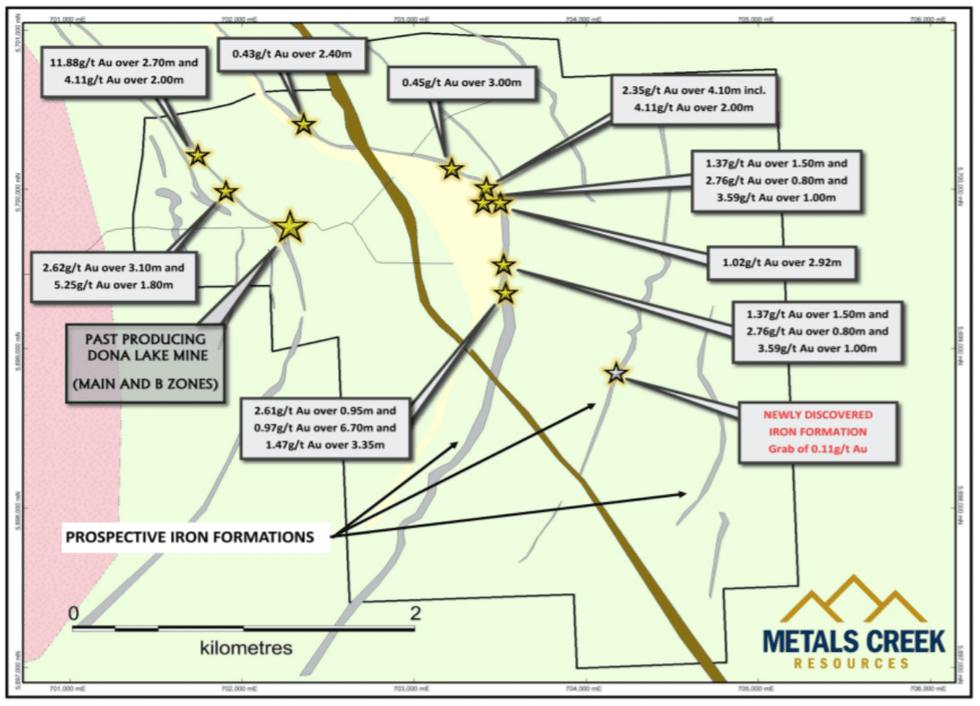 The company has the option to earn 100 percent interest in the Dona Lake gold project. Metals Creek CEO Alexander Stares mentioned projected drill program expansion for Dona Lake when discussing future exploration plans. "We'll have lots of news coming up. Once we finish drilling, we'll get everything back compiled into computers. We will go back in late summer and do another drill program." The company's current funds and exploration plans have primed it for fast-tracked advancement in the near future.
The Ogden property is hosted in the prolific Timmins gold camp and Pickle Lake area. Metals Creek currently has a 50/50 joint venture with Newmont Corp (TSX:NGT) in the Timmins Camp and strategic positioning as the project operator. A 2013 drilling campaign on the property uncovered 210.19 g/t gold over 12.5 meters.
Metal Creek's management team combines years of experience in the mineral exploration, geology and financial sectors. The company's diverse shareholder portfolio and strategic partnerships also position the company for exceptional acquisition opportunities, economic growth and expansive gold mining success.
Company Highlights
Metals Creek Resources is a junior exploration company focused on developing past-producing and world-class gold properties in Canada.
The company's flagship projects include the Dona Lake and Thomas Ogden gold projects in Ontario. The company is also operating prospective properties in Newfoundland and Labrador.
Drill campaigns have found high grades of gold and silver
Metals Creek has created an option agreement with Newmont Corp for potential 100 percent ownership of the Dona Lake project. Additionally, the company has formed a 50/50 Joint Venture Agreement with Newmont for the Ogden gold project in the Timmins Camp.
Past-producing gold and mineralization histories prime the company for expansive development plans and potentially high-grade high yield as seen by neighboring projects.
Metals Creek intends on advancing drill campaigns to explore project targets and dive deeper into investor and growth opportunities its properties have to offer.
Key Projects
Dona Lake Gold Project
The Dona Lake Gold project is one of Metal Creek's flagship gold properties, and it is located in the Pickle Lake area of Northern Ontario. The property hosts high-grade gold within its widespread banded iron formation structures and leverages favorable mining conditions.
This project is Metal Creek's second option agreement with Newmont Corp. The company has the option to earn 100 percent ownership of the projects with the issuing of seven million shares and spending of C$4 million over three years.
The company has already completed a successful drill program for the project. This program's results have confirmed gold mineralization outside of current mined areas and potentially deeper gold mineralization. Present grades have hovered as high as 8.37g/t gold in all three targets.
Past-producing history on the property indicates the production of 246,500 ounces of gold priced at US$375 an ounce before mine closures in 1994. Metals Creek expects to continue drilling campaigns into depths below current mine workings.
Ogden Gold Project
The Ogden gold property covers 8 kilometers of strike length on the Porcupine-Destor Break in Ogden Township, Ontario. Metals Creek Resources and Newmont have formed a 50/50 Joint Venture Agreement on the property, with Metal Creeks as the operator. The property has the potential to mimic successful gold production levels reaching 17 million ounces of gold as seen by its eastern neighbors.
Ogden hosts six mineralized gold zones and a historic non 43-101 compliant resource of one million tonnes at 4.12 g/t gold. A 2013 drilling campaign uncovered 210.19 g/t gold over 12.5 meters. In 2017, the company reported 4.39 g/t gold grades over 12.45 meters after drilling the target TOG-17-53 on the property.
Exciting discoveries of visible gold in the core have prompted additional investment interests and points to fold structure orientations that could correlate to high-grade gold mineralization. Metals Creek intends to expand drilling to explore this project's potential further.
Management Team
Alexander Stares — President, CEO & Director
Alexander "Sandy" Stares comes from a family with a long line of prospectors. He has in excess of 25 years experience in mineral exploration, spanning a variety of Canadian geological terranes, from Newfoundland to Yukon. He has also completed several tours prospecting in Indonesia and Mexico. He was instrumental in the discovery of the H-Pond Gold Prospect and the Lost Pond Uranium Prospect. He also discovered numerous major mineral occurrences in Canada and abroad which have been the subject of extensive exploration programs. Sandy assumed the role of President and CEO of Metals Creek Resources Corp.in December of 2007. He is also a Director of Leocor Gold Inc White Metal Resources Corp and a Director of the Qalipu Development Corporation. In February 2013, Sandy was awarded the Queen Elizabeth II Diamond Jubilee Medal for his dedication to his Peers, Community, Canada and the Prospecting Community. He was also one of the recipients of the PDAC "Bill Dennis Prospector of the Year" Award in March 2007, which was awarded to members of the Stares/Keats family. Prior to his exploration career, Mr. Stares served in the Canadian Air Force for 15 years and was awarded the Deputy Commander in Chief of NORAD "Certificate of Achievement" Award for exceptional performance.
Michael MacIsaac P.Geo — VP Exploration
Michael MacIsaac brings to Metals Creek Resources over 33 years of exploration and management experience. He received his B.Sc from Lakehead University and has a Professional Geoscientist (P.Geo) designation from the Association of Professional Geoscientists of Ontario. MacIsaac's vast experience entails both grassroots and advanced projects across Canada in gold, base metal and PGE environments. His expertise includes base metal exploration with Noranda Exploration in the Geco and Mattabi Mining Camps, gold exploration in the prolific Hemlo and Red lake Gold Camps and PGE exploration for North American Palladium in Northern Finland and Northwestern Ontario.
MacIsaac's vast background in different metallogenic terranes and exploration techniques will help this young company poised for growth attain its strategic objectives through quality acquisitions and sound exploration.
Wayne Reid P.Geo — VP Corporate Development & Director
Wayne Reid has over 35 years of experience in exploration and mining geology, spanning various Canadian geological terranes, from Newfoundland to Northern BC and Alaska. Reid was instrumental in discovering the Brewery Creek Gold Deposit in the Yukon Territory and the Boundary Massive Sulphide Deposit / Duck Pond Mine in Central Newfoundland. His experience includes gold, base metal and uranium exploration in most geological environments in North America. Reid has over 20 years with the Noranda / Hemlo group in district and regional manager capacity in several areas across Canada. He has over 10 years of experience in the Timmins camp with as a Canadian manager with Echo Bay Mines, and as an exploration manager with St. Andrew Goldfields. Most recently, he was vice president of Exploration for Ucore Uranium.
Nikolaos S. Tsimidis — CFO & Director
Nikolaos S. Tsimidis is an entrepreneur and a specialist in the financial aspects of real estate investments. He graduated with a Bachelor of Commerce from the University of Toronto in 1987. Upon graduation, he spent six years at KPMG in the audit department, providing various client services. In September 1993, Tsimidis left KPMG to set up his own chartered accounting firm, focusing on tax and financial planning. He is the CFO and the principal broker for Union Capital Management Inc and Haven Property Development Inc. Tsimidis has also been intimately involved with mortgage origination and real estate development projects. He is the CFO and a director of Bold Stroke Ventures.
Michael Stares — Director
Michael Stares has been a successful entrepreneur with 50 percent ownership in Stares Contracting Corp., and he is president and CEO of White Metal Resources. Stares' background comes from over 30 years of prospecting, eight years for Noranda Exploration, having a fantastic track record for new discoveries. Alongside the Stares-Keats family of prospectors, Stares was the honored recipient of the Bill Dennis Prospector of the Year Award at the 2007 PDAC Conference. He currently serves as a Benton Resources Corp director.
Pat Mohan — Director
Pat Mohan is president and CEO of the Mohan Group. Mohan has worked in the marketing, advertising and promotions field for over 20 years. In 1986, he founded The Mohan Group. He has been the driving force behind its growth from a fledgling firm to one of Canada's fastest-growing and best-respected advertising and marketing companies. Mohan is also a director with Trelawney Mining and Exploration Inc.
Malvin Spooner — Director
Malvin Spooner was the founder, president, CEO and director of Mavrix Fund Management Inc., an award-winning investment management company with mutual and other funds distributed across Canada until acquired in 2009. He has been a portfolio manager for over 25 years in the Canadian financial services industry. He introduced and was responsible for a successful series of tax-advantaged limited partnerships in more recent years, which invested over half a billion dollars in junior mining exploration companies. Spooner has appeared frequently on television and in print media as an investment expert over his entire career and is a widely respected professional.
Lorne Woods — Director
Lorne Woods graduated from Concordia University in 1986 with a BA, majoring in Political Science. He served as a chair, board member, and director for Concordia University Alumni Association. He co-founded Judson Woods back in 1987 with a partner to work with a large group of small mining companies. The company's principal business started with creating and producing advertising to assist in marketing clients to the investment community. It also specialized in investor relations, promoting its clients' assets and projects to the financial media and investing public.
Request an Investor Kit
EXCITING upcoming projects!
IN-DEPTH reliable insights!
SUCCESSFUL growth strategies!
VALUE-BASED content!
Metals Creek Resources