Hybrid Vehicles and Emission Standards Could Drive Palladium Demand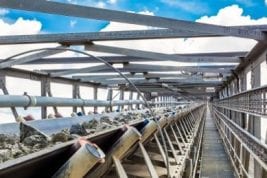 As consumers bridge the transition to electric with hybrid vehicles and stricter emissions standards, the auto industry could remain a strong source of palladium demand.
Palladium demand is up while supply is down, which has resulted in impressive price gains. But will the healthy market for palladium continue as the world goes electric?
Palladium marked its seventh year in a supply deficit in 2018 thanks to strong vehicle sales over the past decade. The price of palladium was up 18 percent last year, outperforming platinum and even gold to become the highest trading precious metal, a spot it hadn't held in 16 years. Both an increase in demand and a looming supply deficit were largely behind palladium's gains in 2018.
The bullish market for the metal has continued in 2019, underpinned by growth in demand from the automotive sector alongside a continued supply deficit. The auto industry accounts for around 80 percent of total palladium demand. The metal is commonly used in catalytic converters, which are a central component of the vehicle emission control systems of most passenger vehicles with internal combustion engines (ICE) and hybrid engines. Through an oxidation process in which palladium is essential, catalytic converters decrease the number of air pollutants emitted from vehicle exhaust systems.
Following the Volkswagen (ETR:VOW3) emissions scandal in 2015, governments around the world are fighting carbon-fueled climate change by enacting stricter emission standards for vehicles, resulting in increased demand for palladium from the auto industry.
Fiat Chrysler Automobiles (NYSE:FCAU) voluntary recalled close to 900,000 gasoline-fueled vehicles in March 2019 due to defective catalytic converters. The recall is expected to generate a need for a further 77,000 ounces of palladium, which could place an additional strain on an already limited supply of palladium. "The demand could be impactful on this market, and, if nothing else, could hold these prices at these levels, which we haven't had ever before," said Peter Thomas, senior vice president at Chicago-based metals broker Zaner Group.
Palladium a precious metal for strict emission standards
The Fiat recall in the United States is just one example of the impact a stringent vehicle emission environment can have on the auto industry and the palladium market. In a statement concerning the recall, the US Environmental Protection Agency said it will continue to investigate other Fiat vehicles for non-compliance, which may result in future recalls. Regulators in Europe and China are also getting serious about tougher vehicle emission standards.
"The EU has a binding target of cutting emissions by at least 40 percent by 2030 from 1990 levels, while China aims for 26 to 28 percent cuts from 2005 levels," said Bloomberg Intelligence analyst Eily Ong. Policy changes in these markets have already led to a decrease in the production of diesel engines in favor of gasoline-powered vehicles, which use higher palladium loadings in their catalytic converters. This is one of the main reasons palladium has eclipsed gold and platinum in price.
Rising demand signals are giving the bulls reasons to stay positive, but those with a more bearish lean point out that eventually ICE vehicles will be overtaken by electric vehicles (EVs) that don't need catalytic converters. However, we are still years away from the worldwide adoption of EVs, as consumers grapple with a lack of range capabilities and charging infrastructure.
"There's been a lot of talk about how it will eliminate itself with the electrification of cars, because there is no catalytic converter in EVs. However, most of the electric cars have a hybrid component to them, so you are not going to wake up one morning and everything will be electric," said Wayne Tisdale, president of Canadian Palladium Resources Inc. (CSE:BULL,FWB:DCR1,OTCQB:DCNNF), in an interview with the Investing News Network. Hybrid vehicles are a bridge between combustion and pure EVs, allowing drivers to get comfortable with the new technology. "You're going to have a hybrid point, so that takes the catalytic converter a long way and it takes palladium with it. I think it's got a six or seven year run," he added.
Tisdale's sentiment has been echoed by Anton Berlin, head of analysis and market development at Russia's Norilsk Nickel (OTC Pink:NILSY,MCX:GMKN), which controls 40 percent of the world's palladium production. Berlin has noted that palladium demand from the hybrid vehicle market is intensifying. "The Russian miner forecasts that combined palladium use in hybrid and plug-in hybrid — or rechargeable — vehicles next year will be nearly triple that of 2016," reported Bloomberg. According to JPMorgan Chase & Co. (NYSE:JPM), hybrid vehicles accounted for merely 3 percent of the global vehicle market in 2016, but are expected to account for 23 percent of sales by 2025.
Strong palladium price supports
Norlisk sees the palladium deficit widening in 2019 on tighter emissions regulations in major vehicle markets and flat primary supply. According to the Russian miner, the 2019 global palladium market deficit is expected to reach 800,000 ounces, compared to 600,000 ounces in 2018. Meanwhile, palladium consumption is expected to rise by 500,000 ounces to 11.2 million ounces on robust demand from vehicle manufacturers.
With the palladium market still in a supply deficit in the face of robust demand, higher prices will be the norm for the metal. Just a few years back in early 2016, palladium was at a low of US$449.55 per ounce. In March 2019, rising demand and tightening supply shot the palladium price to an all-time high of over US$1,600, though prices have since pulled back to around US$1,300 as of early May. A recent Reuters analyst poll forecasts that palladium will average US$1,350 in 2019 and US$1,275 in 2020.
But will higher prices cause vehicle manufacturers to turn to cheaper alternatives such as platinum?
Will platinum replace palladium?
Palladium has been trading at a significant premium to its sister metal platinum, which in early May 2019 was trading at US$860 per ounce. The price difference has sparked speculation that vehicle makers may switch to the cheaper metal in the production of catalytic converters. However, some analysts, such as Philip Newman, director at Metals Focus, don't see that happening any time soon. "There won't be a substitution from palladium to platinum, as it is very difficult to achieve and takes a very long time to make sure it is compliant," said Newman.
In a recent interview with the Investing News Network, Jim Gallagher, CEO of North American Palladium (TSX:PDL,OTC Pink:PALDF) explained further. "Platinum cannot substitute directly in the same quantities. You would need significantly more; you would need to change the layout, (as) they respond differently to heat and the chemistry," he said. Gallagher also pointed out that the palladium market is larger than the platinum market. "So you would be shifting from a market that is already in deficit to a smaller supply base," he added.
Where the world goes for palladium
The majority of the world's palladium production comes from South Africa's Anglo American Platinum (JSE:AMS) and Russia's Norlisk. Palladium is usually mined as a by-product. North American Palladium's Lac de Iles mine in Ontario, Canada, is one of the few primary palladium mines in the world. Ontario's Sudbury district is a major hub for palladium production, with operations owned by major miners Glencore (LSE:GLEN) and Vale (NYSE:VALE). The region is also a hotbed for exploration activity. Canadian Palladium's East Bull palladium project in Sudbury has a 43-101 compliant inferred resource estimate of 11.1 million tonnes of mineralized material at 1.46 grams per tonne palladium equivalent for a total of 523,000 ounces of palladium. The company intends to continue drilling on the property in order to further increase confidence in the resource.
Takeaway
Palladium's importance to the vehicle manufacturing industry is expected to continue supporting demand even as the world transitions to EVs. The tight supply situation alongside this steady demand could have end users looking to new sources of raw material.
---
This INNSpired article was written according to INN editorial standards to educate investors.
INN does not provide investment advice and the information on this profile should not be considered a recommendation to buy or sell any security. INN does not endorse or recommend the business, products, services or securities of any company profiled.