Precious Metals
Top 5 Palladium- and Platinum-producing Countries
Jun. 27, 2023 01:45PM PST
Platinum-group metals are essential to the global economy. These are the top countries for palladium and platinum production.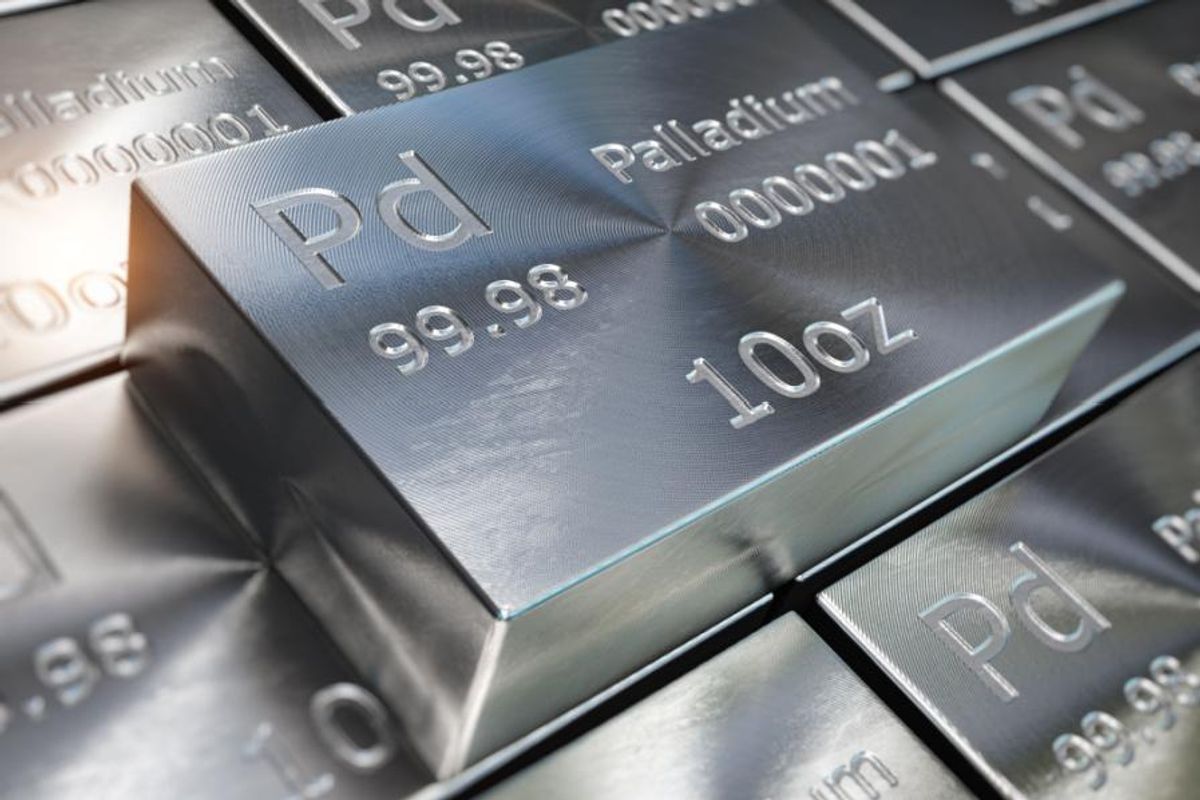 Platinum-group metals (PGMs) include platinum, palladium, rhodium and other metals, all of which are prized for their durability, resistance to corrosion and excellent catalytic properties.
The automotive industry is the world's largest consumer of these metals, which among other things are used in catalytic converters for vehicle exhaust systems. A rebound and continued growth in auto production is projected in the coming years, particularly in developing markets, and this should increase demand for PGMs, especially when it comes to platinum and palladium. On the supply side, the platinum market is expected to slide into a significant deficit in 2023 and beyond.
But where do platinum and palladium come from? The list of the world's top palladium- and platinum-mining countries is a short one, and most PGMs come from South Africa and Russia.
---
Russia's ongoing war in Ukraine and electricity shortages in South Africa are expected to seriously hamper the ability of these nations to bring PGMs to market. So what other countries are producing platinum and palladium? Below is a list of the five top producers in 2022, as per the latest data from the US Geological Survey .
1. South Africa
Platinum production: 140,000 kilograms
Palladium production: 80,000 kilograms
South Africa is the world's top platinum-mining country and a major producer of palladium. It holds the largest-known reserves of PGMs globally at 63 million kilograms.
According to the US Geological Survey, 2022 production of PGMs in South Africa "decreased compared with that in 2021 owing to operational challenges at some mines, including disruptions to the supply of electricity, temporary closures of processing facilities, and scheduled maintenance of smelters."
The Bushveld complex is the largest PGMs resource in the world , and represents approximately 75 percent and 40 percent of annual global production of platinum and palladium, respectively. Impala Platinum Holdings (OTCQX: IMPUY ,JSE:IMP), commonly called Implats, is a significant producer in the complex, which hosts the company's Impala Rustenburg mine, Marula mine and Two Rivers joint venture.
2. Russia
Platinum production: 20,000 kilograms
Palladium production: 88,000 kilograms
Despite being the world's second biggest platinum-mining country, Russia's annual production trails behind South Africa's by a large margin, coming in at 20,000 kilograms for 2021. That said, Russia's palladium production last year was 8,000 kilograms more than South Africa's output.
Russia-focused Norilsk Nickel (MCX: GMKN ) is the world's largest palladium producer, and it recently announced plans to invest US$35 billion in infrastructure upgrades between 2021 and 2030; this will ultimately result in higher metals output. There have been questions about how Russia's war in Ukraine could impact the Russian mining sector; however, Wilma Swarts, director of PGMs at Metals Focus, wrote in an email to INN that "(palladium) mine supply from Russia remained in line with production guidance," at least in 2022.
3. Zimbabwe
Platinum production: 15,000 kilograms
Palladium production: 12,000 kilograms
Zimbabwe is a major producer of both platinum and palladium, and Zimplats (ASX: ZIM ,OTC Pink:ZMPLF) is the biggest platinum miner in the country. It is 87 percent owned by Implats.
Last October, Zimbabwe introduced a policy that will allow it to stockpile physical metals, including PGMs. A change to the country's existing cash royalties on miners, the new rules will see mining companies pay royalties based on their production in a combination of cash and refined physical metals.
The new policy currently applies to PGMs, gold, diamonds and lithium. However, it is dynamic, with the option to add or subtract affected metals and change royalty percentages based on factors such as geological scarcity and demand trends. For example, Zimbabwe doubled its royalties for platinum miners to 5 percent this past January, and intends to up the royalties for lithium as well.
Zimbabwe's President Emmerson Mnangagwa explained in a column that the policy's goal is "building national stocks of real precious and processed high-value strategic minerals … for both us and for future generations."
4. Canada
Platinum production: 6,000 kilograms
Palladium production: 15,000 kilograms
Canada's strong palladium production makes it a global PGMs player. The country only holds 310,000 kilograms of known PGMs reserves — less than half the total reserves of other countries on this list — but companies continue to explore for PGMs in Canada in search of more deposits. In 2022, Canada's palladium and platinum production were both on par with the previous year.
Canadian PGMs production takes place mainly in the province of Ontario, but PGMs output also comes out of Quebec and Manitoba. The country has one primary PGMs-producing mine, the Lac des Iles mine in Western Ontario, which is owned by Implats Canada. The remainder of the country's production is as a by-product of Canada's primary nickel mines.
5. United States
Platinum production: 3,300 kilograms
Palladium production: 11,000 kilograms
Sibanye-Stillwater's (NYSE: SBGL ) Stillwater Complex in Montana is the only primary producer of PGMs in the US. The Stillwater complex was acquired by the South African company, which then went by only Sibanye, in a US$2.2 billion deal in 2017. The company also maintains a smelter, refinery and laboratory in Montana and recovers PGMs from spent catalyst material.
The US Geological Survey states that the completion of an expansion project aimed at increasing production at the mine has been "delayed to 2024 owing to disruptions from the COVID-19 pandemic and operational challenges associated with ventilation and ground conditions."
FAQs for investing in palladium and platinum
What is platinum?
Platinum is the namesake of the PGMs category and is also a precious metal. Signified by the symbol Pt and atomic number 78 on the periodic table, platinum has a silverish-white hue.
What is platinum used for?
Platinum plays a large role in the auto industry for its ability to reduce emissions. Additionally, platinum is in high demand for jewelry and as an investment metal.
Platinum is also benefiting from growing demand from the hydrogen fuel cell sector. The metal is a key catalyst in the process that converts hydrogen into electricity.
What is palladium metal?
Palladium fits into the precious metals category and is a PGM. It is represented by the symbol Pd and atomic number 46 on the periodic table of elements. Palladium has a silvery-white color and is prized for its rarity.
What is palladium used for?
The automotive sector is the primary end user of palladium. The metal is a key component in the catalytic convertors of internal combustion engine vehicles, where it is used to reduce emissions.
Like platinum, palladium is used in jewelry and valued as an investment. It has other smaller-scale uses, and is consumed in various ways by the medical and dental fields, among others.
What is the best way to invest in palladium?
While there is no single best way to investing in palladium, those interested in gaining exposure to this market have a variety of options . Investors who prefer more tangible assets can add physical palladium to their portfolios, including palladium bullion and coins. Palladium exchange-traded funds such as the Sprott Physical Platinum and Palladium Trust (ARCA: SPPP ) and the Aberdeen Standard Physical Palladium Shares (ARCA: PALL ) offer another route. Palladium-focused stocks are yet another option, with pure-play palladium miners including Sibanye-Stillwater and Impala Platinum Holdings.
Why are metals like gold, platinum and palladium so expensive?
Precious metal gold has long been valued as a form of currency and a store of wealth, all of which have built up its high intrinsic value. Platinum and palladium are 30 times rarer than gold , much harder to mine and are in high demand due to their important industrial uses.
Don't forget to follow us @INN_Resource for real-time news updates!

Securities Disclosure: I, Melissa Pistilli, hold no direct investment interest in any company mentioned in this article.
https://twitter.com/INN_Resource
https://www.linkedin.com/in/melissa-pistilli-865271a9/
mpistilli@investingnews.com
Melissa Pistilli has been reporting on the markets and educating investors since 2006. She has covered a wide variety of industries in the investment space including mining, cannabis, tech and pharmaceuticals. She helps to educate investors about opportunities in a variety of growth markets. Melissa holds a bachelor's degree in English education as well as a master's degree in the teaching of writing, both from Humboldt State University, California.
Featured Precious Metals Stocks
Investing News Network websites or approved third-party tools use cookies. Please refer to the cookie policy for collected data, privacy and GDPR compliance. By continuing to browse the site, you agree to our use of cookies.
Melissa Pistilli has been reporting on the markets and educating investors since 2006. She has covered a wide variety of industries in the investment space including mining, cannabis, tech and pharmaceuticals. She helps to educate investors about opportunities in a variety of growth markets. Melissa holds a bachelor's degree in English education as well as a master's degree in the teaching of writing, both from Humboldt State University, California.