Silver Remains Constrained Amid Liquidation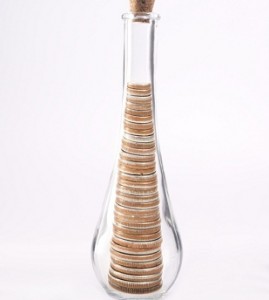 Silver started the week with a downward move, losing $0.21 on Monday to end at $32.42. Despite pressure, over the next couple of days silver posted gains and ended Wednesday at $32.74. However, as the end of the week approaches, both risk-off sentiment and liquidation appear to be taking a toll on the white metal.
This week silver has had to deal with a strong dollar and a euro that fell to a two-month low against it on Tuesday. The metals market was also pressured by further gloomy economic data, which began with disagreement over Greek funding details and was aggravated by the news that the Eurozone has fallen back into recession. When assessed individually, France and Germany have held up, but troubles appear to be branching out and optimism about the resilience of these regional strongholds is fading.
These economic conditions do not bode well for silver, as they contribute to concerns about the outlook for industrial demand. For the most part, this aspect of the metal's character has not been a primary focus this year. However, it appears to be becoming at least slightly more relevant of late. This week, for example, sluggish US economic data, including weak retail sales, served as a source of pressure for silver.
Data revealing subdued inflation in the US also appears to have brought the white metal down. Protection from inflation caused by loose monetary policy is one of the ongoing bullish themes in the silver market. This week, the white metal has received minimal safe haven play. On the contrary, some profit taking seems to have occurred, along with the extension of a trend of liquidation.
A total of 25 metric tons of silver were dropped from ETFs last week. Furthermore, the latest Commitment of Traders (COT) report shows that net speculative length declined 357.5 metric tons. Standard Bank said that was the largest sell off since June. It also marked a month of liquidation; over the past four weeks, net speculative length has declined by about 1,287 metric tonnes.
The liquidation apparently did not end last Tuesday, which is the cut off day for the COT report.
Jim Comiskey, senior account executive with Archer Financial Services, said "[a]s for the decline, an apparent large seller has appeared three days in a row at around the same time. A big fund has come in at like 3 minutes after 9 (Central time) and unloaded size in the silver and gold."
The close
Comiskey's comment came in response to Thursday's losses. Floor trading ended with December silver on the COMEX down $0.26 at $32.61. The New York spot market closed at $32.60, down $0.14.
Company news
Northern Vertex Mining (TSXV:NEE) announced a $7.5 million non-brokered private placement. The company said the deal involves approximately 6 million units at $1.25 each. A unit consists of one common share and one half of one transferable share purchase warrant.
The company intends to use the net proceeds of the offering for the advancement of the Moss project, maintenance of other projects and general corporate purposes.
International Northair Mines (TSXV:INM) announced assay results from seven additional core holes at its La Cigarra project in Mexico. Among the results, the company notes intersecting 95.5 g/t silver over 11 meters.
"These positive results obtained from our recent drilling were originally going to end our 2012 drilling season," said Fred Hewett, president and CEO of Northair. "We have now decided to continue our program and expect to complete at least 4,500 additional metres. This program is currently underway and will focus on the combined Las Carolinas and San Gregorio mineral zone to augment our data base as we move towards completion of our initial NI 43-101 resource estimate."
In an update of its activities, Redhill Resources (TSXV:RHR) announced that it has been accumulating land in Northern British Columbia in the Blackwater area of the Nechako Plateau. This area is the focal point of exploration for many companies due to New Gold's recent discovery of a world-class gold-silver deposit, Redhill said.
The company said that collectively the entire land package, now referred to as the Aspen properties, surpasses 29,100 hectares.
Securities Disclosure: I, Michelle Smith, do not hold equity interests in any of the companies mentioned in this article.