Silver Dives Day After FOMC News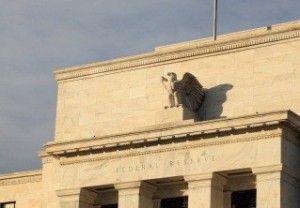 Silver initially reacted positively to the outcome of the Federal Open Market Committee's (FOMC) year-end meeting, where the decision was made to add $45 billion in monthly Treasury purchases to the $40 billion per month spent on mortgage-backed securities. The Fed also decided to keep interest rates low as long as inflation appears likely exceed 2.5 percent or unemployment is over 6.5 percent. But the day after the announcements, silver fell off a cliff, dropping 2.7 percent.
Silver moved to the upside as the FOMC meeting kicked off on Monday. The metal was supported by strength in commodities and in equities. There was positive news about China, including a rise in industrial output for November. There was also widely held optimism that fiscal cliff negotiations were on a positive course. The metal gained $0.16 on the first day of trading, closing at $33.27.
On Tuesday, silver spent much time in sub-$33 territory, but managed to post its peg directly on the mark by the close of the New York spot market. Conditions in the market improved Wednesday, even ahead of the announcement from the FOMC. Afterwards, there was a modest boost in silver prices that allowed the metal to close at $33.45 with a gain of $0.45.
However, the devil's metal quickly changed course and spent most of Thursday trading well over $1 in the red.
Silver serves as a prime example of how a tendency to play follow the leader can go terribly wrong. The white metal's losses began with it tracking gold on a downward move. However, for silver, the ultimate drop proved much more severe.
Market participants should not be fooled into believing that Thursday's losses were limited to, or even began with, the US session of COMEX trading. Rather, silver's downfall was seen in markets around the globe, and began while North Americans were still having their Wednesday dinner.
Prices were down in Asian markets, including India, where festive demand was expected to provide support for silver. However, wedding season wraps up this weekend and declines in demand and sentiment have been growing throughout the week.
Silver also moved lower on the belief that a weak euro, stronger dollar and the impact of Fed action had largely already been priced in.
"Apparently silver and gold were ultimately dismayed by the prospect of a potential end to US QE measures. Some players think that having an unrelenting easing posture increased the chances of inflation, but seeing the Fed define their exit off inflation and employment parameters is clearly undermining … precious metals prices," said CME Group.
Silver's declines are believed to have been exacerbated by technical selling. Also, concerns about fiscal cliff negotiations seemed to be re-emerging with notably negative effects.
"More evidence that the two sides remain far apart, could leave the bear camp with the advantage of the headlines again today," CME Group also said Thursday.
Disbelievers needed only to watch silver's price chart. The losses proceeded to deepen after Speaker John Boehner stated at a press conference that the White House is so uncommitted to cutting spending that it appears willing to slow walk the economy right up to and over the fiscal cliff.
The close
After hitting a fresh four-week low, March silver on the COMEX closed floor trading near the session low at $32.42, down $1.36. Silver was priced at $32.54 at the close of the New York spot market, having lost $0.91 for the day.
Silver miners were largely in the red on Thursday, as were ETFs that track the miners and those that are physically backed by silver.
Company news
In October, Freeport McMoRan Coppper & Gold (NYSE:FCX) inked a deal with Southern Silver Exploration (TSXV:SSV) that allows Freeport to earn a 70-percent interest in the Cerro Las Minitas property in Durango, Mexico. To do so, Freeport is required to make staged payments and spend $25 million on exploration and development within 10 years.
The agreement was subject to a due diligence review. Southern Silver announced that this review has been satisfied and said Freeport made its initial payment of $918,000. The next payment of $600,000 is due by January 2, 2013.
Sierra Metals (TSXV:SMT) reported high-grade silver results from drilling at the Promontorio mine, which is located on its Cusi property in Mexico.
"Drill hole 509 is the most impressive in the company's history for its combination of core length (48.85m) and silver grade (average 753 grams per tonne) and demonstrates that the Promontorio mine area contains excellent discovery potential," said Daniel Tellechea, president and CEO of Sierra.
"This discovery is significant because the existing infrastructure at Level 9 can provide early access to these new high-grade zones. In fact, mine development work on Level 9 of Promontorio is encountering excellent grades in the disseminated-silver rock as well as previously-unknown high grade veins within the disseminated zone," he added.
Mirasol Resources (TSXV:MRZ) reached an agreement to sell its 49-percent interest in the Argentina-based Joaquin silver-gold project to Coeur d'Alene Mines (NYSE:CDE,TSX:CDM) for a total consideration of $60 million. That includes $30 million in cash and $30 million worth of Coeur d'Alene common shares.
Mirasol's president and CEO, Mary Little, said, "Mirasol is delivering on its strategy of building value through making new discoveries in the areas where we explore. In the case of Joaquin, our partner Coeur plans to carry forward while we continue to engage in discovery-oriented exploration programs in Latin America. The proceeds of the deal will help sustain these efforts for the next several years. We are pleased to formalize the Joaquin sale and are committed to providing our shareholders with the best opportunities for exploration success."
Securities Disclosure: I, Michelle Smith, do not hold any equity interests in the companies mentioned in this article.