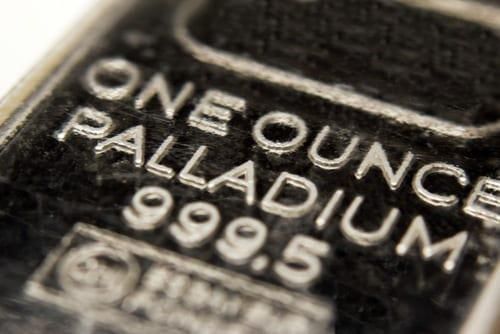 Palladium continues to exceed expectations — the automotive metal has climbed 11.2 percent year-to-date and is on track to move even higher.
Palladium continues to exceed expectations as it repeatedly breaks records and trends higher. The automotive metal has climbed 11.2 percent year-to-date and is on track to move even higher as demand from the gasoline engine automotive sector grows.
After surpassing its old highs several times in 2019, the price of palladium started 2020 much the same, easily moving past the US$2,000 an ounce mark in early January and never looking back.
Midway through last week, the gray metal climbed above US$2,100, another all-time high, before settling back just below that new threshold.
The metal remained steady for the rest of the week heading into the weekend, but spiked to US$2,115 on Monday (January 13) and has stayed within that range since. On Tuesday (January 14), it sold for US$2,139, another record-breaking price.
Palladium is seen continuing on up as stricter emissions standards related to gasoline-powered vehicles are implemented across the globe.
Demand for palladium has remained heightened over the last 18 months, and investor interest in the metal has steadily increased every time it soars to new highs. The attention is prompting palladium miners and explorers to ramp up efforts in order to benefit from the price growth.
Ivanhoe Mines (TSX:IVN,OTCQX:IVPAF) is one of those companies.
The diversified miner's subsidiary Ivanplats owns a 64 percent stake in the South African Platreef project. Making up what the company describes as a basket of metals contained within the ore, the Platreef deposit is comprised of palladium, platinum, rhodium, nickel, copper and gold, all of which performed well in 2019, with palladium and rhodium stealing the show.
In an attempt to capitalize on the positive price growth, Ivanhoe is fast tracking a feasibility study related to a reduced-size development strategy.
"An independent feasibility study is underway to review Ivanhoe's planned smaller-scale, early-stage, lower-capital-cost production plan," states a Tuesday announcement. "Ivanhoe's plan would accelerate the mine's first production by using Shaft 1 as the mine's initial production shaft, followed by expansions to the production rate outlined in the project's 2017 definitive feasibility study."
The company estimates that Platreef contains 26.8 million ounces of palladium.
On the other side of the world, Palladium One (TSXV:PDM,FWB:7N11,OTC Pink:NKORF) is working to advance its LK project in Finland.
The palladium-dominant asset is currently undergoing an induced polarization survey, which will result in high-resolution true 3D data to better identify and measure the resource in LK's Kaukua target zone.
Palladium One is hoping to supply the market as the deficit between supply and demand widens.
"With approximately 90 percent of palladium mine supply resulting as a by-product of other mined commodities, existing producers are constrained to increase supply without impacting their overall operation," said Derrick Weyrauch, president and CEO. "As a result, new sources of palladium supply are needed to meet demand and help achieve stricter air quality standards."
The palladium divide could also grow if new deposits aren't identified and brought to production as other supplies are depleted.
Don't forget to follow us @INN_Resource for real-time updates!
Securities Disclosure: I, Georgia Williams, hold no direct investment interest in any company mentioned in this article.