South Africa's Mining Turmoil Spreading to Gold Miners
Platinum miners have been most affected by disgruntled laborers, but the turmoil is spreading into the gold space.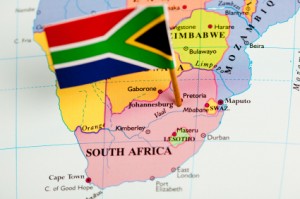 Make no mistake — South Africa's mining uproar is not limited to the platinum sector. On Tuesday, Gold Fields (NYSE:GFI) reported that a strike at its KDC mine has spread to its Beatrix mine. Despite reports that an agreement was reached with workers on Friday, the company said production has been halted at both sites. This is but one example of the trouble spreading through the mining sector.

A strike erupted on September 20 at AngloGold Ashanti's (NYSE:AU,ASX:AGG,LSE:AGD) Kopanang mine, halting operations there. The company said the strike is limited to one mine that employs about 5,000 people.
The company confirmed that all the company's sites remain peaceful, but offered no update on the workers' demands or the company's strategy to rectify the situation.
The turmoil has even impacted a mid-tier producer. Gold One International (ASX:GDO) has reported protests on several occasions. Most recently a group of about 60 protestors blocked access in and out of its Modder East Operations, threw stones at vehicles and damaged a minibus taxi while attempting to attack its occupants. Security personnel and police forces had to intervene and disperse the crowd using rubber bullets and tear gas. Gold One said none of the protesters were existing employees, but many were workers dismissed for an illegal strike earlier this year.
Wages not the only issue
Labor disputes and rising wages are becoming standard fare in South Africa's mining industry. But of late the situation has grown increasingly tense and aggressive. Dozens of lives have been lost and the need for security and police intervention to protect property and workers is growing.
Though the government tries to shore up confidence in its ability to manage the situation, the environment is complex and there is a real risk that conditions will deteriorate before they improve.
Wages often take center stage in the media, but the issues are deeper and more diverse.
"The cause of the strikes at KDC West was originally a leadership issue, though other issues have surfaced, gone away and returned," said Willie Jacobsz of Gold Fields. "The financial question has raised its head, but our position is that we currently have a wage agreement in place until the middle of next year."
With a democracy less than 20 years old, the struggles of apartheid and the promises made at its end remain fresh. Mine workers view themselves as working in a profitable, dangerous industry. They tend to be frustrated by the government, which they believe has shortchanged them, and with unions, which they see as more concerned with brushing shoulders with business leaders and politicians than representing their members' deplorable living conditions.
"As we know, South Africa comes from a past where mining was more about profits, but no social responsibilities," Susan Shabangu, South Africa's minister for mineral resources said during an appearance on Sunday Profile.
She went on to urge investors in South Africa, Africa and other developing nations to take social responsibility "because that's the only way that they can mine in a successful way." Improving the lives of people, who in many cases have moved off the land where companies are now mining, brings security to the companies operating in those areas, Shabangu added.
And though she stressed that South Africa must remain competitive, she also said, "we really believe this is the time mining must contribute toward the well-being of South African people."
South Africa's gold production on the decline
Mining is an essential part of the South African economy and gold is still a significant sector within that industry. For the three months ended April 2012, the value of mineral sales rose 2.8 percent year-on-year, according to Statistics South Africa. Gold was one of three major contributors, worth five percentage points or R 4 344 million ($529,259).
Notwithstanding the need to recognize social issues, mines, like any other operation, must function as businesses. Labor disputes, which often result in positive outcomes for employees, tend to have the opposite effect on mining companies.
"Although Modder East was able to maintain profitable production during the strike period, the ongoing buildup back to pre-strike levels will negatively impact the September 2012 quarter's results," Gold One reported.
Prices have been on the industry's side in recent years, allowing miners to enjoy comfortable margins, but falling gold production is a problem in South Africa even without the actions of protesters.
The nation's gold industry is in the midst of a long and steep decline. South Africa was the world's top gold producer as recently as 2006; the nation now ranks fifth. As major mines age and higher levels of low-grade mining occur, data continues to reflect lower production rates.
Figures from Statistics South Africa show a 2.9 percent year-on-year decline for gold mining volumes in May and a 10.3 percent decline for the January to May period compared to last year.
South Africa's gold mining industry is facing notable challenges, and they could manifest as a double-edged sword. While potentially troublesome for miners and their share prices, the region's struggles could be bullish for gold investors if labor disruptions lead to tightened supply and put upward pressure on prices.
On Tuesday, Gold Fields was down 2.94 percent, AngloGold Ashanti was down 1.96 percent and Gold One was down 4.76 percent.
Securities Disclosure: I, Michelle Smith, do not hold equity interest in any companies mentioned in this article.