Is Donald Trump Good for the Gold Price?
Plus a look at what his presidency could mean for gold stocks and the gold standard.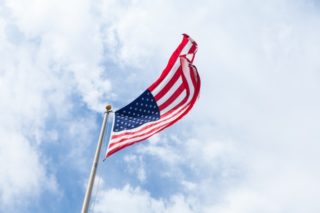 Everyone's got an opinion on US President Donald Trump. Whether it be about his policies or outrageous statements, people can't stop talking about what he's done and what he may do next. 
But while opinions on Trump abound, it's hard to get concrete answers about what impact his actions could actually have. His failure to push his healthcare reform bill through Congress has led to doubts about how much he will be able to accomplish, and many experts agree that it's fruitless to make guesses.
For resource-focused investors, one key question about Trump is how he may affect the gold price. Though he's definitely caused the the yellow metal to move both up and down since he was elected (and even before that), gold market watchers don't seem to have reached a consensus.
Read on to learn more about what's happened to the gold price since Trump was elected, and for a brief look at what his presidency could mean for gold stocks and the gold standard. As mentioned, it's hard to find concrete answers, but it's certainly possible to explore the possibilities.
The gold price under Trump
Trump was elected president on November 8 of last year, and on the back of the news the gold price took a fairly steep plunge. The Kitco chart below, which lays out gold's movement from November 8, 2016 to April 5, 2017, shows that gold was trading at just under $1,260 per ounce the day of the election, but was below $1,200 by December.
That price drop was a surprise for many involved in the gold space. Prior to the election, a slew of analysts were predicting that a Trump win would push the gold price higher — perhaps even to $1,400. Their thinking was that a Trump victory would lead to widespread uncertainty; gold, which tends to fare well in times of turmoil, would thus benefit.
So what happened? While the gold price had many influences in the days after Trump's election, overall it appears that its drop was largely the result of strength in the US dollar and concern that the US Federal Reserve would raise interest rates in December.
"Mr Trump managed to sound quite conciliatory and presidential in his victory speech … There was none of the harsh rhetoric that we heard during the campaign," Mitsubishi's Jonathan Butler explained the day after the election. "This calmed the markets and helped boost the dollar, eroding gold's gains."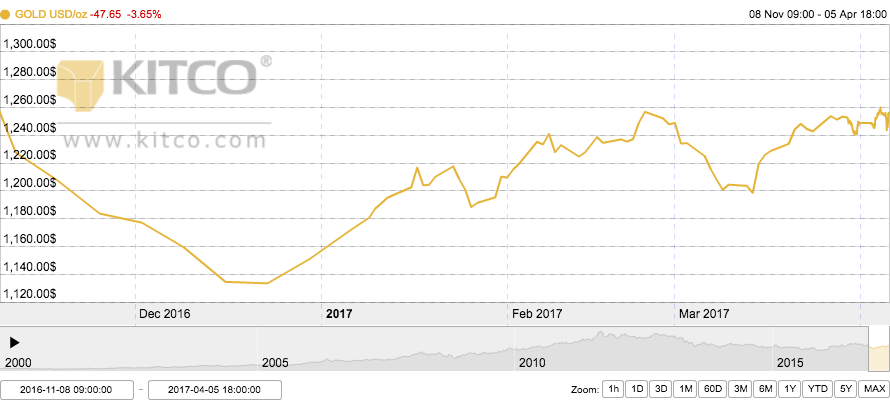 Chart via Kitco.
Since mid-December, the gold price has largely staged a recovery — in fact, as of the end of the day on April 5, it was up 10.58 percent since the beginning of 2017.
It would be difficult to argue that Trump is entirely responsible for gold's rise, but it's also clear that in some cases he's been able to stoke the gold price. For instance, on January 12, when he held his first press conference since being elected, gold pushed past the $1,200 mark; experts suggested at the time that the increase was the result of uncertainty returning to the market.
Gold mostly continued to rise throughout Q1, even after the Fed raised interest rates for the second time in three months. As the period drew to a close analysts were giving Trump-related uncertainty some credit for the increase. "The fear trade has driven the market so far this year," David Govett of Marex Spectron told Reuters.
The upshot seems to be that as usual a variety of factors affecting the gold price. Currently Trump is one of them, and — at least for now — the impact he's having is positive.
What about gold stocks?
While it's important to consider the impact Trump is having on the gold price, it's also worth looking at what what his presidency could mean for gold stocks. Again, so far it's hard to say. But many experts believe that companies mining for gold — and other metals — in the US could benefit during Trump's time in office.
Rob McEwen, chairman and chief owner of McEwen Mining (TSX:MUX,NYSE:MUX), is one person who sees Trump's presidency being a boon to miners. "The market is very excited about reducing the amount of regulations, so speeding up the ability of business to put money to work, cutting taxes. It's a very pro-business environment, I think it's very exciting to see," he said.
David Morgan of the Morgan Report and Mercenary Geologist Mickey Fulp are a couple of other market watchers who have suggested that Trump could make it easier for mining companies to move forward.
Trump and the gold standard
As a final note, investors may want to be aware of Trump's comments on the gold standard. The system, which would link the value of the US dollar directly to the price of gold, has not been used in the country since 1971, but there's been speculation that Trump might be interested in returning to it.
That idea stems from the fact that Trump has praised the gold standard in the past. "We used to have a very nice country because it was based on a gold standard and we do not have that any more," The Guardian quotes him as saying early last year. The news outlet notes that many Republicans are also fans of the gold standard.
More recently, Forbes pointed out another of Trump's comments on the gold standard: "[b]ringing back the gold standard would be very hard to do, but boy, would it be wonderful. We'd have a standard on which to base our money."
Of course, the fact that Trump and other members of his party like the idea of the gold standard doesn't mean they will push for a return to it. If they do, however, gold would almost undoubtedly benefit.
Don't forget to follow us @INN_Resource for real-time news updates!
Securities Disclosure: I, Charlotte McLeod, hold no direct investment interest in any company mentioned in this article.