Gold Lower on Bearish Fed Signal
In another down week for gold, Barrick decided enough is enough at Pascua Lama, and temporarily suspended construction at the troubled mega-project.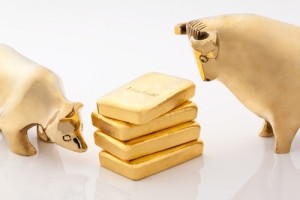 There were no Halloween firecrackers for gold today, with the pop occurring at the beginning of the week followed by gradual declines and a fizzle by Thursday.
The precious metal started the week at a 5-week high of $1,360.40 an ounce, with investors bidding up the price based on expectations that the US Federal Reserve would continue its bond-purchase program known as quantitative easing, that pumps $85 billion into financial markets each month.
The Fed surprised markets in September when it held off on dialling back the program, which is expected to top $4 trillion by the end of the year. Observers now anticipate the program will continue at least into the new year or possibly until next spring.
However, the conclusions of the Federal Open Market Committee's two-day meeting sucked the wind from the sails of that sentiment. While the Fed left its accommodative monetary policy unchanged, its remarks on Wednesday that the US economy does not have as much downside risk as in previous months led bullion traders to believe it might start tapering sooner than later. That pulled gold futures down to $1,340.70 and spot gold to $1,341.50, despite a weak employment report that caused the US dollar to fall and gold to rise earlier in the session.
The selloff continued on Thursday, when profit-taking in the aftermath of Wednesday's hawkish Fed statement combined with sharp gains in the dollar had traders hitting their sell buttons. At the close of trading in New York, December gold was down $25.80 to $1,323.50, while spot gold was last quoted down $19.10 to $1,324.25.
Weakening demand for gold from China, the second largest gold consumer behind India, contributed to the crumbling gold price this week. Between Monday and Thursday, gold slipped $28.80, or 2.1 percent.
Company news
Barrick Gold (NYSE:ABX, TSX:ABX) is finally pulling the plug on Pascua Lama, the $8.5 billion gold mine it is developing on the border of Argentina and Chile. In posting its third-quarter results, Barrick said it is temporarily suspending all construction activity at the mine, to allow it to protect capital and cut spending in 2014 by $1 billion. Barrick took a $5.5 billion writedown on the project earlier this year and has been under pressure by shareholders to cut costs and reverse a languishing share price.
The company however hinted that construction could resume if conditions improve.
"We have determined that the prudent course —at this stage— is to suspend the project, but naturally we will maintain our option to resume construction and finish the project when improvements to its current challenges have been attained," chief executive Jamie Sokalsky said in a statement.
Barrick's share price slid 5.4 percent in New York today on the news. The decision also affected silver streaming company Silver Wheaton (TSX:SLW, NYSE:SLW), which has a silver-purchase agreement with Barrick from silver mined from Pascua Lama.
Silver Wheaton and Barrick revised the agreement and Silver Wheaton will now be entitled to production from Barrick's Lagunas Norte, Pierina and Veladero mines until the end of 2016, to the extent of any production shortfall at Pascua Lama. SLW investors weren't impressed, however, with the company shedding 7 percent of its share price in New York today.
Record production at Village Main Reef's Tau Lekoa mine pushed the South African company's stock up 13 percent on Wednesday, the highest since Sept. 11, Bloomberg reported. The mine cranked out 1,090 kilograms of gold for the period ended Sept. 30, a rise of 33 percent compared to the year-ago quarter, the company stated.
Newmont (NYSE:NEM), the US-based gold producer, said on Wednesday that its Akyem project in Ghana and Phoenix Copper Leach project in Nevada have achieved commercial production on schedule and on budget, Reuters reported. Akyem, an open-pit gold mine in Ghana, is expected to produce 50,000 to 100,000 ounces this year.
Junior company news
B2Gold Corp, (TSX:BTO, NYSE:BTG) a Vancouver-based gold producer, announced on Monday that it acquired all the outstanding shares of Volta Resources Inc. (TSX:VTR) for about US$63 million.
According to B2Gold, the acquisition will add an 81 percent interest in the Kiaka gold project in Burkina Faso and a 100 percent interest in two more exploration projects in the African country. Kiaka is targetting average annual production of 34,000 ounces over a 10-year minelife based on a 2012 prefeasibility study.
Orefinders Resources Inc. (TSXV:ORX) identified 20,742 tonnes of stockpiled material with an average grade of 4.41 grams per tonne gold in three separate stockpiles located on its Mirado property in Ontario. A mineral resource estimate based on the 2013 drilling program is currently being finalized.
Corvus Gold Inc. (TSX:KOR) revised the Preliminary Economic Assessment (PEA) for its North Bullfrog Project in Nevada to include estimates of taxation and royalties. The revised PEA states a positive economic analysis at a $1,300 gold price (base case) for a heap leach project that generates average annual gold production of 76,500 ounces over 11 years. The project has a net present value of $94.6 million with a 5 percent discount rate, a 17 percent internal rate of return, and a 5.7-year payback. The life of mine strip ratio is 0.53 to 1 and cash operating costs are pegged at $778 per ounce of gold.
Securities Disclosure: I, Andrew Topf, hold no direct investment interest in any company mentioned in this article.
Related reading: