Here are 5 junior gold companies, picked by experts at the recent Cambridge House show.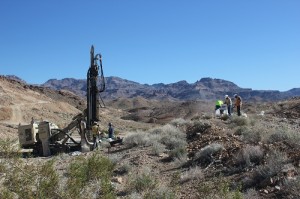 Picking a gold junior that will find exploration success and grow your investment dollar is no easy task, especially in today's markets, where the shine has come off of precious metals.
At the recent Cambridge House mining investment conference and trade show, which ran from May 26 to 27 in Vancouver, exploration pundits gathered for an informative seminar chaired by investment guru Rick Rule. While Rule conceded that there have not been many good exploration stories to talk about in the last year or so, he pointed to a few high-performing companies that have done well, such as GoldQuest (TSXV:GQC), which went from 6 cents to $1.60, Colorado Resources (TSXV:CXO), whose stock price rose seven-fold after a discovery hole yielded strong results, Reservoir Minerals (TSXV:RMC) (26 cents to $3.60), Africa Oil (TSXV:AOI) (80 cents to $10), Alpha Minerals (TSXV:AMW) and Fission Uranium (TSXV:FCU).
"There is nothing that can yield you speculative gains like anticipating exploration success," Rule said before introducing the panelists, Brent Cook, John Kaiser, Lawrence Roulston and Jordan Roy-Byrne.
Below are five gold companies that were recommended by panelists. They appear in no particular order.
Asanko (formerly Keegan Resources) (TSX:AKG) Asanko's flagship project is the Essase gold property in Ghana. It hosts 4.41 million ounces of gold in the measured and indicated categories averaging 1.45 grams per tonne. The company has completed over 278,000 meters of drilling to date and it plans to released a feasibility study in the fourth quarter of this year. A prefeasibility study published on May 13th shows annual production of 200,000 ounces and all-in cash costs of $990 per ounce. The project has a net present value of $355 million and a 23.2-percent internal rate of return, based on a gold price of $1,400/oz.
Riverside Resources (TSXV:RRI) Riverside Resources is a prospect generator with a number of gold, silver and copper projects. In April 2013 Riverside signed a $2.25 million exploration alliance with Hochschild Mining (LSE:HOC) for explore the Mega-shear gold belt in Western Sonora, Mexico. That adds to exploration partnerships with Cliffs Natural Resources (NYSE:CLF) to identify and acquire iron oxide copper gold projects on Mexico's west coast, and Antofagasta Minerals (LSE:ANTO) to explore for copper in British Columbia. Riverside has 9 gold or gold-silver properties at various stages of exploration, with all except one in Mexico. It also has two option agreements, with Guerrero Exploration (TSXV:GEX) and Sierra Madre Developments (TSXV:SMG), on its Cerro Azul and Penoles targets.
Pilot Gold (TSX:PLG) Pilot Gold is the company spun off from Fronteer Gold, which was acquired by Newmont Mining (NYSE:NEM) in 2011. Pilot has identified 13 early-stage targets in Nevada and Turkey. Its latest news release in May 2013 reported the first 10 holes of a 13-hole campaign at TV Tower's KCD target. Highlights included 93 grams per tonnes silver over 122 .7 meters at the silver zone and 1.63 g/t over 40.7 meters in the gold zone. Step-out drilling is currently underway.
Premier Gold Mines (TSX:PG) Premier Gold Mines owns gold properties in central Canada, Nevada and Mexico, including the Rahill-Bonanza joint venture that is the last piece of the Red Lake trend not 100-percent owned by Goldcorp. (TSX:G, NYSE:GG) Premier's Cove project in Nevada is within the Eureka-Battle Mountain trend that hosts multi-million producing and past-producing mines, and according to the company, is "one of the most under-explored projects in Nevada." On Tuesday Nevada's Bureau of Land Management approved a Plan of Operation for the Cove-Helen Underground Mine which allows Premier to do exploration drilling through its subsidiary Au-Reka Gold.
Corvus Gold (TSX:KOR) has precious metals properties in Nevada, Alaska and Quebec. Its flagship North Bullfrog project in Nevada hosts 1.6 million ounces of gold. According to a preliminary economic assessment released in December 2012, the mine would produce an annual 78,400 ounces of gold over 10 years at average cash operating costs of $816/oz. Corvus initiated a 20,000-meter drill program this month.
Securities Disclosure: I, Andrew Topf, own stock in Goldcorp.