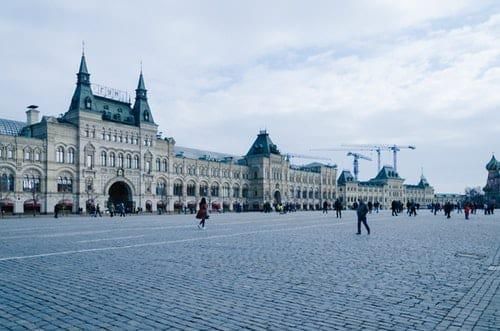 A draft bill created last week by Russian lawmakers calls for a halt in trade between Rosatom and US nuclear power companies.
Russian lawmakers have drafted legislation that will allow the country to ban or restrict imports of a slew of US goods and services, Reuters reported last Friday (April 13).
The move is a response to US sanctions imposed on April 6, and the restrictions could apply to a whole host of items, including beverages like tea, coffee and alcohol, pharmaceutical products and technological equipment and software.
They also have the potential to impact the US uranium market. According to Platts, the draft bill, which could be adopted this week, calls for a halt in trade between US nuclear power companies and Russia's state-owned nuclear company Rosatom.
Platts notes that Rosatom has several projects with US companies. For example, its nuclear fuel division has a contract to supply test batches of its TVS-K fuel assemblies at pressurized water reactors in US; delivery is supposed to begin in 2019.
Additionally, Rosatom's uranium subsidiary has signed contracts to export enriched uranium to the US.
After the announcement, former Cantor Fitzgerald uranium analyst Rob Chang commented on Twitter, "[t]his could be huge." Chang is currently CFO of Riot Blockchain (NASDAQ:RIOT) and is a board member of Ur-Energy (TSX:URE,NYSE:URG) and Fission Uranium (TSX:FCU).
Uranium expert Mike Alkin of the Stock Catalyst Report also commented on the news, pointing to a talk he gave earlier this year. In that talk he described Russia as a "geopolitical wildcard," and explained that the US uses 50 million pounds of uranium a year, and currently imports 95 percent of that uranium.
Notably, "[the US imports] half of their uranium from Russian and Russia-friendly countries. They import 95 percent, but half of that is Russian, Russian friendly. At the tensions that are right now it takes one sanction against Russia for uranium not to come in, and I think it's a huge risk," Alkin said.
So far there has been little reaction from U3O8 prices, although some US-focused uranium stocks saw share price upticks on Monday (April 15). As of 2:20 p.m. EST, Azarga Uranium (TSX:AZZ), Laramide Resources (TSX:LAM) and Ur-Energy were up 13.33 percent, 11.94 percent and 6.98 percent, respectively, while Uranium Energy (NYSEAMERICAN:UEC) was up 11.4 percent.
Energy Fuels (TSX:EFR,NYSEAMERICAN:UUUU) was up 6.99 percent on the TSX and 6.59 percent on the NYSEAMERICAN at that time.
All restrictive measures outlined in the bill could be extended to other countries if they join the US in imposing sanctions against Russia. As mentioned, the bill could gain approval as early as this week.
Don't forget to follow us @INN_Resource for real-time updates!
Securities Disclosure: I, Charlotte McLeod, hold no direct investment interest in any company mentioned in this article.
Editorial Disclosure: Azarga Uranium and Energy Fuels are clients of the Investing News Network. This article is not paid-for content.