Drill Tracker Weekly: Denison Announces Step-out Drilling from Mann Lake and Gryphon
Geologist Wayne Hewgill discusses results from 2014 drilling at Denison's Mann Lake joint venture. The company also recently announced four of 22 new holes in the basement-hosted Gryphon zone on the adjacent Wheeler River project.
Drill Tracker Weekly highlights drilling results in context with our database of over 10,000 drilling and trenching results. The purpose of this report is to highlight drilling and trenching results that stand out from the pack and compare them to their peer group. This report does not constitute initiation of coverage or a recommendation.
Denison Mines (TSX:DML,NYSEMKT:DNN)
Price: $1.15
Market cap: $581 million
Cash estimate: $26 million
Project: Mann Lake
Country: Canada
Ownership: Cameco (TSX:CCO,NYSE:CCJ) 52.5 percent; AREVA (EPA:AREVA) 17.5 percent
Resources: 166,400 tonnes at 19.13 percent U3O8 indicated
Project status: 30-percent interest in Mann Lake purchased in April 2014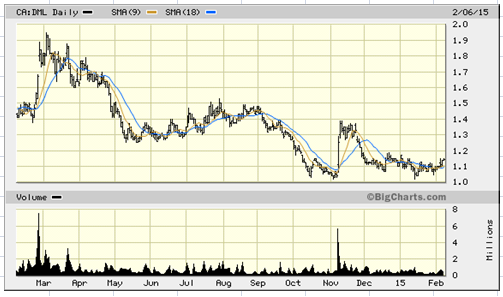 Denison Mines announced results from 2014 drilling on the Mann Lake joint venture in the Southwestern Athabasca Basin of Saskatchewan. Along with Denison's 30-percent interest, the joint venture comprises Cameco at 52.5 percent and Areva Resources Canada with 17.5 percent. Shortly after International Enexco announced the Mann Lake discovery hole in March 2014, Denison purchased the company to tie up a portion of the mineralized land package between its Wheeler River joint venture and Cameco's McArthur River mine.
Highlights from the first two of 12 planned holes include 3.5 meters grading 9.8 percent eU3O8 starting at a depth of 671 meters. The interval is the best result to date on the Mann Lake project. MN-066 is located 300 meters along strike of the April 2014 discovery hole, which returned 4.8 meters of 2.94 percent U

3

O8.
Denison also announced four of 22 new holes in the basement-hosted Gryphon zone on the adjacent Wheeler River project. Highlights include 4.6 meters grading 9 percent eU

3

O8. The hole extends the existing 350-meter strike length at Gryphon 50 meters up plunge. True thickness is reported to be approximately 75 percent of the reported length. The Wheeler River joint venture is owned 60 percent by Denison, with Cameco holding 30 percent and JCU (Canada) exploration holding 10 percent.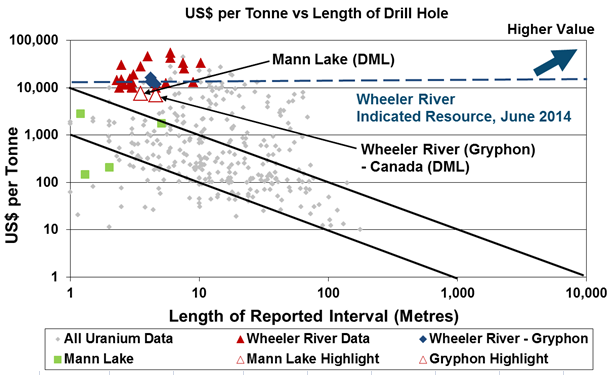 Discovery hole (March 2014): 4.8 meters at 2.94 percent U3O8
Current holes: 3.5 meters at 9.8 percent eU3O8
Disclosure: I, Wayne Hewgill, certify that the information in this report is sourced through public documents that are believed to be reliable, but accuracy and completeness as represented in this report cannot be guaranteed. The author has not received payment from any of the companies covered in this report.
This report makes not recommendations to buy sell or hold.
Wayne Hewgill is a geologist with extensive knowledge of the global mining industry gained through 30 years of diversified experience in mineral exploration and new business development in Canada, as well as 10 years living in Africa, New Zealand and Australia. He was previously senior research officer at BHP Billiton, an executive with an exploration company working in Argentina and a mining analyst at three Vancouver-based financial groups where he developed the Drill Tracker database in 2006. He holds a B.Sc. in Geology from the University of British Columbia and is registered as a Professional Geoscientist (P.Geo) with APEGBC.