Russian Demand for Advanced LNG Payments Could Mean Trouble for Europe
European countries have worried that their supply of natural gas from Russia will be cut off ever since tensions over Ukraine escalated this winter. However, those worries could soon become a reality now that Russia's Gazprom (MCX:GAZP) is getting serious about ensuring it gets paid.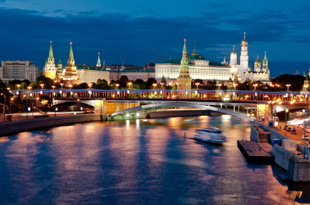 European countries have worried that their supply of natural gas from Russia will be cut off ever since tensions over Ukraine escalated this winter. However, those worries could soon become a reality now that Russia's Gazprom (MCX:GAZP) is getting serious about ensuring it gets paid. The company has demanded an advanced payment of $1.66 billion for gas to be delivered to Ukraine in June, and will halt gas flows on June 3 if no payment is made.
Ukraine currently owes $3.5 billion in unpaid gas bills relating to previous shipments, according to Bloomberg Businessweek, and that has influenced Gazprom's decision to threaten a cut off. In the event of a shutoff, summer will provide somewhat of a buffer for any ill effects, but for certain EU countries that relief is unlikely to continue into the fall. Europe depends on Russia for roughly a third of its gas, while Ukraine gets about half of its supplies from Gazprom.
Reuters reported that Russia arrived at the $1.66 billion figure by expecting Ukraine to pay for a contractually mandated 114 million cubic meters of gas per day, or 3.4 billion cubic meters for the month of June.
To pay or not to pay
The International Monetary Fund has recently supplied Ukraine with the first tranche of a two-year, $17-billion aid program, and in Russia's view, that means that the country now has sufficient funds to honor its debt repayments. Regarding his decision to instruct Gazprom to switch to a pre-paid structure for supplying gas to Ukraine, ITAR-TASS quotes Russian Prime Minister Dmitry Medvedev as saying, "[o]ur Ukrainian partners have money … [w]e have the right to expect our European partners to send a signal to the Ukrainian leadership that they must pay the debts." However, Gazprom CEO Alexei Miller did not say that Russia will stop gas deliveries outright if Ukraine fails to pay the entire $1.66 billion bill, instead stating that gas will be supplied, "in accordance with the advance payment made."
Still, Ukrainian Prime Minister Arseny Yatsenyuk is crying foul on the basis that Russia is charging an exorbitant $485 per thousand cubic meters of gas, making Ukraine Russia's highest-paying European client, according to Voice of America. The high price is based on a contract from 2009. Although Russia later dropped the price back down to a more reasonable $268.50, prices went back up in February after Russia-friendly Ukrainian President Viktor Yanukovych was forced out of office, and Ukraine wants the discount back before it will pay.
The Ukrainian prime minister has accused Russia of using its gas resources as a political tool. "We are ready for a market-based approach and Russia is to stop using natural gas as another, or a new type of Russian weapon," he told a news conference in Brussels, as per Voice of America. Furthermore, Yatsenyuk argued that when Russia annexed Crimea in March, it was wrong to take control of Crimea's gas company Chernomorneftegaz and other Ukrainian properties. "They have stolen more than 2 billion cubic meters of Ukrainian natural gas. They've stolen our fields, they have stolen our companies, they have stolen our onshore and offshore drills. We will see Russia in court too," he said.
What do all the sanctions really mean?
Meanwhile, Bloomberg reported that the EU is increasing sanctions against Russia, adding 13 officials to a travel ban list and freezing the assets of Crimean company Chernomorneftegaz. However, the fact that sanctions have only been laid against companies in the recently annexed Crimea rather than in Russia itself suggests that there may be little substance in threats to Russia from the EU and United States. As Nariman Behravesh, chief economist at consultancy IHS, told Bloomberg, "[w]hile Russia could end up paying a very heavy economic price for its annexation of Crimea and its ongoing conflict with Ukraine, the negative impacts on other parts of the world, notably Europe, will also be hard to avoid."
In an article for Bloomberg Businessweek, Carol Matlack notes that the selective sanctions shed light on how Russia's natural resource reserves allow it to easily make political and economic moves against Europe. She states that France recently refused to comply with US and EU requests to stop a sale of warships to Russia, while Italian Premier Matteo Renzi avoided discussing sanctions at a G7 energy minister meeting last week in Rome, even though he had publicly agreed that Russia should be punished for its activities in Ukraine.
Graham Freedman, senior analyst at London's Wood Mackenzie, told the publication that since a significant amount of the country's gas transits through the Ukraine from Russia, "Italy would really struggle" in the event of a Russian gas shutoff.
A meeting between energy ministers from Russia, Ukraine and the EU to discuss the ongoing issue is likely to take place later this week.
He who has the gas makes the rules
The EU and the west have taken a stand against Russia by excluding the nation from the G7 (formally the G8) and publicly condemning its actions in Ukraine. However, when it comes to gas, oil and other natural resources, it is hard to deny that Russia has the upper hand. As Gas Investing News has previously discussed, Europe has so far struggled to find options to help it diversify its sources of natural gas, while Russia will likely be able to mitigate the damage from a damaged trade relationship with Europe by turning to demand from Asian markets.
RT News recently provided a recent update on Russia's impending long-term gas deal with China. Far from a knee-jerk reaction to recent tensions with the west, the news outlet reported that the agreement has been in the works for over 10 years, which is telling in terms of Russia's ability and desire to diversify its trade relationships away from Europe. Under the terms of the deal, Russia would supply China with 38 billion cubic meters of gas per year for 30 years starting in 2018. Prices have not yet been set, but RT notes that Russia's business daily Vedomosti featured an article on April 10 suggesting the countries are looking at a range of $360 to $400 per thousand cubic meters, which is higher than what Ukraine says is fair.
A recent blog post in the Washington Post suggests that oil-rich countries have less incentive to be politically cooperative. As Europe contemplates its need for natural gas supplies, the current situation in Russia makes it seem as if the Washington Post thesis could be true for natural gas-rich countries as well.
Securities Disclosure: I, Teresa Matich, hold no investment interest in any companies mentioned.
Related reading:
Europe Considers Options in Light of Threat to Russian LNG Supplies
Just How Much Control Does Russia Have Over Global Oil Supplies?