The Other Side of the Lithium Market
There's more to the lithium space than just batteries. Lithium Investing News spoke to Trevor Walker, president of Houston Lake Mining, to get some insight into his company's focus on more traditional lithium markets.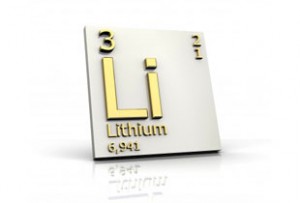 With all the excitement surrounding Tesla Motors' (NASDAQ:TSLA) gigafactory and increased demand for electric vehicle batteries, it can be easy to forget that a significant amount of lithium demand comes from more traditional end uses.
According to the latest USGS report on lithium, the metal's largest global end uses are estimated to be ceramics and glass (35 percent) rather than batteries (31 percent). Lithium products are also used in polymer production, primary aluminum production, air treatment and continuous casting mold flux powders.
Industrial Minerals published an article last month that looks at the role of traditional markets for lithium, but beyond that, there have been few mentions of the subject in publications and company press releases.
To get a bit more insight into traditional lithium markets and what they might mean for juniors, Lithium Investing News spoke with Trevor Walker, president of Houston Lake Mining (TSXV:HLM). His company is currently advancing the PAK rare metals project in Ontario, but unlike other lithium juniors, it has an eye on producing not battery-grade lithium, but lithium for use in traditional markets`.
Taking the traditional route
As Walker explained, it can be expensive to remove impurities from lithium deposits in order to meet technical specifications. And since demand for battery-grade products such as lithium carbonate and lithium hydroxide are growing, it can be more economic for some lithium companies to go the battery-grade route. Those compounds sell for higher prices than technical-grade lithium.
However, a deposit like PAK that hosts "cleaner" rock could be amenable to producing technical-grade lithium at a low cost. Houston Lake may thus be able to target that part of the market instead.
"The reason why I'm not talking about battery grade now is because for not very much money I can make a concentrate that fits the bill for technical grades," Walker said.
For example, iron can be a problematic contaminant for both battery- and technical-grade lithium and can be costly to remove. However, spodumene in the lithium-cesium-tantalum pegmatite at PAK has very low inherent iron, taking that cost out of the equation.
Beyond that, Walker noted that the PAK deposit features a high-grade zone from which it may be possible to produce direct-shipping ore. In other words, since the zone features roughly 3.5 to 4.5 percent lithium, Houston Lake could potentially crush ore according to relevant size specifications before sending that product directly to end users — without the need for a concentrator.
"That means that for very little capital cost I could be in business and could start servicing technical-grade lithium users," he said. "We have that potential in our deposit, which is really, really rare." According to Walker, that's how the massive Greenbushes mine in Australia got started decades ago.
Houston Lake is currently investigating that potential, and announced a bulk-sampling program to evaluate commercialization of the project last month.
According to Walker, Houston Lake is hoping to compete with the Greenbushes mine, which is currently controlled by China's Tianqi Group. "Ninety percent of the market for technical-grade lithium is coming from Greenbushes," said Walker. "… my target is to compete against the Greenbushes mine."
Why not batteries?
Still, as mentioned above, demand for lithium from the battery space is predicted to increase, so some might still be wondering if there's more to Houston Lake's decision to focus on technical grade.
For Walker, it's about where one can be most competitive. With an increased focus on batteries from major lithium producers, he believes it could be wiser for Houston Lake to take advantage of its potential edge in the technical-grade segment of the market.
"I think that little companies … should look at the niche markets, or the smaller segment of the market, and let the big guys fight over the batteries," he said.
And the "big guys" are getting even bigger. Walker noted that there's been at least $5 billion worth of consolidation in the lithium market over the past few years, with China's Tianqi Group outbidding Rockwood for Talison Lithium in late 2012 and Albemarle (NYSE:ALB) finalizing its takeover of Rockwood early this year. "That's really significant, and it's not about technical-grade lithium," he said.
More importantly, it's possible for technical-grade lithium concentrate to be converted to battery-grade lithium carbonate and lithium hydroxide. In other words, there's potential for existing sources of technical supply to be diverted to meet additional demand for battery-related products that fetch a higher price at market.
For example, Walker noted that although the Greenbushes mine produces the lion's share of the world's technical-grade supply, it's controlled by a battery producer — one that's currently looking at building a plant to convert at least some of the technical-grade concentrate coming from the mine into lithium carbonate.
"This will put further strain on the technical-grade market for the premium concentrate users," Walker said. In that light, one can certainly see the appeal of cracking into the technical-grade lithium segment of the market.
That said, getting into the battery market won't necessarily be out of the question for Houston Lake in the future — Walker stated that it will be possible to add a chemical plant to the PAK project down the line. But for now, the company isn't bound by batteries, and intends to move forward with its technical-grade goals.
In terms of what's next, Houston Lake recently completed a Phase 3 infill drilling program at the PAK project with the goal of upgrading its mineral resources to the measured and indicated category. Walker stated that the company will work towards completing a prefeasibility study as quickly as possible based on those results.
Houston Lake's share price is currently sitting around $0.14. It's gained about 40 percent in the past year and is up about 20 percent so far in 2015.
Securities Disclosure: I, Teresa Matich, hold no direct investment interest in any company mentioned in this article.
Editorial Disclosure: The Investing News Network does not guarantee the accuracy or thoroughness of the information reported in the interviews it conducts. The opinions expressed in these interviews do not reflect the opinions of the Investing News Network and do not constitute investment advice. All readers are encouraged to perform their own due diligence.