What's Going on with the Nickel Price Today?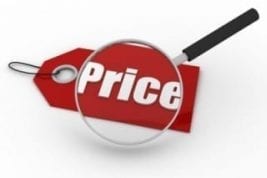 A look at what is going on with the nickel price today.
Investors hoping to see some positive news in relation to nickel price movements might want to reconsider their expectations. Following an atrocious 2015 in which nickel prices fell more than 40 percent, 2016 is not looking too bright for the base metal. Investors should be aware that the nickel price today may disappoint.
When we last looked at nickel price expectations, there were some positive sentiments that endeavored to shine through the doom and gloom of the current market. These beacons of hope included comments from Morgan Stanley, who selected nickel as its "most preferred metal" and forecast an average price for the metal of $10,692 per tonne for 2016, with an expectation that the metal's price would reach $12,236 in 2017. Meanwhile, Credit Suisse, according to Bloomberg, selected nickel as one of its top picks for 2016.

Nickel price today weighs on market
Bloomberg writes that nickel is among the worst performing major metals trading on the London Metal Exchange,with slowing demand feeding a major supply glut. The publication highlights that stockpiles on the LME are up fivefold since 2011, and in a February report, Goldman Sachs estimated a surplus of 90,000 metric tons for 2016.
What this means, of course, is that despite earlier anticipations of prices increasing, the market is looking at even more pressure on the nickel price. Current LME nickel prices are sitting at $8,880 per metric ton. Further to this, IHS is expecting to see a 25 percent drop in the average nickel price for 2016, meaning that the market could be looking at a pricing environment in the area of $8,927 per metric ton of nickel for the year.
While the figure is slightly higher than current spot prices, the stress to miners remains. "Very few industries can support [these prices], and yet we've seen a minimal supply-side reaction," Jason Kaplan, a commodities research manager at Englewood, Colorado-based IHS, said told Bloomberg in a recent interview.
Kaplan estimated that 70 percent of global nickel producers are losing money on an operating cost basis, "Everybody is looking at each other hoping that the guy down the street will fail before them." Kaplan stated.
Kaplan noted that roughly "90 percent of production is profitable at $15,000," however the research manager does not see the market returning to that level without a sudden shutdown in supply.
Still, despite the dour status of the nickel price today and the sector as a while, Kaplan is confident that this is the bottom. He does caution that while the firm foresees "very little further weakness" it doesn't see nickel prices rising – at least not any time soon.

Securities Disclosure: I, Vivien Diniz, hold no direct investment interest in any company mentioned in this article.