As the official provider of metals to make the Olympic medals, Rio Tinto has come under attack from environmental groups as well as labor unions for its mining practices worldwide. Despite the concerted global attacks, the Rio metal-made medals are now ready for showtime.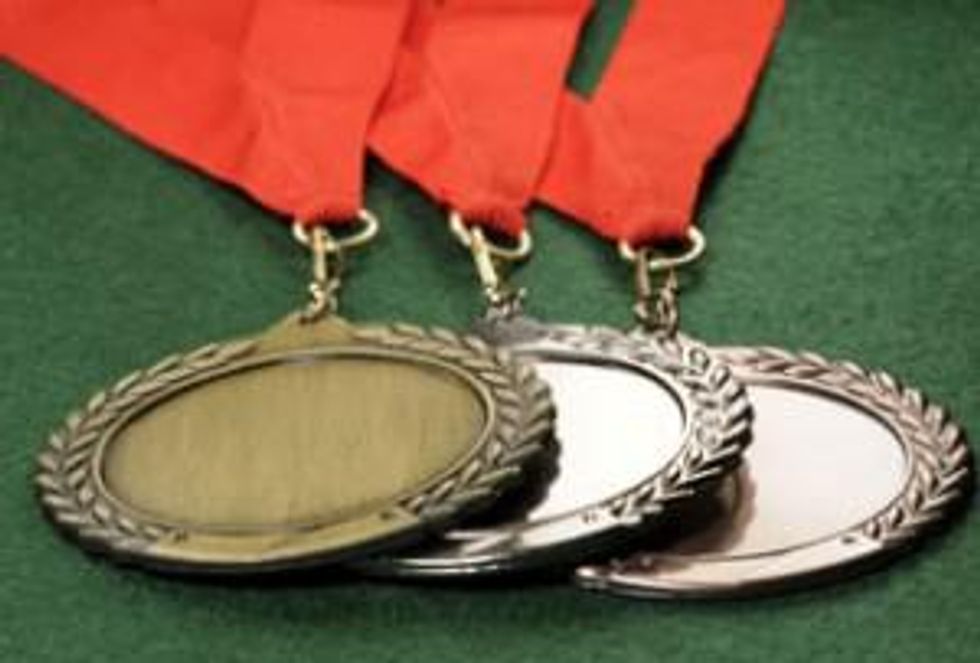 Diamonds may be a girl's best friend, but many shoppers these days are conscious about how their carats were mined and vote with their feet against so-called blood diamonds that were mined at conflict zones in Africa. Should Olympic athletes too be aware of where the metal for their medal comes from, and should they insist on getting awarded with copper as well as gold and silver that were mined sustainably at the London games?
That is certainly what the London Mining Network is calling for. The alliance of human rights and environmental groups has been one of the many non-profit organizations protesting against Rio Tinto (ASX:RIO) being the official metals provider for all 4,700 medals produced by the Royal Mint for the London Olympic and Paralympic Games. The last time Rio Tinto was the official metals supplier was in 2002. This year, the metals have been sourced from Rio Tinto's Kennecott copper mine in Utah and Mongolia's Oyu Tolgoi mine produced in an environmentally sustainable manner that promotes local growth, according to Rio Tinto's CEO Tom Albanese:
"Being ethically responsible is a thread that runs through everything we do. We aim to bring long-lasting positive change to the communities where we work, respecting human rights, bringing economic benefits and looking after the environment," Albanese stated in a news release.
Such claims, however, have been dismissed by many environmental as well as labor rights advocates.
"We certainly do not agree with the assessment" by Rio Tinto about the sustainability of its mining operations, said Richard Solly, a coordinator for the London Mining Network (LMN). The organization argues that Rio Tinto did not go through an audit and certification process before being accepted as the provider of the metals for this year's London Olympics.
In particular, LMN has pointed out allegations by Utah Physicians for a Healthy Environment and Utah Moms for Clean Air that the Bingham Canyon project is having an adverse affect on the health of those in the surrounding communities. Oyu Tolgoi, meanwhile, has been accused by the advocacy group of causing not only heavy environmental damage, but also poor labor practices including sexual harassment of female workers in Mongolia.
While Rio Tinto has denied such allegations, there is no shortage of environmental groups as well as labor unions and human rights advocacy groups siding with LMN. The Geneva-based International Metalworkers' Federation has leveraged its global network to rally union members to object to Rio Tinto's role in the upcoming games.
"Rio Tinto reportedly was the only supplier not to have been audited and certified before being designated as an official supplier.  There were countless red flags that (the London Organizing Committee of the Olympic and Paralympic Games) should have seen with only rudimentary research that should have prompted LOCOG to look elsewhere.  The choice of Rio Tinto with its baggage of damaging the environment and its attacks on workers also cut undermined the very concept that the London Games would be the greenest and most sustainable Games ever held," said Joe Drexler, head of the Canadian office of the United Steelworkers' strategic campaigns department.
The United Steelworkers launched the Off the Podium campaign earlier this year to pressure the International Olympic Committee to use Rio Tinto as well as to publicize what the group regards as human and labor rights violations in addition to environmental damage caused by the company until the games end in August.
Of course, Rio Tinto is not the only miner to face the wrath of activists, but the fact that the latest games is in a city where political activism thrives, together with the power of social media, appear to have made public opposition more visible. There had been some opposition to BHP Billiton (ASX:BHP) being the 2008 Olympic Games provider in Beijing by using metals from its Cannington mine in Queensland, Australia as well as its Escondida and Spence projects in Chile. Yet such protests were overshadowed by opposition against the Chinese government for its human rights violation as well as environmental destruction.
What has not changed is the tradition of using actual gold and silver as well as copper to produce the medals. According to the Olympic Charter, the gold and silver medals must each be made of at least 92.5 percent pure silver and the gold medal must be gilded with at least six grams of gold. The silver metal is 92.5 percent silver while the remaining 7.5 percent is copper, and the bronze medal consists of 97 percent copper, 2.5 percent zinc, and 0.5 percent tin. Over 8 tonnes of gold, silver, and copper has been extracted and refined for this year's Olympic medals which are 3.25 inches in diameter and weigh over 14 ounces. The medals have been housed in the vaults of the Tower of London since earlier this month for safekeeping.
Any athlete would argue, though, that the true value of a medal is not how much gold, silver, or copper it contains. Moreover, it appears that the Rio Tinto boycott movement has not permeated much across the general public. In the Tokyo suburb of Oizumi Gakuen, for instance, the community has united around local Masaki Ito, a 2011 World Trampoline Championship silver medalist and Olympic medalist hopeful. Asked about whether or not the source of a medal should be of concern, one Ito fan and local coffee shop waiter Norihide Otani said that such discussion should be banned during the games.
"Gold is best, but any medal is just great. Who made that medal doesn't matter. There will always be time to address labor disputes… and they never go away anyway. It's bringing home a medal that's important right now," Otani said.
Securities Disclosure: I, Shihoko Goto, hold no direct investment interest in any company mentioned in this article.
Investing News Network websites or approved third-party tools use cookies. Please refer to the  cookie policy for collected data, privacy and GDPR compliance. By continuing to browse the site, you agree to our use of cookies.