World Class Molybdenum Deposits
By Michael Montgomery—Exclusive to Moly Investing News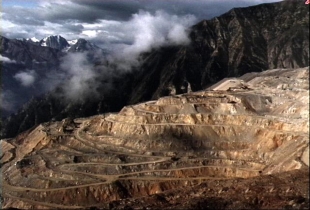 Molybdenum or moly, is a commonly occurring metallic, silvery-white element with the chemical symbol of Mo. The metal is most widely used in high-strength steel alloys. Molybdenum deposits are found and mined on almost every continent. What makes molybdenum unique is that it has a very high melting point of 4,730 degrees Fahrenheit. This is 2,000 degrees higher than the melting point of steel. It has the fifth highest melting point of all of the elements. Molybdenite is the major ore mineral for molybdenum. The Mo content of viable ore bodies ranges between 0.01 and 0.25 percent. The US and China produce the most molybdenum, and in the US moly is mined mostly in Colorado, Idaho, Arizona, and Utah.
"World molybdenum reserves and production capacity were concentrated in a few countries. World mine output in 2008 was estimated to be 218,000 t of which, in descending order of production, China, the United States, Chile, Peru, and Canada provided about 90%. Chile, China, and the United States also held about 83% of the estimated 8.6 Mt of world molybdenum reserves," according to the United States Geological Survey 2008 Molybdenum Minerals Year Book. There are also multiple moly mines in operation or development in Australia.
Molybdenum is obtained from two different types of mines:  primary mines and by-product mines. By-product mines are most commonly referred to as Copper-Molybdenum ore bodies, while 'primary' mines focus solely on molybdenum production.
Primary Moly Mines
Primary moly mines are involved in the extraction of moly as the main resource. Usually these mines are open pit operations when the ore bodies are close to the surface. General Moly [TSE:GMO] [AMEX:GMO] is currently developing the world's largest molybdenum mine, the Mount Hope project, in Nevada with proven and probable reserves totaling 1.3 billion pounds.
By-Product Mining
By-product moly mining refers to mining operations where moly is not the main focus. Usually moly accompanies copper in large porphyry ore bodies, and provides a profitable second ore source for these mines. Chile is currently the largest producer of copper in the world. Examples of by-product moly mines in the US are Kennecott Utah Copper's  Bingham Canyon Mine in Utah, and Freeport-McMoRan Copper & Gold's [NYSE:FCX] Baghdad and Sierrita Mines in Arizona.
Economic Considerations
Amongst  the considerations for the economic viability of an operation are the infrastructure costs associated with each mining operation. These include, but are not limited to, access to electricity for operations, roads and railways for transportation, as well as the proximity of ore processing and refining facilities. Also timelines for production on developing mines should be considered before investment into moly mining companies.
Open pit operations are usually the most cost efficient. "Because it's an open pit, your mining costs are much lower… If it's 0.1 percent (average grade), it had better be a big deposit and it had better be open pit," stated Dr. Nick Carter in a report for Stock Interview. The average grade is one of the most important factors in determining the profitability of a mining operation. The amount of 'overburden' or the useless rock that covers an ore body is another major factor in the viability of a project.