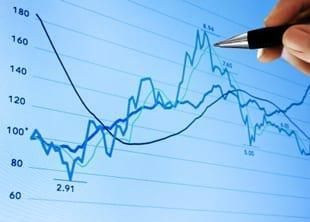 Nevada Exploration was the top-gaining stock for the week, followed by Sutter Gold Mining, Majestic Gold, Ucore Rare Metals and I-Minerals.
The S&P/TSX Venture Composite index (INDEXTSI:JX) was down again last week, losing 1.72 percent to close at 542.03 points.
Still, there were a number of resource-focused companies that came out on top. Nevada Exploration (TSXV:NGE) was the top-gaining stock, followed by Sutter Gold Mining (TSXV:SGM) Majestic Gold (TSXV:MJS), Ucore Rare Metals (TSXV:UCU) and I-Minerals (TSXV:IMA).

Nevada Exploration
The share price of gold explorer Nevada Exploration was up 108 percent last week, at $0.52. The company's share price started to rise after it announced that drill results from its Grass Valley project have confirmed the presence of a large, gold-bearing hydrothermal system "consistent with the geologic setting of a Carlin-style gold deposit."
"The importance of this new data is that it increases our confidence that we are looking at a system of the size required to support a large deposit, exhibiting all of the correct Carlin-style geology, geochemistry, structure, and stratigraphy consistent with gold mineralization in this part of Nevada," said Nevada Exploration CEO Wade Hodges. "With this evidence, we believe strongly that Grass Valley represents one of the most compelling grass roots exploration projects in Nevada today. "
Sutter Gold Mining
Sutter Gold Mining also saw a substantial share price rise last week. The miner's share price was up 100 percent, at $0.09. Sutter filed an updated technical report for its Lincoln project in July, and clarified disclosures from a corporate presentation in September. There was no further news from the company that would explain last week's share price rise.
Majestic Gold
Majestic Gold is based in Vancouver with operations in Shandong, China. Currently, it holds the producing Songijagou gold mine in the province. In its third-quarter results, released in August, Majestic reported gold production of 4,605 ounces, an 8-percent increase year-over-year. Its revenue came in at $2.8 million, and the company reported a net loss of $1.137 million.
There was no further news that would explain the company's rise in share price last week. Majestic Gold was up 40 percent for the week, last trading at $0.07.

Ucore Rare Metals
Ucore is currently advancing its Bokan-Dotson Ridge rare earths project in Alaska, and holds the right to acquire a controlling ownership interest in the exclusive rights to rare earths processing technologies developed by IBC Advanced Technologies, including IBC's Molecular Recognition Technology (MRT) for the separation of rare earths.
Ucore saw its share price rise 25 percent for the week, closing at $0.25. On October 5, the company added Nobel Laureate Dr. Jean-Marie Lehn to its advisory board. There was no additional news last week to explain Ucore's gain in share price.
I-Minerals
Finally, I-Minerals was up 24.44 percent to close at $0.28 last week. The company is focused on developing a halloysite, quartz, potassium feldspar and kaolin deposit at its Helmer-Bovill property in Idaho. The company provided an update on the status of a bankable feasibility study for the project at the end of September, stating that the study is expected to be complete on or about January 15, 2016. There was no news last week to explain the rise in share price for the company.

Data for TSXV Top 5 articles is retrieved each Friday. Only companies with a market capitalization greater than $10 million are included.
Securities Disclosure: I, Teresa Matich, hold no direct investment interest in any company mentioned in this article.
Related reading:
5 Top TSXV Stocks: Ross Beaty's Odin Mining Up 25 Percent
5 Top TSXV Stocks: Antioquia Gold Gains on Construction at Cisnero
5 Top TSXV Stocks: Adventure Gold Rises on SOQUEM Option
5 Top TSXV Stocks: Wealth Minerals Rises 50 Percent
5 Top TSXV Stocks: Cub Energy, American CuMo Mining Lead the Pack