Cannabis Investing News
How to Invest in a Cannabis Stock
Aug. 29, 2022 01:30PM PST
Are you interested in the marijuana sector? Here experts explain what investors need to know about how to invest in a cannabis stock.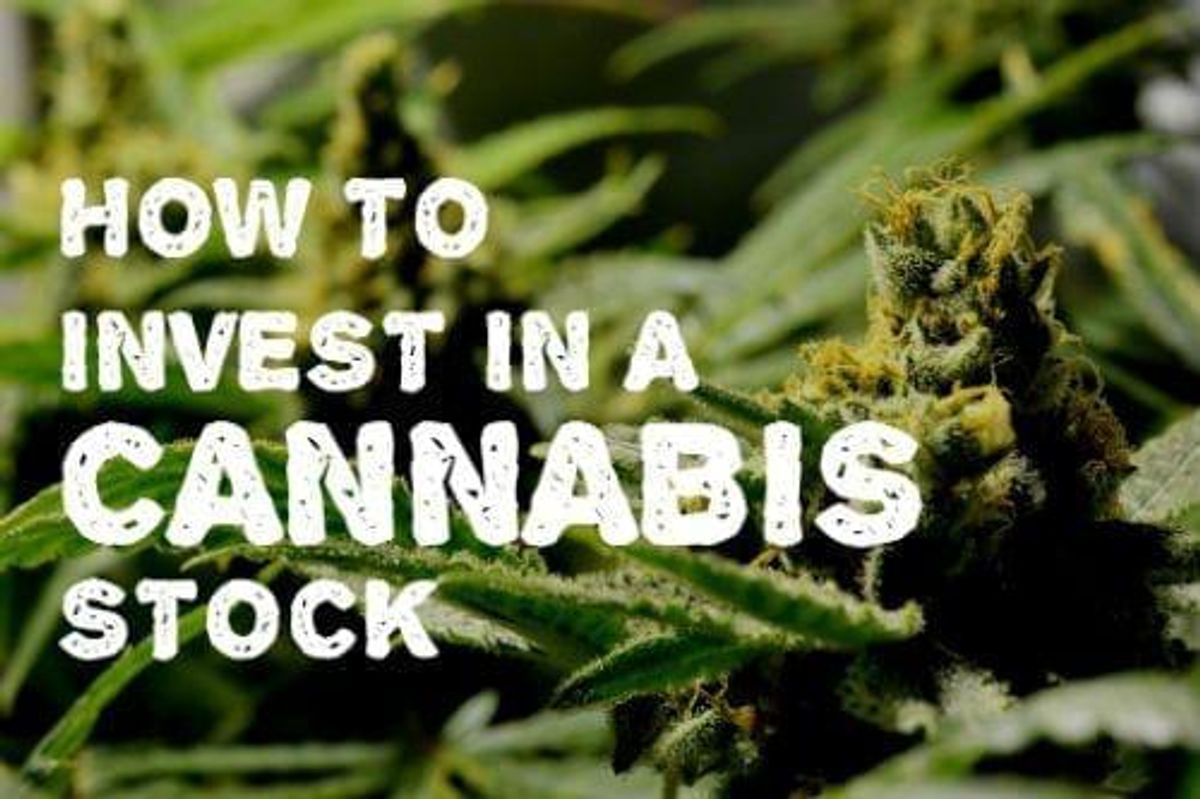 The cannabis sector has experienced highs and lows over the past few years.
More widespread legalization of the drug has opened the doors for both new and sophisticated investors looking to expand their portfolios by accessing a budding market.
But some cannabis stocks have performed better than others, and before any investor makes the decision to buy shares, there are a number of key decisions that need to be made.
---
With that in mind, the Investing News Network asked experts in the cannabis industry key questions to better understand how to invest in a cannabis stock. Here's what they said.
How to invest in a cannabis stock: Does the company have a license?
One of the most crucial — if not the most crucial — components of any cannabis company is the type of license it may hold or could be applying for in the future.
The situation in Canada provides a good case study. Even though cannabis is legal in the country, companies must still go through an arduous review process in order to obtain licensed producer status from Health Canada. They can then make products for the medical and recreational spaces.
In order to capture the recreational marijuana market, a producer will need to sign a supply agreement with a province so its cannabis products can find a space on store shelves or online.
Going through the application process with Health Canada is intense, and the government body increased its initial requirements in 2019 when it announced that cannabis grower applicants must be in possession of a fully built site that already meets the health agency's standards.
Health Canada said this decision was made because after reviewing its licensing process, the government found its resources were being mismanaged and elected to enforce stricter initial standards for producer applicants.
Sean Gercsak, an investment advisor with Canaccord Genuity Group (TSX:CF,OTC Pink:CCORF), said licensed producers in Canada enjoyed major share price gains prior to marijuana legalization in October 2018.
According to Mason Brown, a director with Stoic Advisory, licenses are good indicators of where a company may be located in the marijuana supply chain.
The knowledge of what type of license — if any at all — a company holds can paint a clearer picture of where it is heading and if it's worth investing in. "Depending on the stage of the licensing process, generating revenue could be anywhere from days to months to years away," Brown explained.
How to invest in a cannabis stock: Does the management team have experience?
In general, investors should have solid knowledge of a company's management team. For marijuana companies, this is especially important given the emergent nature of the space and the many different types of stocks in play.
"These are people you're entrusting your money to, and if you can't be confident about that, then by all means, don't invest," Alan Brochstein, a cannabis financial analyst with 420 Investor, told INN.

Brochstein suggested that the first thing an investor should find out about the people leading a marijuana company is their experience in the market and their relationship to the industry.
For his part, Brown said two key indicators of an experienced management team are that some members have "strong, large-scale greenhouse growing experience," or executive experience from the pharmaceutical world — preferably someone involved with the launch of a blockbuster drug.
"Is management only here to make money, or do they have previous experience on the other side of the table, where cannabis made a material impact on their symptoms?" he said. "Together, these give a strong backing towards management's passion for the industry and building their company."
As the variety of available cannabis products branches out into other subsectors such as edibles, beverages and wellness products, it's imperative for companies focusing on these niches to have a few team players on the roster that are well-versed in such industries inside and outside the cannabis realm.
While interest and excitement for the sector continues to grow, pitfalls are still present in the space for those investing in cannabis stocks. A strong management team can mitigate investors' exposure to such risks.
How to invest in a cannabis stock: What does its capital structure look like?
As cannabis companies mature into a world marked by increasing periods of economic upheaval, a strong balance sheet is a must, and Brochstein emphasized the importance of reviewing financials for public companies.
In the midst of the COVID-19 crisis, Nawan Butt, portfolio manager with Purpose Investments, told INN that in the Canadian marijuana sector in particular, attention is shifting to the sales of public cannabis producers.

Butt said that in order to evaluate their ability to survive the pressure from these tumultuous times, he's been dedicating a lot of attention to the balance sheets of these companies.
John Zamparo, an analyst with CIBC Capital Markets, appears to agree with this strategy. In a note issued to investors, he stressed that in times of economic uncertainty, investors should have "a hyper-focus on balance sheet strength," which he believes helps in the long run to protect against potential downturns in the space.
Companies that are cash flow positive as well as EBITDA positive — or at least on the path there — are likely to have a better chance at accessing capital than their peers.
"Capital has been very challenging for companies lately," Andrew Udell, a financial expert with the Cannalysts, said to INN in 2020. "Companies that have demonstrated earnings and demonstrated EBITDA-positive status are going to be able to access capital." Little has changed about the situation two years later.
Canadian companies in particular have struggled with maintaining healthy balance sheets, with more than few firms staring down the possibility of bankruptcy in the near future.
"We're going to see some bankruptcies. It's inevitable," Rami El-Cheikh, strategy partner at EY-Parthenon, told INN. "A lot of cannabis companies are running out of cash right now, and it's hard to raise money." El-Cheikh said ultimately he expects to see more M&A activity and fewer players on the field than there were at the start of 2022.
How to invest in a cannabis stock: Does the company have strong branding and does it understand consumers?
As the cannabis industry matures into more of a consumer packaged goods market, experts are advising investors to look to companies that have mastered branding and product visibility. That's no easy feat given the myriad differences between the US and Canadian markets in terms of cannabis promotion regulations.
The more successful companies will be those that can identify unmet needs in a highly competitive market. "There's hundreds of different cannabis brands out there in the space, carving out space," Leah Thiel, vice president of marketing at Indiva (TSXV:NDVA,OTCQX:NDVAF), told INN.
Thiel also pointed out the necessity of not assuming what works in Canada will work in the US. "We really need to understand the nuances," she said. Knowing about consumer brand awareness in a specific market also helps companies to convert that awareness into consumer loyalty.
A strong understanding of consumer preferences based on rigorous research is also key. Cannabis companies need to know who their consumers are, why they consume and how much they consume. A lack of consumer research is one factor that has been blamed for the current oversupply problem in the Canadian cannabis market.
"These companies thought that they would make a profit by just gaining market share, taking the losses where they could, making sure that their products were everywhere … but what they failed to do was, again, identify who the consumer is," Butt explained to INN. "(Canadian LPs are) talking about lowering their losses, they're talking about how to improve metrics, how to improve wastage and really how to get to profitability."
In the fractured US state-by-state landscape, smaller-scale companies are at a serious disadvantage when it comes to brand awareness and product visibility. Multi-state operators (MSOs) are better positioned to take on this challenge, but even they must still be strategic when launching products in new markets.
Could a cannabis company ever build its brand to a global scale on par with Nike (NYSE:NKE) or the Coca-Cola Company (NYSE:KO)? "I would say it's definitely harder to accomplish, (but) it's not impossible," Thiel said. Federal legality in the US and the further opening up of international markets would be a step in that direction.
How to invest in a cannabis stock: What is the company's long-term strategy?
All of these questions paint a picture of how much room for growth a company has. When looking at stocks, investors should be aware of their size, their specific market and their plans beyond their initial strategy.
Brown suggested evaluating company aspirations and if they are achievable. "Does the company want to be a massive player in a small pond or a small player in a massive pond?"

Dan Ahrens, chief operating officer and portfolio manager at AdvisorShares, told INN he's looking at MSOs that are preparing for eventual changes in policy at the federal level. In the US, MSOs focused on M&A are experiencing the most growth ahead of any potential federal-scale opening up of the cannabis industry.
"What MSOs are essentially trying to do is get ahead of the floodgates opening up, because when a federal decriminalization of sorts happens … everybody can come and establish themselves in the space," Butt said.
More recently, Charles Taerk, president and CEO of Faircourt Asset Management, told INN that "MSOs (are) very undervalued, and they have very strong fundamentals. The total addressable market in the US continues to grow, with a number of different state markets opening both to medical and recreational markets, and (MSOs are) trading at five times EBITDA." He believes investors should be looking at these firms.
Consolidation as not only a strategy for growth, but also survival, is taking shape as a high interest rate environment has made it challenging for smaller-cap US companies to borrow money.
Joseph Dowling, CEO of CV Sciences (OTCQB:CVSI), explained that consolidation creates efficiencies, especially in today's financial landscape. "(Consolidation) will allow stronger, more prominent companies … to lead the way in a still challenging environment," he said.
How to invest in a cannabis stock: In summary
As any investor can see, the cannabis market has a lot to offer now and in the future. In fact, the global cannabis market as a whole could reach as much as US$102.2 billion by 2030. Legal cannabis is spreading around the world as more and more jurisdictions grant access to marijuana to millions of consumers through regulated industries.
Investors interested in the area are encouraged to do their due diligence when looking for the unique opportunities the marijuana industry has to offer.
This is an updated version of an article originally published by the Investing News Network in 2018.

Don't forget to follow us @INN_Cannabis for real-time news updates!
Securities Disclosure: I, Melissa Pistilli, hold no direct investment interest in any company mentioned in this article.
https://twitter.com/INN_Resource
https://www.linkedin.com/in/melissa-pistilli-865271a9/
mpistilli@investingnews.com
Melissa Pistilli has been reporting on the markets and educating investors since 2006. She has covered a wide variety of industries in the investment space including mining, cannabis, tech and pharmaceuticals. She helps to educate investors about opportunities in a variety of growth markets. Melissa holds a bachelor's degree in English education as well as a master's degree in the teaching of writing, both from Humboldt State University, California.
How to invest in Cannabis:
Investing News Network websites or approved third-party tools use cookies. Please refer to the cookie policy for collected data, privacy and GDPR compliance. By continuing to browse the site, you agree to our use of cookies. 
Melissa Pistilli has been reporting on the markets and educating investors since 2006. She has covered a wide variety of industries in the investment space including mining, cannabis, tech and pharmaceuticals. She helps to educate investors about opportunities in a variety of growth markets. Melissa holds a bachelor's degree in English education as well as a master's degree in the teaching of writing, both from Humboldt State University, California.