Overview
Resource-focused investors are all too familiar with mining companies aiming to explore and develop their portfolios. A typical junior or mid-tier mining company begins with exploration, then ideally moves towards developing the asset so it can eventually reach full production. It's a story as old as mining itself, but is this the only way? The prospect generation model offers investors one of the best avenues to gain exposure to promising assets while simultaneously mitigating the risks associated with the exploration stage.
A prospect generator leverages its expertise to identify promising assets and conducts early-stage exploration, such as geophysics, geological mapping, and geochemistry. Once an asset produces promising assay results, a partner may be solicited to help fund exploratory drilling. Rick Rule of Sprott USA said in an interview, "The idea is that the exploration business is very much like any other form of research and development business, and that the chief value is actually the intellectual capital of the management team."
Alianza Minerals (TSXV:ANZ,OTCQB:TARSF) is an exploration company that embodies the prospect generation approach with a twist. The company employs a hybrid business model towards project generation, fully funding very select projects while finding partners for others. Alianza Minerals uses this approach to maximize opportunities for exploration success. The company boasts a diverse portfolio of projects in Tier One jurisdictions at different stages of exploration, with some having partnerships and others wholly owned by Alianza Minerals such as its high grade Haldane silver project in Yukon.
The company is focused on politically-stable jurisdictions throughout the Americas, particularly the Cordillera regions in Western North and South America. The company has a large variety of assets, but three projects are currently at exciting stages of exploration. Its flagship project is the Haldane Silver Project in Yukon, which recently completed a very successful drilling campaign. In addition, the Tim Silver Project in Southern Yukon and the Twin Canyon Gold Project in Colorado are undergoing various stages of exploration. Each of these projects already has access roads, with the Haldane and Twin Canyon projects even having nearby access to power.
Coeur Mining (NYSE:CDE) is the company's partner to aid in exploring the Tim Project, and Coeur Mining also owns the nearby Silvertip Mine that has similar geology. Alianza is currently seeking a partner for the Twin Canyon Gold Project to help fund a ten-hole RC drilling program. The Haldane Silver Project is 100 percent owned by Alianza.
Giving its shareholders even more potential for discovery, in 2021, Alianza acquired two copper projects in Colorado and has secured a partner funding exploration, including drilling, on both projects for the summer of 2022.
Mark T. Brown, executive chairman, said, "It's tough to make economic metals discoveries in our business. So the more drilling you have, the more cracks you have at making a drill discovery and the better your chances of being successful. We're literally drilling at four projects in two well-known mining areas."
Prospect generators ideally have a team of qualified experts; otherwise, they might fail to produce meaningful exploration results that intrigue other mining companies. Additionally, the management team needs to understand how to sell a prospect to a development company. A notable benefit of Alianza's hybrid approach is that a partner adds another layer of scrutiny on the company's projects and can also fill the gap if a particular asset needs a specific skill set.
Fortunately, Alianza Minerals has a diverse team of experts in both areas that builds confidence in the company's ability to produce shareholder value with the prospect generation model. Jason Weber, Craig Lindsay and Marc Blythe have direct experience selling discoveries to other mining companies. Weber and Rob Duncan have a combined 55 years of mineral exploration experience, creating a solid foundation of expertise. Mark Brown was the founder of Rare Element Resources that he and his team built into a $500 million company. Experts in corporate management and accounting round out the management team.
Highlights
Alianza Minerals is a prospect generation company that embraces a hybrid business model that enables them to bring on partnerships or fully own the asset, depending on what will maximize shareholder value.
The company has an extensive portfolio of assets throughout Tier One jurisdictions in the Americas. Most of its assets are within districts known for meaningful mineral deposits.
The Haldane Silver Project is the company's wholly owned flagship project and has recently seen some excellent high grade silver intersections over potentially mineable widths.
Coeur Mining is a meaningful partner providing its expertise and capital to the Tim Project. Alianza is seeking partners for the Twin Canyon Project.
Alianza has an active partner in Allied Resources, who is planning to conduct drilling on two of its copper projects in Colorado in the summer of 2022.
Alianza Minerals has an experienced management team with asset exploration and sales expertise. Each management team member brings decades of experience in mineral exploration, corporate administration, or corporate finance.
Key Projects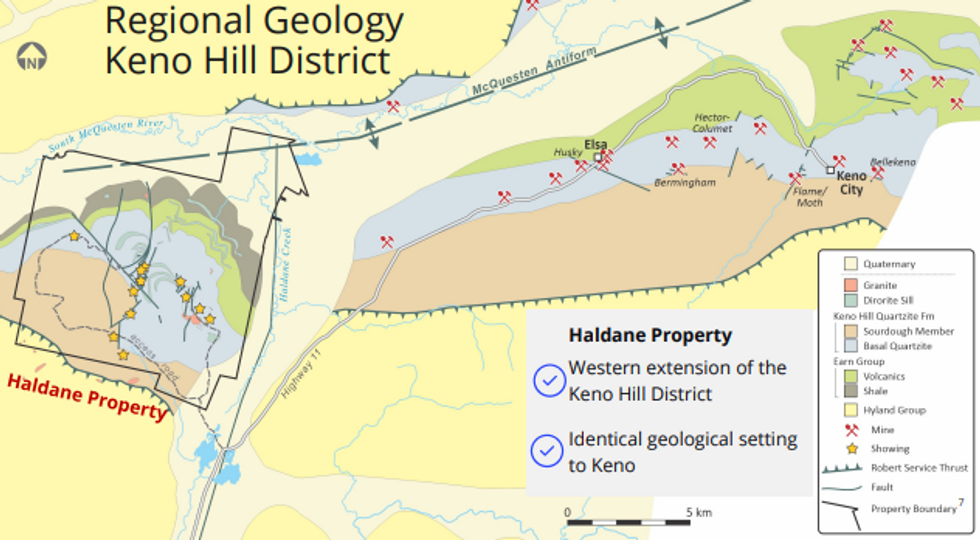 The Haldane Silver Project
The 100 percent owned Haldane Silver Project is in an underexplored yet high-grade silver property in a historic silver-mining region in Yukon. The project covers 8,164 hectares that host structurally-controlled silver veins. Phase Two exploratory drilling was recently completed and produced promising results.
Project Highlights:
100 Years of Sporadic Work: The project has been known to host silver mineralization for decades but only received sporadic work that focused on specific areas rather than considering the entire property. Conversely, Alianza Minerals conducted thorough analyses before its exploratory drilling.
Promising Historical Results: The property was mined in 1918, and the underground mine produced 24.7 tonnes of hand-sorted ore graded at 3,102 g/t silver and 59 percent lead.
2021 Drilling Confirms High-Grade Mineralization: Phase Two drilling began in May 2021 and one drill hole intersected vein mineralization averaging 3,267 g/t silver, 5.8 percent lead and 7.02 percent zinc over 2.1 meters. Additional drill holes expanded upon this mineralization while previous drilling confirmed the presence of silver, lead and zinc over other targets on the property.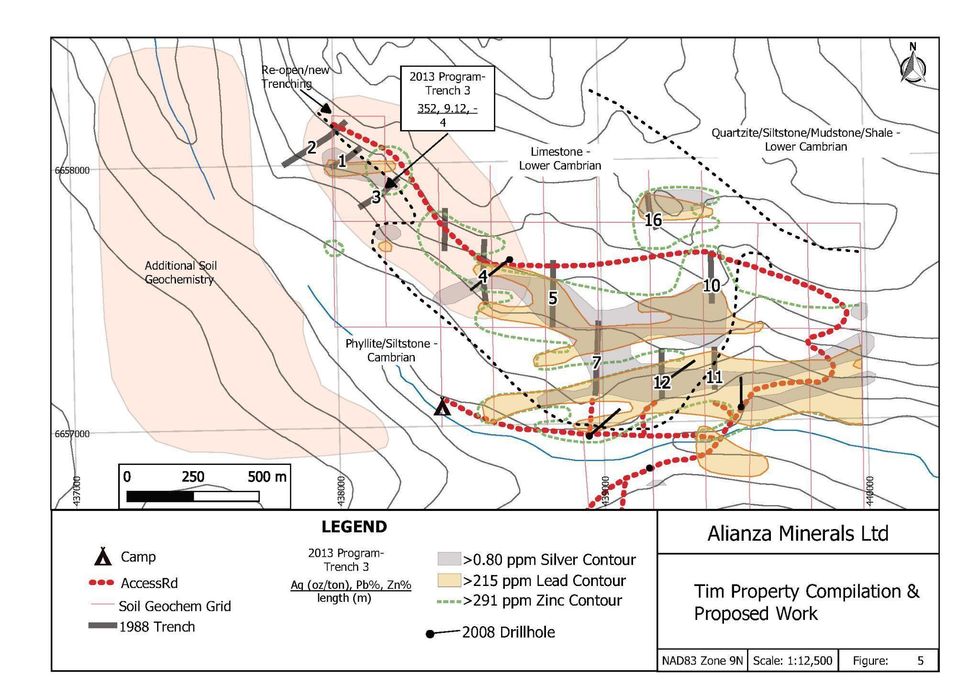 Tim Project
The Yukon-based Tim Project consists of 72 mineral claims located 27 kilometers west of Watson Lake and only 19 kilometers northeast of the Silvertip deposit owned by Coeur Mining. Coeur Mining has partnered with Alianza and conducted mapping, soil sampling, trenching and airborne geophysical surveys. The company is currently awaiting results from the 2021 program.
Project Highlights:
Historic Trench Chip Samplings are Encouraging: Historic exploration trench chip samples returned 352.4 g/t silver and 9.12 percent lead over 4 meters. Additional grab samples returned assays of 1,248.1 g/t silver and 49.5 percent lead.
Potential to Expand Known Mineralization: Alianza's 2013 sampling returned 6.4 meters grading 220 g/t silver and 4.74 percent lead. These results cause management to believe that the known mineralization can be expanded.
Encouraging SkyTEM Survey from Coeur: The airborne survey program identified several conductors that may correlate with oxidized silver-bearing mineralization found in the historic trench programs. The pending analyses from reopened trench samples taken during 2021 will substantiate the airborne exploration results.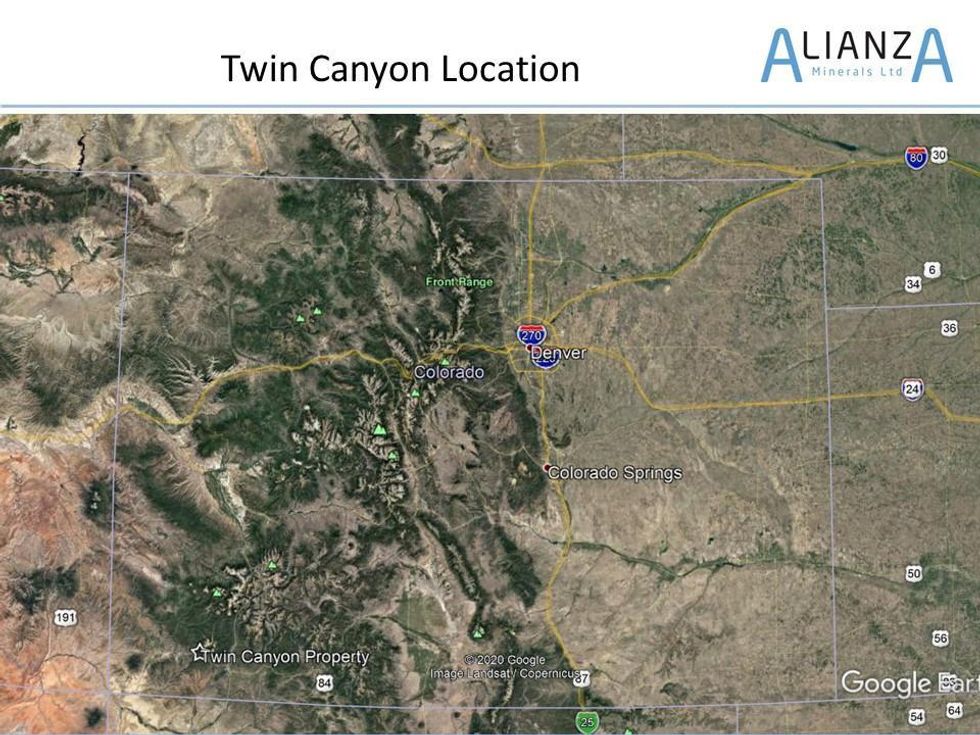 Twin Canyon Project
The Twin Canyon Project is located in Colorado and contains a sandstone-hosted gold prospect. The project is approximately 20 kilometers from the town of Mancos. A small family operation previously owned the project and crushed the sandstone to recover gold. As a result, Alianza acquired the property believing it may contain widespread gold mineralization. The company is currently seeking a partner to conduct a ten-hole drilling program.
Project Highlights:
Geology that May Host Gold: Gold mineralization is known to be associated with bitumen and hosted within bleached and altered sandstone on the property.
Encouraging Underground Mine Samples: The Charlene Mine yielded gold values from grab samples that range from 0.1 to 15.77 g/t gold. Historic samplings from 1986 in the same area produced results ranging from 0.1 to 8.1 g/t gold over 3 meters.
Geochemical Sampling Produced Promising Results: A sampling program in 2020 highlighted anomalous gold-in-soil values found throughout 3000 meters of strike length within the prospective sandstones. These results indicate that the known gold mineralization may extend beyond the known mine.
Stateline and Klondike Copper Projects
In 2021, Alianza struck a strategic alliance with Cloudbreak Discovery to identify and acquire copper prospects in the Southwestern United States. The alliance focused on Southwest Colorado, acquiring and subsequently optioning two copper projects, Klondike and Stateline, to Allied Copper, which can earn a 100 percent interest in the projects in return for shares, cash and exploration work. Allied is funding groundwork and remote sensing surveys at both projects in preparation for drilling in 2022.
Recent work at Klondike helped define drill targets in two areas and identified a new target named the Northeast Fault. Sampling at the Northeast Fault returned 1.56 percent copper and 1.4 g/t of silver over a 4.6 meter chip sample. Copper mineralized sandstones at the Northeast Fault target can be traced along the fault and outboard from it into the adjacent sandstones over an area 200 meters long by 100 meters wide before becoming obscured beneath gravel cover.
The Stateline Property lies just eight kilometers on trend of the operating Lisbon Valley Copper Mine in Eastern Utah. The Utah/Colorado state line hosts copper oxide mineralization at surface, within host sandstone units bearing strong similarities to copper deposits at Lisbon Valley. Mineralized outcrops have yielded assay results up to 1.6 percent copper and 1.7 g/t of silver and 0.45 percent copper and 2.1 g/t of silver.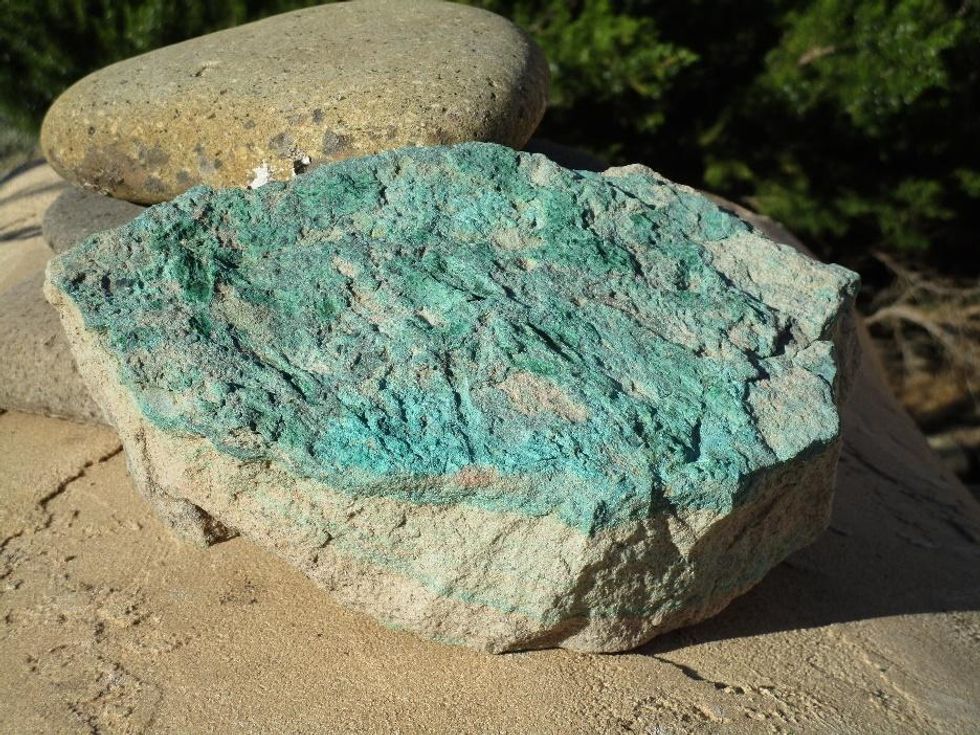 1 copper mineralization at Klondike, CO
Management Team
Jason Weber - President & CEO
Jason Weber is a geologist with over 25 years of experience in the minerals exploration industry. Before Alianza, Weber held the position of president and CEO of Kiska Metals Corporation, an exploration company focused on exploring and developing the Whistler gold-copper porphyry project in Alaska. Weber was president and CEO of Rimfire Minerals Corporation from 2007 to 2009, when Rimfire merged with Geoinformatics to create Kiska. He initially joined Rimfire in 1999 as Manager of Corporate Communications after working as a consulting project geologist with Equity Engineering in Canada, the USA and Central America. Weber has served as a director and advisor to numerous junior exploration companies.
Rob Duncan - VP of Exploration
Rob Duncan has over 30 years of experience in mineral exploration with a wide range of companies, from major producers such as Rio Tinto and Inmet Mining to junior explorers. In addition, he has held senior management positions with junior explorers throughout the North American Cordillera, Canadian Shield and Eastern Europe. Duncan's work entailed various deposit types, including orogenic gold, porphyry copper (gold), VMS, intrusion-related gold and epithermal gold-silver systems. He also has over 10 years of management experience, specifically with prospect-generator companies. In addition, he has held the position of exploration manager at Rimfire Minerals and VP of exploration and project development at Evrim Resources, now Orogen Royalties. (TSXV:OGN,OTCQX:OGNRF).
Marc G. Blythe - Director
Marc Blythe has a Master of Business Administration from La Trobe University in Melbourne and a Bachelor of Mining Engineering degree from the Western Australian School of Mines. Blythe served as vice president of mining at Almaden Minerals from 2006 to 2011, also acting as president & CEO of Tarsis Resources, now a part of Alianza Minerals. He was also the vice president of corporate development at Nevsun Resources. Before that, Blythe held the position of corporate senior mining engineer for Placer Dome, a Vancouver-based company, from 2004 until 2006. During this tenure, Blythe completed internal and external mine evaluations, including advising on potential acquisitions and mining technology implementation.
Craig Lindsay - Director
Craig Lindsay has over 25 years of experience in corporate finance, investment banking and business development. His focus has been on mineral resources in the Western United States. He was the founder, president and CEO of Otis Gold until its sale to Excellon Resources (TSX:EXN) in 2020. Lindsay is currently the managing director of Arbutus Grove Capital, a private company offering corporate finance and merchant banking services.
Lindsay was a founder and president of Magnum Uranium until its merger with Energy Fuels (TSX:EFR) in June 2009. He also served as vice president of the Corporate Finance and Investment Banking Group at PricewaterhouseCoopers. Lindsay was also the founder of Malaspina Capital, a junior capital pool company. He was responsible for identifying its merger with Miranda Mining, a Mexico-based gold producer subsequently acquired by Wheaton River Minerals.
Sven Gollan - Director
Sven Gollan spent 16 years as an investment/private banker in Germany and Austria, during which time he was active in the education and training of securities advisors and investment bankers. From 2011 to 2015, Gollan was an external consultant for the Grabher Family, Austria. Gollan has been with FruchtExpress Grabher as corporate treasurer since 2015. He is currently with FruchtExpress Norge, the Norwegian branch of FruchtExpress.
Mark T. Brown - Executive Chairman
Mark Brown obtained his Chartered Accountant designation in 1993 while working with PricewaterhouseCoopers in Vancouver, BC. Brown has led the financial aspects of Alianza Minerals since 2007, including financing, regulatory and reporting issues. Before Alianza, Brown was the controller of two operating gold mining companies with operations in Northern Canada and South America. Brown currently sits on the boards of other public companies. He leads a team of ten people in the Vancouver office of Pacific Opportunity Capital, a financial consulting and merchant banking firm that's active in venture capital markets in North America.
Winnie Wong - CFO
Winnie Wong is the vice president of client services at Pacific Opportunity Capital, a firm the Alianza has retained to provide financial management and accounting services. After graduation from Queen's University, Wong worked with Deloitte & Touche, where she earned her Chartered Accountant designation. She currently acts as the CFO and corporate secretary of certain TSX Venture Exchange companies. She was formerly CFO of Rare Element Resources, a company with a $500 million market cap, as well as Animas Resources and AQM Copper.
Murray Jones - Senior Geologist, Haldane Silver Project
Murray Jones joined Equity in 1997 and has over 35 years of experience in mineral exploration. Over this time, he has developed expertise in orogenic gold, volcanogenic massive sulfide and IOCG deposits. Jones continues to be driven by the diverse opportunities of the mineral exploration industry. In addition to the variety of challenges that come with the senior project geologist role, Jones' primary motivations are his involvement in advancing new projects and working in new geological environments. His depth of experience adds significant value for guiding and mentoring younger geologists. Jones is currently working on Alianza's Haldane Silver Project in Yukon.
Request an Investor Kit
EXCITING upcoming projects!
IN-DEPTH reliable insights!
SUCCESSFUL growth strategies!
VALUE-BASED content!
Alianza Minerals