Cobalt Investing
Top 10 Cobalt Producers by Country
Nov. 30, 2023 01:55PM PST
Cobalt production is hot and getting hotter. Here are the 10 top cobalt-producing countries of 2022, based on US Geological Survey numbers.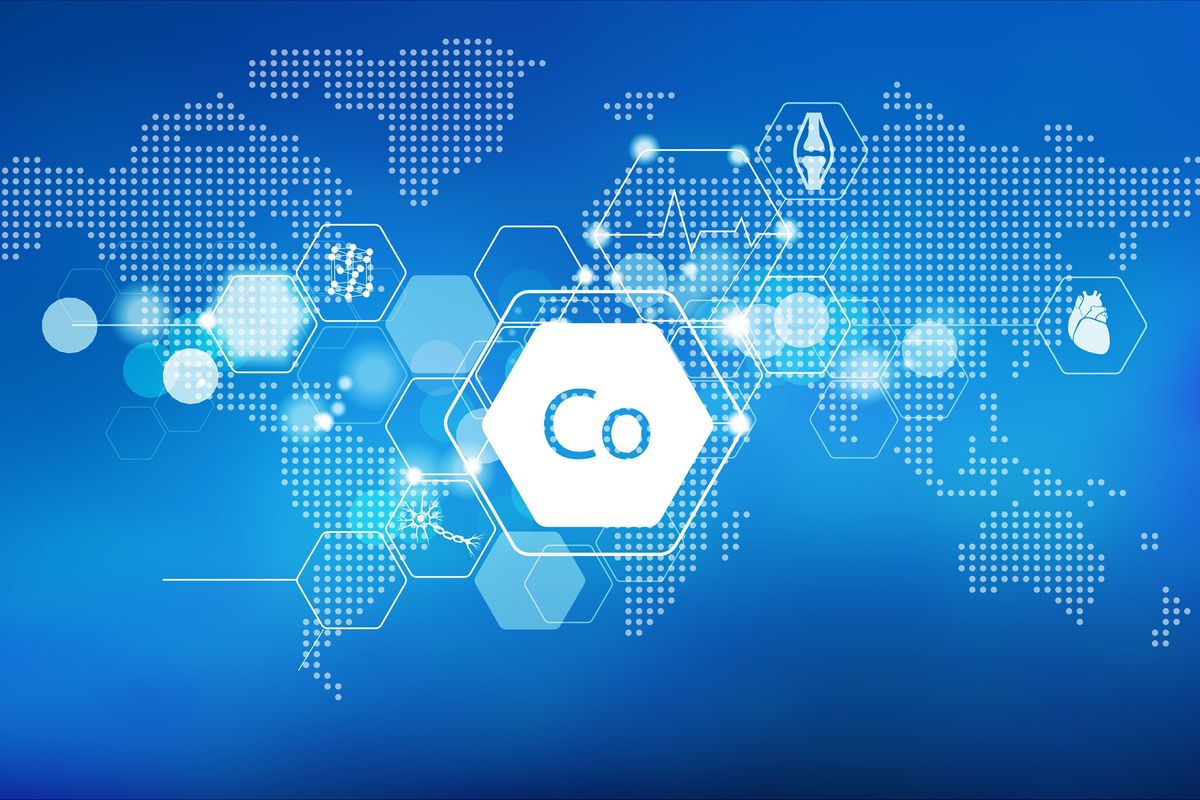 The cobalt market is facing high demand, but analysts advise that production is also on the rise.
One of the metal's main catalysts is excitement about electric vehicles. The lithium-ion batteries that power electric vehicles require lithium, graphite and cobalt, among other raw materials, and demand for these important commodities is expected to keep rising as the shift toward clean technologies continues at a global scale. Additionally, the metal is predominantly produced as a by-product of copper and nickel, two other metals that are important for the green transition.
Given those circumstances, it's interesting to look at the top cobalt producers by country. According to the US Geological Survey, world production has increased significantly over the past two years. In 2022, cobalt production reached 190,000 metric tons (MT), a big jump from 2021's 165,000 MT and an even bigger one from 2020's 142,000 MT.
---
Read on for a closer look at cobalt supply and which countries lead in production.
1. Democratic Republic of Congo
Mine production: 130,000 MT
The Democratic Republic of Congo (DRC) is by far the world's largest producer of cobalt, accounting for roughly 70 percent of global production. The country has been the top producer of the metal for some time, and is likely to remain crucial to the cobalt market for the foreseeable future. However, cobalt mining in the DRC is associated with rampant human rights abuses and child labor, due in part to the large presence of unregulated artisanal mining.
Attempts have been made to regulate the DRC's dangerous artisanal mining sector. But with hundreds of thousands of people relying on artisanal mining for income, eliminating it completely isn't possible. Efforts to date include the creation of a new state company, Entreprise Générale du Cobalt, to buy and market all artisanal cobalt mined in the DRC; it was set up in 2020 and has not yet gotten off the ground. Aside from that, the Responsible Minerals Initiative, in cooperation with the Global Battery Alliance, has drafted a framework for a regulated artisanal mining sector. The DRC's mines minister formally approved the ASM Cobalt Standard last year, and plans for assessing its effectiveness at pilot sites are being developed.
Outside the DRC's artisanal mining sphere, cobalt is largely produced as a by-product of copper mines, including the Tenke Fungurume mine, owned by the CMOC Group (OTC Pink:CMCLF,HKEX:3993); Metalkol RTR, owned by Eurasian Resources Group and the KOV; and the Mutanda and Mashamba East mines, owned by Glencore (LSE:GLEN,OTC Pink:GLCNF).
2. Indonesia
Mine production: 10,000 MT
After producing only 2,700 MT of cobalt in 2021, Indonesia surged into second place last year with output of 10,000 MT. This rapid change was the result of an increase in investment in Indonesia's battery metals supply chain, predominantly from Chinese companies — they moved in after Indonesia banned nickel ore exports in 2019. The country's higher cobalt production itself has come from four new high-pressure acid leaching (HPAL) facilities that process ore to produce both nickel and cobalt in mixed hydroxide precipitate, which can then be exported.
The first two HPAL operations came online in 2021 as part of the existing Indonesia Morowali Industrial Park. The facilities were developed by QMB New Materials, a joint venture between Tsingshan Holding Group, GEM (SZSE:002340), CATL (SZSE:300750) and Hanwa (TSE:8078). As of late-2023, two others are also operating in the country — one run by Huayue, owned by Tsingshan and CMOC Group, and one run by Halmahera Persada Lygend, owned by Lygend Resources (HKEX:2245) and Trimegah Bangun Persada (IDX:NCKL).
More facilities are on the way, including the US$2.6 billion Sonic Bay nickel-cobalt hydrometallurgical complex, which is being developed in a partnership between Eramet (EPA:ERA) and chemical producer BASF (OTCQX:BFFAF,FWB:BASF). Sonic Bay will process ore from the Weda Bay nickel mine to produce a planned 7,500 MT of cobalt and 67,000 MT of nickel per year.
According to a market report released in May 2023 from the Cobalt Institute, Indonesia has the potential to increase its cobalt output 10 fold by 2030. In the same vein, data from Benchmark Mineral Intelligence indicates that Indonesia's 2030 cobalt output will make up 20 percent of global production compared to 1 percent in 2021 and 5 percent last year. While the market has been searching for an alternative to the DRC for its cobalt, both Indonesia's nickel industry and this rapid build out come with their own environmental concerns.
3. Russia
Mine production: 8,900 MT
After falling in 2021, Russia's cobalt production increased in 2022, rising from 8,000 MT to 8,900 MT. While the country's cobalt reserves stand at 250,000 MT, Russia is still well behind the DRC in terms of production. Large Russian miner Norilsk Nickel produces cobalt and is among the world's top five producers of the mineral.
With concerns about DRC cobalt running high, some automakers have been calling for increased electric vehicle battery production in Europe. There was hope that this push could boost Russia's future cobalt production — however, that may now be out of the question while the country wages war against Ukraine. As of this November, EU sanctions on the country had yet to affect cobalt, but in April 2022 the US hit Russian cobalt with a 45 percent duty that will expire on January 1, 2024.
4. Australia
Mine production: 5,900 MT
As the DRC becomes increasingly challenging for miners and as investors try to divert their interests away from Africa, Australia is another country that's receiving more attention — the island nation's cobalt reserves are the second largest in the world at 1,500,000 MT.
In terms of production, Australia saw a large increase in 2022, with output rising by 605 MT from 2021's 5,295 MT. As is the case for many other countries on this list, cobalt is produced in Australia as a by-product of copper and nickel mining. The country's nickel mines are located in the western part of the country, mostly around the Kalgoorlie and Leonora regions.
Additionally, the Australian government has been sending geologists to search for cobalt in mine waste, an effort that bore fruit when Queensland geologist Anita Parbhakar-Fox tested a copper mine waste sample that graded 7,000 parts per million cobalt. The CEO of Australian company Cobalt Blue Holdings (ASX:COB,OTC Pink:CBBHF) described the discovery as a game changer to the Financial Times, estimating there could be up to 300,000 MT of cobalt in Australian mine waste.
Another important cobalt project in the country under Cobalt Blue is the Broken Hill project, which will allow for cobalt production on-site, rather than extracted as a by-product of nickel. Broken Hill is planned to begin production in 2026, and is anticipated to have an output of around 4,000 tonnes of cobalt annually over a 20 year mine lifespan
5. Canada
Mine production: 3,900 MT
Canada was the fifth largest cobalt producer in the world in 2022. Some of the country's major nickel and copper deposits that produce cobalt as a by-product are Kidd Creek, Sudbury and Raglan.
As for what the country's future holds for cobalt production, a number of projects are being advanced in the country, including Fortune Minerals' (TSX:FT,OTCQB:FTMDF) NICO cobalt-gold-bismuth-copper project in the Northwest Territories and Giga Metals' (TSXV:GIGA,OTCQX:GIGGF) Turnagain nickel-cobalt project in BC, which the company is developing in a joint venture with Mitsubishi (TSE:8058). Giga Metals completed a positive pre-feasibility study for the Turnagain project in September 2023.
6. Philippines
Mine production: 3,800 MT
The Philippines is the sixth largest cobalt producer in the world. The country's cobalt production was up slightly in 2022, coming in at 3,800 MT. The Asian country is also a top nickel producer.
The fate of mining in the Philippines was up in the air for awhile as former President Rodrigo Duterte and former Environment Secretary Roy Cimatu called for a shutdown of all mines in the country based on environmental concerns. However, Duterte seemed to have a change of heart in early 2021, lifting a ban on new mine permits in an effort to boost revenues.
His successor, President Bongbong Marcos, has ordered the country's Department of Environment and Natural Resources to enforce stricter guidelines and safety protocols on both small- and large-scale mines. He hopes to bring illegal mining operations into compliance so they can operate legally and with safer conditions for employees.
7. Cuba
Mine production: 3,800 MT
Cuban cobalt production fell slightly in 2022 to 3,800 MT, down from 4,000 MT in the year prior.
The country's Moa region is home to a joint venture nickel-cobalt operation held by Canadian firm Sherritt International (TSX:S,OTC Pink:SHERF) and the General Nickel Company of Cuba. Moa uses an open-pit mining system to produce lateritic ore, which is processed into mixed sulfides containing nickel and cobalt using HPAL. Cubaniquel, the country's state-owned nickel miner, is the sole operator of the Che Guevara processing plant at Moa.
8. Papua New Guinea
Mine production: 3,000 MT
Papua New Guinea has made the list of top cobalt producers by country for the fifth year in a row. In 2022, the small country off the coast of Australia produced 3,000 MT of cobalt as a by-product of nickel production, staying nearly flat with the previous year's output of 2,953 MT. The country's main cobalt producer is the Ramu nickel mine near Madang, a joint venture between private company MCC Ramu NiCo, Nickel 28 Capital (TSXV:NKL,OTC Pink:CONXF) and the Papua New Guinea government.
8. Madagascar
Mine production: 3,000 MT
Madagascar's cobalt production was suspended in 2020 to prevent the spread of COVID-19, leading the country's output for the year to fall to 850 MT from 3,400 MT in 2019. However, Madagascar's cobalt-mining industry was on the rebound in 2021, putting out 2,800 MT for the year, and it continued to go up in 2022.
Much of the country's cobalt production comes from the Ambatovy nickel-cobalt mine, owned by Japanese company Sumitomo (OTC Pink:SSUMF,TSE:8053) and the Korean government. The fourth largest island in the world, Madagascar is also a major producer of graphite, another important battery metal.
10. Morocco
Mine production: 2,300 MT
Morocco's cobalt production remained stable from 2021 to 2022, coming in at 2,300 MT. The majority of this output comes from Managem Group's Bou Azzer cobalt mine, which produces the metal as a mono-product.
Cobalt from Moroccan mines got a lot of attention in 2019 after major carmaker BMW (OTC Pink:BYMOF,ETR:BMW) announced it would be buying cobalt directly from mines in Australia and Morocco to ensure its supply of battery raw materials is sourced responsibly. In mid-2022, Managem signed a deal with Renault (EPA:RNO), which has factories in Morocco, to supply the car manufacturer with 5,000 MT of cobalt sulfate annually for seven years starting in 2025.
Already an automotive manufacturing hub, the country is developing its own electric vehicle industry as well. In June 2023, the country's investment agency announced that battery maker Gotion High-Tech (SZSE:002074) is considering investing up to US$6.3 billion to build an electric vehicle battery plant.
FAQs for cobalt production
What is the most common source of cobalt?
As cobalt is only found in a chemically combined form, it must be separated from mined ore. Most commonly, cobalt is produced as a by-product at copper or nickel mines. According to Benchmark Minerals, currently three-quarters of cobalt is produced from copper-primary mines and 25 percent is produced from nickel-primary mines. The agency forecasts that by 2030, cobalt production from copper-primary mines will fall to 57 percent, while that from nickel-primary mines will rise to 41 percent.
How rare is cobalt on Earth?
Cobalt is the 32nd most common element on Earth, according to the Cobalt Institute, meaning it isn't particularly rare. However, only a handful of countries have cobalt reserves over 300,000 MT, with the DRC coming in first place at 4 million MT, Australia in second at 1.5 million MT and Indonesia coming in third place with 600,000 MT. In fact, the DRC has higher cobalt reserves than the rest of the world combined.
How many years of cobalt are left?
How long it will take to deplete cobalt reserves and resources depends on the approach and speed with which electrification and a fully renewable society is approached, according to a 2019 study. Another factor is whether or not lithium-ion battery formulas that require cobalt will continue to be the norm in the future. If widespread cobalt substitution does take place, that will ease demand pressures on the metal.
Why is cobalt so valuable?
Cobalt has risen in recent years due to supply chain difficulties and the metal's necessity in many lithium-ion battery cathodes, with prices peaking in March and April 2022 at over US$80,000 per MT. However, prices have fallen since then, and sat around the US$33,000 mark as of November 2023. The EV story has led to increased cobalt supply, meaning that there will be short-term price pressures due to oversupply as demand continues to rise in the coming years.
What is the problem with cobalt mining?
Most cobalt production takes place in the DRC, which is known for artisanal mining. Artisanal miners are adults and children who are not employed by mining companies, but mine independently using their own tools or just their hands.
A 2023 ABC news report on the country's artisanal mining industry estimates that 200,000 artisanal miners are working on cobalt deposits; unfortunately, a lack of oversight and safety measures means injuries and death are more frequent than in regulated mining. While organizations are working to keep the supply chain transparent, it is hard to fully avoid cobalt that is sourced through child labor and human rights abuses.
Other countries are not exempt from concerns related to mining cobalt — Indonesia's burgeoning cobalt production comes with the vast environmental concerns that plague the nation's nickel industry.
Don't forget to follow us @INN_Resource for real-time news updates!

Securities Disclosure: I, Melissa Pistilli, hold no direct investment interest in any company mentioned in this article.
https://twitter.com/INN_Resource
https://www.linkedin.com/in/melissa-pistilli-865271a9/
mpistilli@investingnews.com
Melissa Pistilli has been reporting on the markets and educating investors since 2006. She has covered a wide variety of industries in the investment space including mining, cannabis, tech and pharmaceuticals. She helps to educate investors about opportunities in a variety of growth markets. Melissa holds a bachelor's degree in English education as well as a master's degree in the teaching of writing, both from Humboldt State University, California.
Investing News Network websites or approved third-party tools use cookies. Please refer to the cookie policy for collected data, privacy and GDPR compliance. By continuing to browse the site, you agree to our use of cookies. 
Melissa Pistilli has been reporting on the markets and educating investors since 2006. She has covered a wide variety of industries in the investment space including mining, cannabis, tech and pharmaceuticals. She helps to educate investors about opportunities in a variety of growth markets. Melissa holds a bachelor's degree in English education as well as a master's degree in the teaching of writing, both from Humboldt State University, California.