Silver Investing
Silver Supply Facing Pressure as Solar Energy Attracts Interest
Apr. 03, 2023 02:00PM PST
Solar energy demand is seen playing a role in silver's future, both in the short and long term. How much of the metal does this market need right now, and what could be coming next?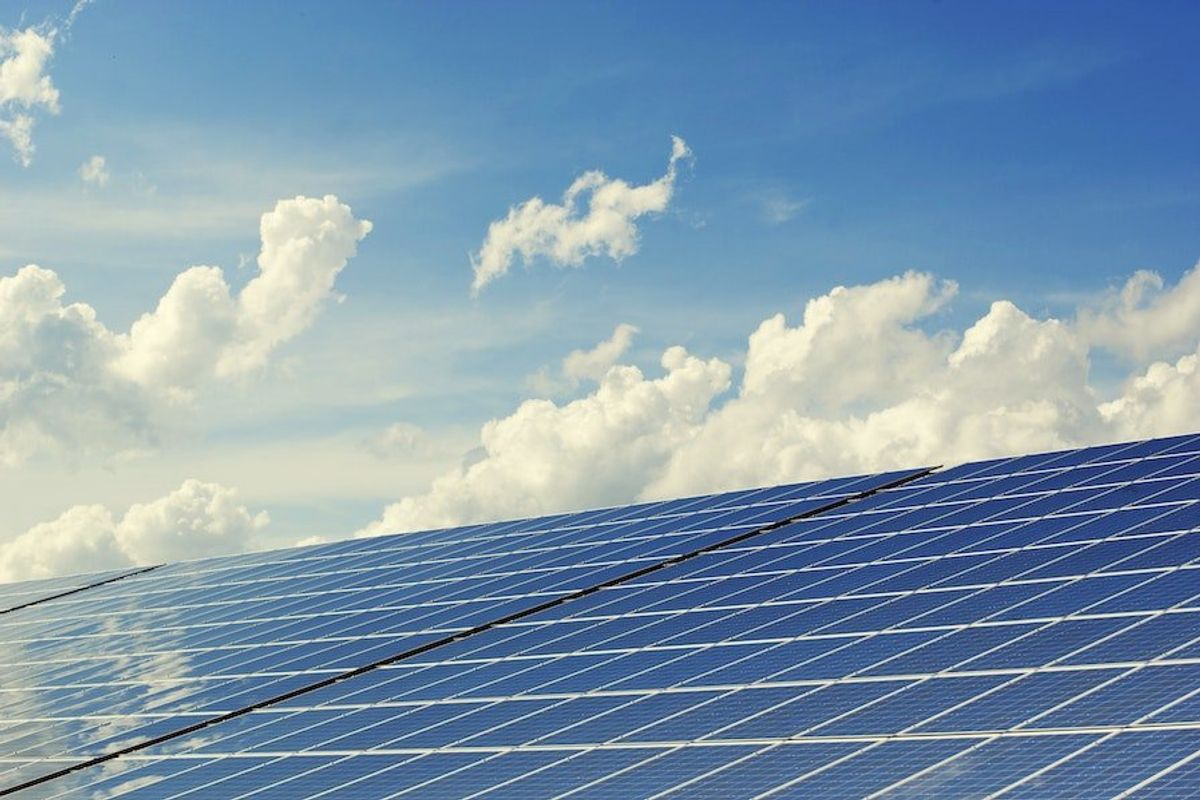 Experts see a bright future for silver demand, and the solar power industry is one reason for their optimism.
The global transition to green energy has sparked an increased need for alternatives to traditional fuels like oil and gas, and silver is going along for the ride due to its use in solar panels, which are playing a growing role in energy production.
How much silver will the solar industry need in the future? Here the Investing News Network (INN) looks at that question.
---
What role does silver play in solar panels?
The solar energy industry has increasingly been gobbling up silver in recent years, and according to the 2022 edition of the Silver Institute's World Silver Survey, this interest is expected to continue moving forward.
As the association explains, the white metal plays an important role in photovoltaic (PV) technology.
"Silver powder is turned into a paste which is then loaded onto a silicon wafer," the group states on its website, noting that PV is the top source of green electricity. "When light strikes the silicon, electrons are set free and the silver — the world's best conductor — carries the electricity for immediate use or stores it in batteries for later consumption."
A curiosity when it comes to silver demand for solar energy is that each solar cell only needs a few milligrams of silver. However, according to German company AE Solar TIER1, the sheer scale of PV installations makes up for that.
"I view the industrial side as the backbone of demand for silver, and of course we can go into where the growth has been — namely the energy transition side of things, where the world is moving towards alternative energy sources. Solar plays a huge part in silver for that, and that area has been growing," Maria Smirnova of Sprott Asset Management told INN.
How much silver does the solar industry use today?
It's clear that silver has a critical relationship with the solar power market, and that this use case needs to be considered in future demand projections. As it stands, AE Solar TIER1 states that solar energy reached 1 terawatt of cumulative PV installed capacity in 2022, contributing 4 percent of worldwide electricity demand.
How has this energy production affected silver demand numbers?
A 2020 report from the Silver Institute on silver's role in solar power shows that in 2019, 11 percent of total silver supply, or approximately 100 million ounces, went on to be used for solar energy demand. By 2020, PV ended up consuming 12.7 percent of the year's silver supply at 101 million ounces as both supply decreased and demand increased.
As the need for green energy intensifies, market participants have raised questions about how much silver demand from the solar market will rise, and whether increasing usage may affect other high-demand sectors, such as the automobile industry, jewelry fabrication and physical investment in the form of bars and coins.
Looking into the next decade, the Silver Institute expects consistent interest for the precious metal. Between 2024 and 2030, it projects that solar demand will vary between 70 million ounces to 80 million ounces.
"While this amount is a small decline from the 2019 peak, it would be higher than any consumption level prior to 2016, and demonstrates that the PV sector will remain an important and consistent source of industrial demand for silver," its report states.
The study from the Silver Institute projects a decline between 2020 and 2023 as "PV capacity added per year dips, while attempts at silver thrifting in PV panels continues at a diminished rate."
However, it expects silver demand from the solar market to go up in the long term. The institute references a World Bank projection as a basis for its own predictions — according to the World Bank, use of silver in the energy technology segment could reach about 50 percent of 2019's total silver demand by 2050, meaning consumption of 500 million ounces for solar alone.
Will silver be replaced in solar panels?
As demand from the solar energy sector places pressure on silver supply, some end users are increasing their thrifting of the white metal from solar cells or looking for alternatives to silver in PV modules.
Thrifting is helping in the battle for silver supply, but it's only a small portion of the overall picture. Meanwhile, copper and aluminum are seen as alternatives to silver in the solar energy market, but they have shortcomings that reduce their viability.
"Silver has the lowest electrical resistance among all metals at standard temperatures, meaning its substitutes cannot match it in terms of energy output per panel; the savings made in substitution may therefore be offset by the increased number of panels needed to match capacity," the Silver Institute indicates.
Instead, experts are pointing to technological advancements as the most concrete way to reduce the need for silver.

Silver price chart, September 2022 to March 2023.
Alternatives to silver in solar energy are being discussed not only because of supply, concerns but also due to costs.

The price of silver has gone up significantly in the last couple of decades, surpassing the levels that the Silver Institute was expecting back in 2020. At the time, the firm said it was expecting the silver price to "increase modestly," ranging between US$16 and US$20 per ounce by 2024. That projection has been smashed, as silver has steadied itself above the US$20 mark for the past six months, not to mention the fact that it neared US$30 in August 2020.
"The fact that manufacturers continue to reduce their silver loadings is symptomatic of a highly competitive market in which prices are consistently being driven down," the report indicates.
Investor takeaway
Those betting on silver already know solar energy demand has a role to play both now and in the metal's future.
Even as end users look for alternatives to silver and seek to reduce their use of the white metal, it's clear demand from the solar industry is not going anywhere anytime soon. However, price will certainly weigh in the calculations as well for an industry in desperate need for more silver.
Don't forget to follow us @INN_Resource for real-time updates!

Securities Disclosure: I, Bryan Mc Govern, hold no direct investment interest in any company mentioned in this article.
Editorial Disclosure: The Investing News Network does not guarantee the accuracy or thoroughness of the information reported in the interviews it conducts. The opinions expressed in these interviews do not reflect the opinions of the Investing News Network and do not constitute investment advice. All readers are encouraged to perform their own due diligence.
https://www.linkedin.com/in/bryan-mc-govern-b23495b0/
bmcgovern@investingnews.com
Bryan is a Senior Editor with INN. After graduating from the Langara journalism program he did some freelance reporting with community newspapers in British Columbia. He initially wrote about the life science space for INN and now spends his time covering the marijuana market, from Canadian LPs to US-based companies, and the impact of this sector on investors.
Investing News Network websites or approved third-party tools use cookies. Please refer to the cookie policy for collected data, privacy and GDPR compliance. By continuing to browse the site, you agree to our use of cookies. 
Bryan is a Senior Editor with INN. After graduating from the Langara journalism program he did some freelance reporting with community newspapers in British Columbia. He initially wrote about the life science space for INN and now spends his time covering the marijuana market, from Canadian LPs to US-based companies, and the impact of this sector on investors.