Overview
Power Nickel (TSXV:PNPN) has historically been a Chilean focused company. However, with two substantial acquisitions announced in Q4 2020 the Company has been reshaped into a multi project junior miner. Power Nickel now has an advanced high grade nickel copper cobalt PGE in the James Bay Area – the NISK deposit – the very interesting Golden Ivan project in the heart of the Southern portion of the Golden Triangle kilometers away from the recently announced Ascot Resources mine and of course its historic Chilean properties led by the Tierra De Oro project.
Company Highlights
Power Nickel is a mining exploration company with assets in Chile (Tierra de Oro, Zulema), British Columbia, Canada (Golden Ivan) and a pending acquisition in Quebec Canada (NISK).
The company recently closed C$3 million in financing.
The company receives 3 percent NSR royalty for its Copaquire deposit, which sold for upwards of C$3 million.
The company's wholly owned Tierra de Oro and Zulema projects are located within Chile's prolific iron-oxide-copper-gold (IOCG) belt, which hosts a number of significant copper-gold deposits.
The company recently acquired 100 percent of the Golden Ivan property located within British Columbia's world-class Golden Triangle.
Key Projects
Nisk
Located in the James Bay region of Quebec this high grade Nickel Copper Cobalt PEG project with a Historical resource of over three million tonnes was optioned from Critical Elements Lithium Corporation (TSXV:CRE) in December 2020, subject to TSXV approval and agreement to acquire 80 percent of the NISK property via a series of option payments and work commitments.
The Nisk Deposit – Location Map
Previous Work
The NISK-1 property hosts a nickel showing discovered and evaluated by INCO and its subsidiary, Nemiscau Mines, in the period from 1962 to 1969. At the time, the Nemiscau area was very remote and INCO had large quantities of high-grade nickel ore in the Sudbury area, so the property was abandoned.
From 1987 to 1988 Muscocho Explorations Ltd completed surficial explorations that included an airborne VLF-EM and total magnetic field geophysical survey, collection, and analysis of surface rock samples, and completed diamond drilling of 16 holes totalling 1,843 m at the NISK-1 showing.
In 2006 to 2008 Golden Goose Resources completed further surficial explorations that included an airborne AeroTEM 2 – EM and magnetometry geophysical survey, and a ground TEM geophysical survey. Golden Goose Resources also completed diamond drilling of 63 holes totaling 13,088 m at the NISK-1 showing.
The 63 holes drilled by Golden Goose Resources were utilized to develop a NI 43-101 mineral resource. The resource estimation was completed by RSW INC and is detailed in their report entitled Resource Estimate for the NISK-1 Deposit, Lac Levac Property, Nemiscau, Québec. Dated 'December 2009'. The 2009 resource estimation is considered to be a 'Historical Estimate' as defined by the National Instrument 43-101 Standards of Disclosure for Mineral Projects
The historical resource estimation culminated in the definition of Nickel, Copper, Cobalt, Palladium, Platinum resources, containing Measured, Indicated, and Inferred confidence categories as described in Table 1 below. The simplified sectional resource is developed along a single continuous drill hole intersections, developed with a cut-off grade of 0.4 percent nickel over a minimum width of 0.5 meters, within estimation blocks measuring up to 75 meters along respective sections to define the nickel-bearing zone.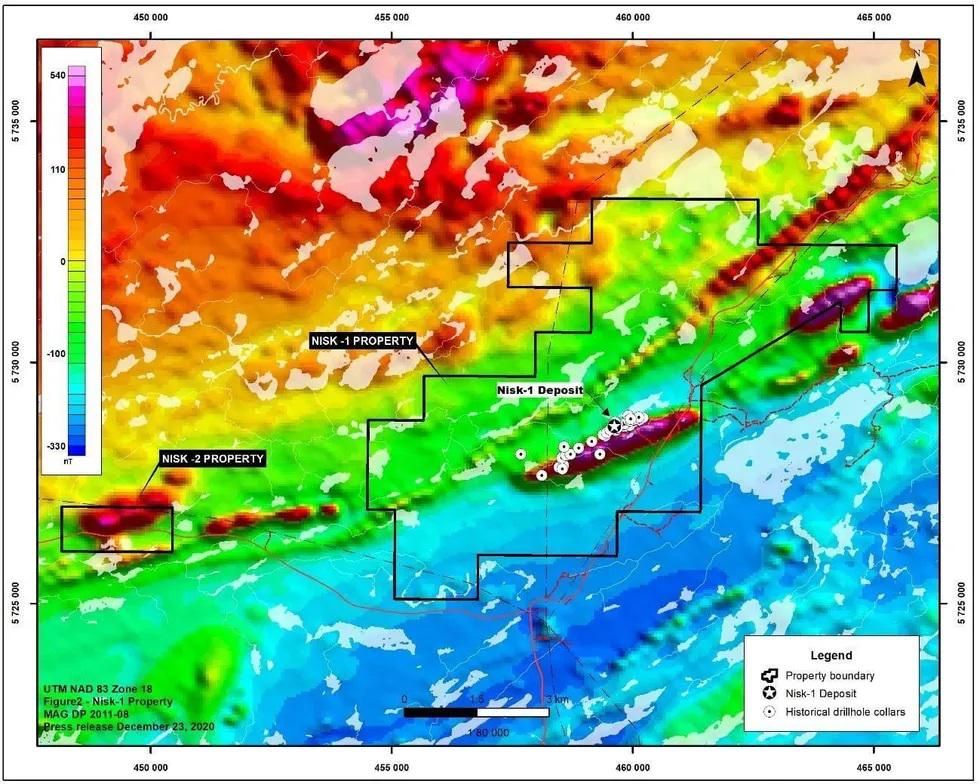 Table -1: Historical Resource Estimate figures for respective confidence categories at the NISK-1 deposit, After RSW Inc 2009: Resource Estimate for the NISK-1 Deposit, Lac Levac Property, Nemiscau, Québec.

The information regarding the NISK-1 deposit was derived from the technical report titled "Resource Estimate for the NISK-1 Deposit, Lac Levac Property, Nemiscau, Québec" dated December 2009. The key assumptions, parameters and methods used to prepare the mineral resource estimates described above are set out in the technical report.
Future Exploration:
Future Work
The company plans to further advance the previously defined historic resources with confirmation drilling, additional infill, and resource definition drilling commencing in Q2. An updated resource estimate will be prepared upon completion of the additional drilling. Surface exploration is also contemplated for other prospective targets on the property.
Golden Ivan
The Golden Ivan property is situated toward the south of British Columbia's prolific Golden Triangle, which hosts numerous profitable mineral deposits and is known to be highly prospective for large scale mineral systems, including large-scale porphyry systems, high-grade gold and silver veins, and volcanogenic massive sulphides. The Golden Triangle is host to past and current mining operations including Pretium, Eskay Creek, Johnny Mountain, Red Mountain, Snip Mine, Premier Mine, Golden Bear and Valley of the Kings. The Golden Triangle has reported mineral resources (past production and current resources) in total of 67 million oz of gold, 569 million ounces of silver and 27 billion pounds of copper.
The Golden Ivan property is located approximately 15km south west of the Red Mountain Gold/Silver deposit and 30 km south of the historic Premier Gold mine which just announced construction financing being completed to place this past producer again into production. Immediately to the south of the property significant Silver resources have recently been established at the Porter-Idaho deposit, along several mineralized veins that strike onto the Golden Ivan property.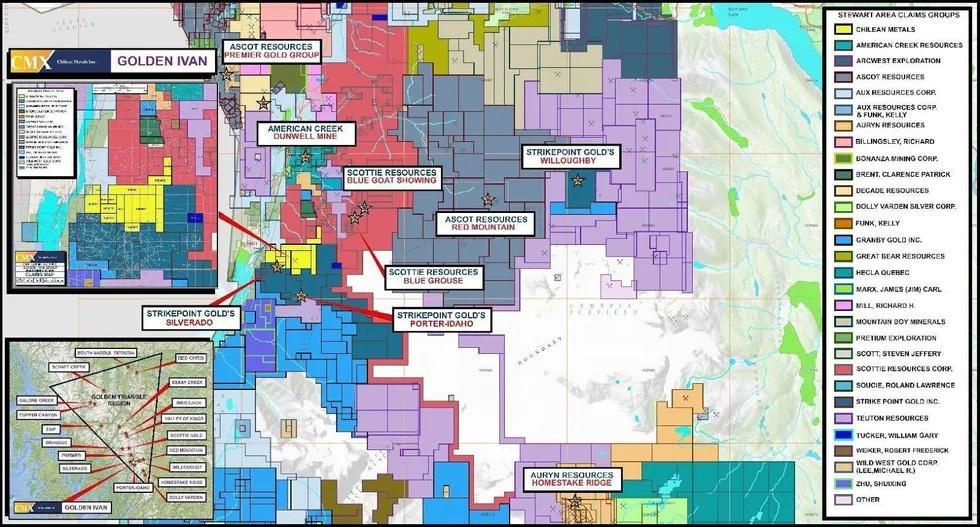 Figure 1 – Golden Ivan as noted in Maps above is located in the heart of Golden Triangle & Close to Stewart
"Golden Ivan is a great acquisition for Chilean. The recent news from Ascot Resources regarding their now financed plans to build the Premier mine within a few kilometres of our property is certainly a positive one for all property owners in the Southern part of the Triangle. Geographically Golden Ivan's location between StrikePoint's Silverado project to the south and Scottie Resources to the North on a under explored and undrilled land package is certainly very interesting to us on a geological basis. The recent Geophysical work done by the Optionor makes us anxious to get in their next summer and drill those three Porphyry looking targets." Commented Terry Lynch Power Nickel CEO.
Future Exploration
The company intends to focus future exploration efforts to determine the potential causative source intrusions of the mineralization observed across the property, and surrounding areas. The initial phase of exploration is anticipated to include systematic geological and structural and alteration mapping, as well as geochemical sampling across the property to determine any local areas of anomalism. This would be followed by ground-based geophysics to confirm local structural trends prior to proceeding with an initial drill program in the summer/fall of 2021.
Projects in Chile
Chile's prolific Atacama iron-oxide-copper-gold (IOCG) belt hosts a number of significant copper-gold deposits, including Mantos Blancos, Manto Verde and Candelaria. The Candelaria deposit, owned by Lundin Mining (TSX:LUN), has produced 470 Mt at 0.95 percent copper, 0.22 grams per ton (g/t) gold and 3.1 g/t silver. It holds the title as the world's second-largest iron-oxide-copper-gold deposit.
Power Nickel (TSXV:PNPN) wholly owned 5,600 hectare Tierra de Oro and 4,300 hectare Zulema projects are located within the belt. Zulema is located just 30 kilometers from the Candelaria deposit, with which it shares similar geography.
Previous exploration data generated by both the company and other historic operators have been compiled and 8,660 training points were subjected to evaluation by Windfall's propriety CARDS AI model. CARDS uses data mining techniques to analyze compiled exploration data and to identify areas target zones with high statistical similarity to known "signatures" of areas of copper, gold and silver mineralization (Figures 3 and 4 below). A total of thirteen (13) prospective target zones were identified by the prediction analysis, of which the company has elected to drill test two of the zones.
The 'Chanchero' Zone has previously been identified as being prospective for copper porphyry style mineralization and remains untested. The area comprises a 0.75 square kilometres zone of argillic and quartz-sericite-pyrite alteration hosted by augite-hornblende diorite to granodiorite with roof pendants of hornblende monzonite. A significant colour anomaly is also evident. The area was surveyed by 3-D Induced Polarization (IP) methods in 2008 and generated a chargeability anomaly greater than 50MV/V at its core which is open at depth. The area is to be the focus of four (4) core holes that are proposed to intersect the chargeability anomaly longitudinally and at depth.
Figure 1: Locations of 4 Proposed drill holes at the Chanchero target, relative to the outline/projected shape of the greater at than 50MV/V chargeability anomaly as defined by the 2008 3-D Induced Polarization survey.
The 'Iron Skarn' zone is an AI generated target Gold anomaly which occurs along a pronounced structure and is located along strike from existing shallow artisanal gold workings. A single core hole is to be orientated to intersect the structure at depth below the projected level of the adjacent historical workings.
The Phase 1 program is to consist of 1,500 meters of core drilling is expected to be completed by mid December (2020) and assays are expected to be received in mid to late January (2021).
In addition to the drilling program, the company intends to complete a systematic sampling program over the remaining target areas identified by the AI analysis. Limited ground truth sampling on three of the AI targets produced sample results including 10.32 and 5.79 grams per tonnes gold at the Cobalt zone, and another series of nine (9) samples that graded between 0.77 percent to 3.23 percent Copper. In addition to wider surface sampling in areas where no surface indications are visible the company plans to conduct localized IP.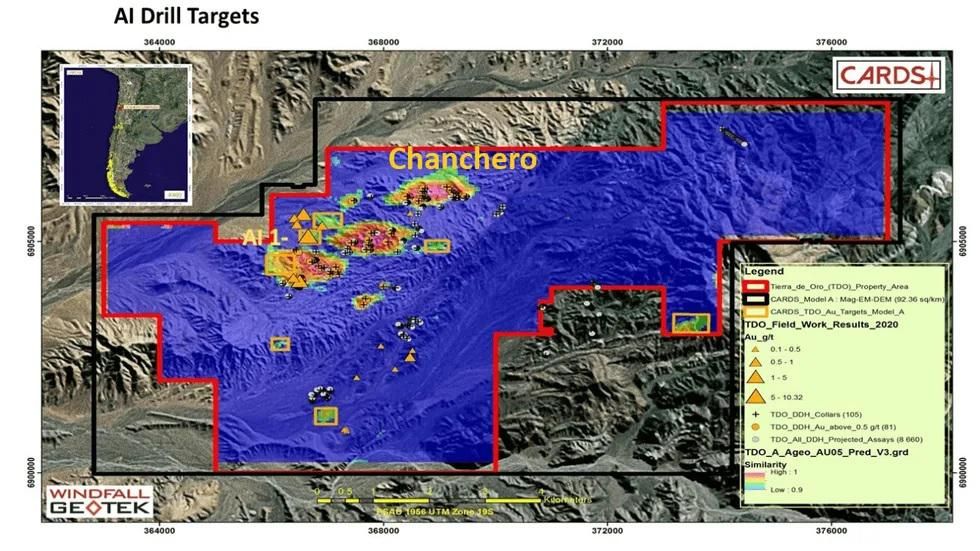 Figure 2: Tierra De Oro property CARDS target model-A for Copper anomalism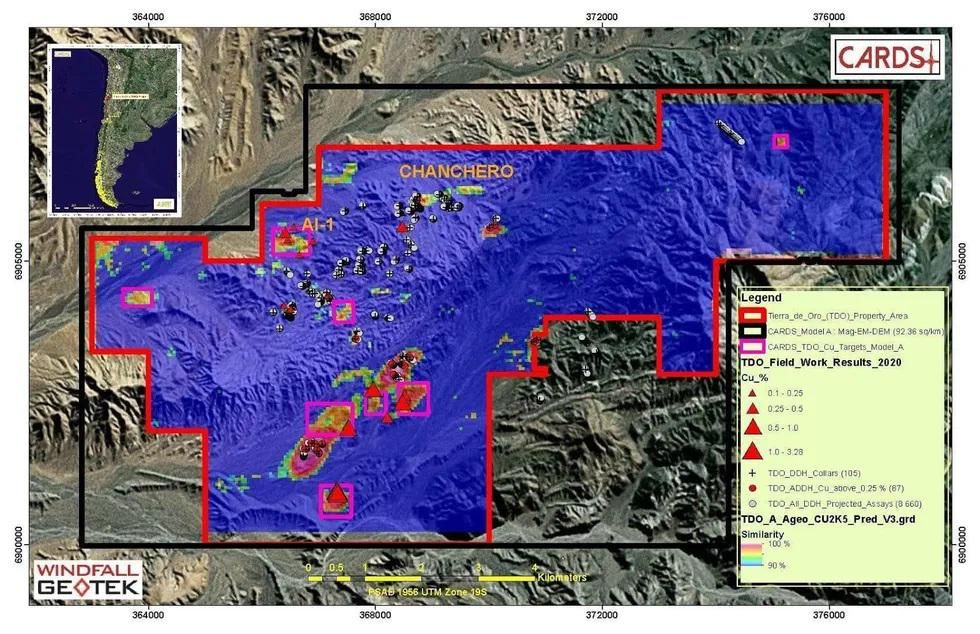 Figure 3: Tierra De Oro property CARDS target model-A for Gold anomalism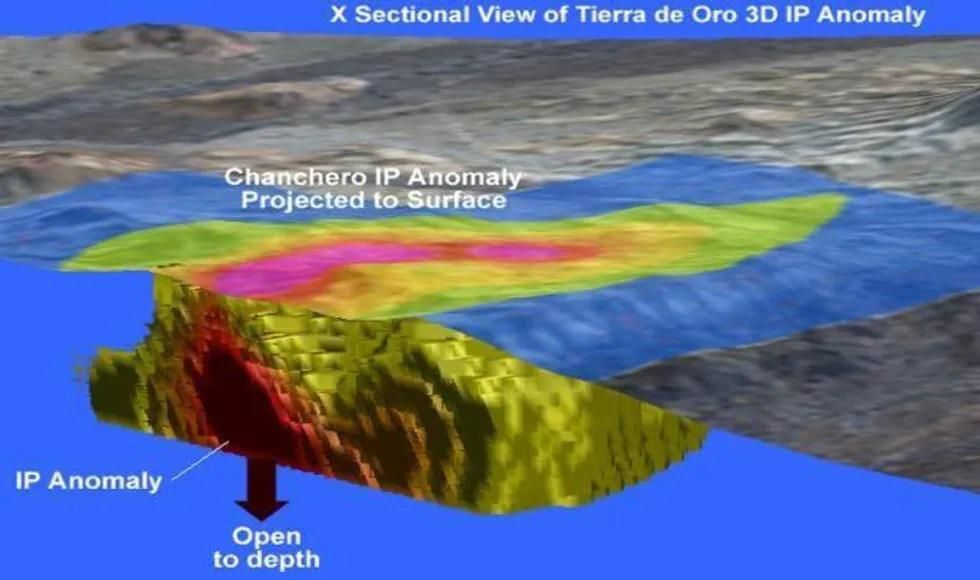 Figure 4: Chanchero 3D IP anomalism
"We were excited to commence drilling on TDO. In particular we believe the AI guidance will focus our search and enhance our odds of drilling success. Chanchero the large IP anomaly was home of the Chanchero Gold Rush in Chile in the early 1900s and we believe it is possible the large IP anomaly could be the causative source of that mineralization. It's the type of drill hole Junior Miners dream about. We have de-risked it as much as we can and now we await the results of the Assays which we would expect towards the end of January," commented Terry Lynch, Chilean Metals' CEO.
All three of the company's projects benefit significantly from exceptional infrastructure and access. Chilean Metals' management team brings decades of experience and an extensive track record of success in mining exploration and resource development. The company plans to leverage technological innovation as well as C$3 million in completed financing to further develop its diverse portfolio of assets.
Management Team
Peter Kent — Chairman
Formerly with the TecSyn Group of Companies, at which he was Vice President General Counsel and Corporate Secretary. Peter brings over 25 years of business experience regarding complex business and legal affairs. In addition to his time at Tecsyn, Peter was also a corporate commercial lawyer at Bassel Sullivan, a Toronto-based boutique law firm.
Terry Lynch — CEO
Terry Lynch graduated in 1981 from St. Francis Xavier University with a joint honours degree in Economics and BBA. Prior to becoming a director with International PBX Ventures in 2012, Lynch had been CEO of privately held Nevada-focused Relief Gold. He also had been a director and later CEO of TSX-listed Firstgold Corp. He assumed the CEO position after the company had run into financial difficulty bringing its Relief Canyon mine into production. He arranged a sale of 51 percent of the company for a total capital injection of $26.5 million from Northwest Non-Ferrous Metals, one of China's largest mining engineering and consulting groups.
From 2005 to 2008, Lynch was a partner with Kingsmill Capital Partners, a financial advisory firm specializing in advising public and private early stage growth companies. Prior to joining Kingsmill Capital, he spent 15 years operating startup companies in industrial products, oil and gas and media. Mr Lynch is currently a director and co-founder of Cardiol Therapeutics.
Greg McKenzie — Director
Greg McKenzie is a senior investment banker with 20 years of experience in financing, M&A, financial advisory, valuation and strategic advice primarily to mid-cap companies. His transactions are valued in excess of $18 billion. McKenzie has worked in New York and Toronto and has held positions with Morgan Stanley, CIBC World Markets, Haywood Securities and Salman Partners. While at these firms, Greg advised management and boards of companies in various sectors including: metals and mining, industrials, consumer products, technology and healthcare. McKenzie was also called to the bar in New York and Ontario and practiced law with a leading Canadian securities and M&A law firm.
Ximena Perez — Managing Director of Chile
Ximena Perez has 13 years of experience in Chile as an exploration and production geologist, the first five years of which she spent as a production geologist in underground mining in Cu. She developed a career as an Exploration Geologist with extensive experience in drilling program supervision, data management and geological modeling. She participated in the exploration for the expansion of Skarn Las Cenizas (Cu-Ag), Talcuna (stratabound and veins Cu-Au), Punitaqui (stratabound and veins Cu-Ag-Au) and Dayton (epithermal of Au), in the latter two as Chief Exploration Geologist.
Perez has experience in exploration consultancies for medium-sized mining, as well as independent work in resource inventories. She has served as Exploration Geologist for Chilean Metals Inc., and since 2018 she has been Managing Director Chile in the company.
Les Mallard — Director
Les Mallard is a graduate from The University of Prince Edward Island with a BA in Economics. He has spent over 30 years in the Canadian Produce Industry employed in various capacities with Chiquita Canada and Chiquita Brands North America. After retiring from Chiquita in 2017, he started Mallard Produce Solutions, a produce consulting company focused on providing North American and Latin American clients with business solutions to expand their market potential. Les is also on the Board of Directors for the Canadian Produce Marketing Association and Hydroponic Life.
Request an Investor Kit
EXCITING upcoming projects!
IN-DEPTH reliable insights!
SUCCESSFUL growth strategies!
VALUE-BASED content!
Power Nickel