CBD Isolate Creating Opportunities for Value-added Cannabis Products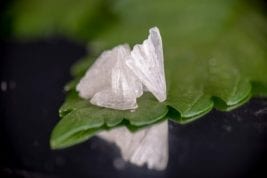 CBD isolate is a pure extraction of cannabidiol from the cannabis or hemp plant that has enabled additional cannabis-based treatments.
Cannabidiol (CBD) products, including CBD isolate, are on their way to becoming a multi-billion dollar mainstream industry, due in large part to the cannabinoid's health and wellness benefits.
CBD products represent one of the fastest-growing segments in the cannabis market as well as the US$4 trillion health and wellness industry. One of the many cannabinoids in the cannabis plant, CBD delivers therapeutic benefits without the high caused by the psychoactive cannabinoid tetrahydrocannabinol (THC).
The Brightfield Group forecasts CBD product sales to reach US$5 billion in 2019 and US$23.7 billion by 2023. Chain stores are expected to generate the majority of those sales. In the US, major retailers such as CVS Pharmacy (NYSE:CVS), Walgreens (NASDAQ:WBA) and Kroger (NYSE:KR) are now stocking their shelves with a wide range of CBD topicals including creams, sprays, roll-ons, oils, lotions and salves.
CBD isolate is one of the more popular forms of cannabidiol used by consumers who are looking for more natural ways to relieve ailments such as pain, inflammation, anxiety and sleep problems.
CBD isolate
CBD isolate is cannabidiol in its purest form. As the name implies, the chemical compound is produced by "isolating" or extracting it from the plant material. Although it can be extracted from the marijuana plant, CBD in isolate form is best derived from hemp, a member of the cannabis sativa family that contains high concentrations of CBD and little THC. Hemp growers for the CBD market focus on breeding and cultivating plants with a high CBD ratio and less than 0.3 percent THC.
Hemp's low THC level is a part of the reason why US legislators removed restrictions on the hemp industry under the December 2018 US Farm Bill. The passage of the bill was a pivotal turning point for the CBD product industry. While cannabis remains federally illegal in the US, hemp is now considered an agricultural product and can be transported and sold throughout the country.
Using dried hemp, CO2 extraction is the preferred process of most CBD isolate manufacturers and considered to be the most effective method for creating high-quality CBD isolate free from residual solvents. The plant material is combined with extremely cool liquid CO2, which creates a solvent that can be heated away to isolate the pure CBD oil. The next step involves purifying the extracted oil through filtration and a final process called winterization, which uses chilly temperatures to remove any remaining plant compounds to produce a 99 percent pure CBD crystalline that can then be ground into a fine powder.
CBD isolate products manufactured by licensed companies and tested by third-party labs must not contain additives or contaminants. According to the World Health Organization, CBD has yet to show any potential for physical dependency, and there is no evidence of any public health issues associated with its use. CBD isolate allows consumers to easily calculate their dosage in order to consume the exact amount of CBD needed. The weight of the isolate is equal to the CBD content in milligrams. When comparing price per milligram of CBD, isolate is also less expensive than other commercial forms of CBD, including full-spectrum CBD, which contains trace amounts of THC.
CBD value-added products
Odorless and tasteless, CBD isolate can be consumed sublingually in its pure powder form or mixed with liquids such as coffee or tea. The powder also blends easily into carrier oils, creams and food products to create a wide variety of health and wellness products. Today, CBD isolate powder is used in the commercial manufacturing of CBD-infused edibles, beverages, capsules and topicals, or it can be mixed with carrier oils to create sublingual CBD products.
One of the most attractive attributes of CBD isolate for consumers is the absence of THC, meaning consumers can reap the health benefits of cannabis without experiencing the high.
CBD's unique properties have opened up the market to a number of different consumer demographic groups, including those new to cannabis like athletes, mothers with young kids at home, the elderly and even pets. "As we continue to educate the consumer about the fact that there are different cannabinoids that have different impacts, I think a claim of no THC is definitely something that could entice a consumer," said Rebecca Brown, founder of and cannabis marketer at Crowns Agency. "As with THC, you'll see CBD consumers across every demographic."
Global market potential
The massive potential for tax revenue is one of the major incentives for governments to legalize and regulate CBD product sales. "Countries around the world are now looking at cannabis and CBD derived from CBD-rich hemp very differently than they would have in the past. In many ways, it's a race to modernize the rules and regulations to embrace the trend that's going on worldwide," Howard Steinberg, CEO of MYM Nutraceuticals (CSE:MYM,OTCQB:MYMMF), told the Investing News Network. Steinberg said his company believes "that the CBD market will ultimately be far larger than the cannabis market," primarily because of the seemingly endless possibilities for CBD value-added products.
In July 2019, Market Watch reported that the US Food and Drug Administration (FDA) announced it will "expedit(e) its effort to create a regulatory framework for CBD with plans to publish a report on its progress by early fall." While the FDA is "tolerating" the sale of CBD-infused topicals and oils in the country, the agency has yet to sanction the addition of CBD to food and beverages. Because CBD is the main ingredient in an FDA-approved drug, GW Pharmaceuticals' (NASDAQ:GWPH) childhood epilepsy treatment Epidiolex, the agency says it cannot approve further CBD products without research and trials. However, former FDA Commissioner Scott Gottlieb has "proposed congressional action to speed things up, based on using very low doses of the substance."
To the north, Health Canada is planning to introduce new regulations in October 2019 that will legalize the sale of cannabis-based edibles, beverages, topicals and extracts. The CBC reported that Canadians could begin legally purchasing these products in major retail chains by the end of 2019.
Additional markets for CBD products are emerging in Europe and Asia. The Brightfield Group estimates that the European CBD sales totaled US$318 million in 2018. "In Europe, you can walk by many stores in downtown regions and see numerous CBD products for sale. Europe is one of the fastest-growing markets for CBD products with a projected market approaching US$2 billion by 2023," said Steinberg, whose company recently expanded into the region with the opening of a CBD distribution office. "We believe the global CBD isolate market will continue to boom for years to come. There is currently a shortage of products in the market and as more global brands create products that include CBD, the demand will only continue to increase."
MYM Nutraceuticals is building a global footprint and mitigating geographical risk by establishing cultivation operations in Canada, Nevada and Colombia. MYM is also in the process of establishing its own processing facility to turn the CBD-rich biomass produced at its farms into CBD isolate for sale in legal markets.
Cannabis companies like Orion Nutraceuticals (CSE:ORI) and Pure Global Cannabis (TSXV:PURE,OTC Pink:PRCNF,FRA:1QS) are beginning to make progress in the CBD isolate industry. Orion Nutraceuticals owns facilities in Colombia and Canada that are focused on developing CBD products that meet the needs of the sports medicine market, which has recently seen the decriminalization of CBD from regulatory bodies like the World Anti Doping Agency. Pure Global has agreed to a letter of intent with Isodiol International (CSE:ISOL) for the ongoing supply of pharmaceutical and nutraceutical grade CBD isolates and other potential products.
Takeaway
CBD isolate is cannabidiol in its purest form. Once extracted and refined into a powder, isolate can be used to make a wide range of CBD-infused products that provide consumers with the health benefits of cannabis without the high. Regulators around the world are more comfortable approving the use of CBD-only products than recreational cannabis. Without the regulatory concerns that restrict products containing THC, CBD has the potential to expand consumer demographics for cannabis-based products, introducing new consumers to the cannabis industry altogether.
---
This INNSpired article was written according to INN editorial standards to educate investors.