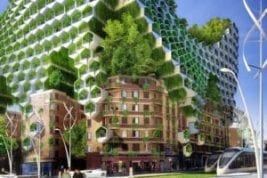 2016 was a great year for cleantech – read more about the landscape as we look back in our review.
A multiplying global population, urbanization and demands for sustainable solutions have drawn investments for cleantech.
2016 – a look back
Cleantech maintained media prominence in 2016, with water issues particularly notable. In January GE (NYSE:GE) decided to move its HQ to Boston. They made a splash in the news again in October, due to the proposed sale of their water business. Water security was a prominent problem at the Rio Olympics in August, highlighting the lack of waste and sewage services for polluted areas.
This year solar energy found a saviour in cleantech darling Tesla (NASDAQ:TSLA), as ever at the forefront of innovation, merging with struggling SolarCity to produce solar panels. Cosmin Laslau, senior analyst at Lux Research, celebrated this partnership that promises "more compelling, complete products" and "more integration between solar and storage". He also picked out energy major player Total's (NYSE:TOT) portfolio as noteworthy; they bought battery maker Saft in the summer. Saft make lithium batteries so now Elon Musk has some real competition.
According to Cosmin Laslau, 2016 was "the year that every major OEM made firm commitments towards electric vehicles. Prior to 2016, this was the domain of Tesla, Nissan, and a few other trailblazers, but this year, we saw the likes of VW and others really commit to electrification in a big way." Indeed, VW (ETR:VOW) did an about-turn in October at the Paris Motor Show. In an attempt to rebrand as energy conscious, after fiddling their diesel emission numbers, they premiered their Volkswagen I.D. electric car.
In November the Marrakech Climate Change Conference took place, capitalizing on the Paris Agreement from the year before. In December it was reported that Bill Gates, along with others like Richard Branson, committed $1 billion to Breakthrough Energy Ventures. The new venture firm aims to dedicate resources to cleantech companies for the next two decades. The industry will need all the help it can get now that Donald Trump has been voted in, likely triggering cuts to green technology initiatives.

Investor takeaway message
It was a good year for cleantech companies; their success is clear when looking at the PowerShares Cleantech Portfolio ETF (NYSEARCA:PZD). It has performed positively, gaining 13.37 percent year-to-date. This has 55 stocks, with the US represented most heavily, at almost 57 percent.
Looking at North America, LOOPShare (TSXV:LOOP), are based in Vancouver and are a new and exciting entry on the cleantech scene. They are a scooter sharing service, capitalizing on the carshare market popularized in cities by Car2Go, Evo and Modo.
The upshot is that investors can back such companies whilst knowing they are saving the environment and supporting these endeavours for 2017 and beyond.
Don't forget to follow us @INN_Technology for real-time updates!
Securities Disclosure: I, Emma Harwood, hold no direct investment interest in any company mentioned in this article.