In 2014, the three top primary silver mines were Cannington, Escobal and Fresnillo. Find out here how much silver they produced.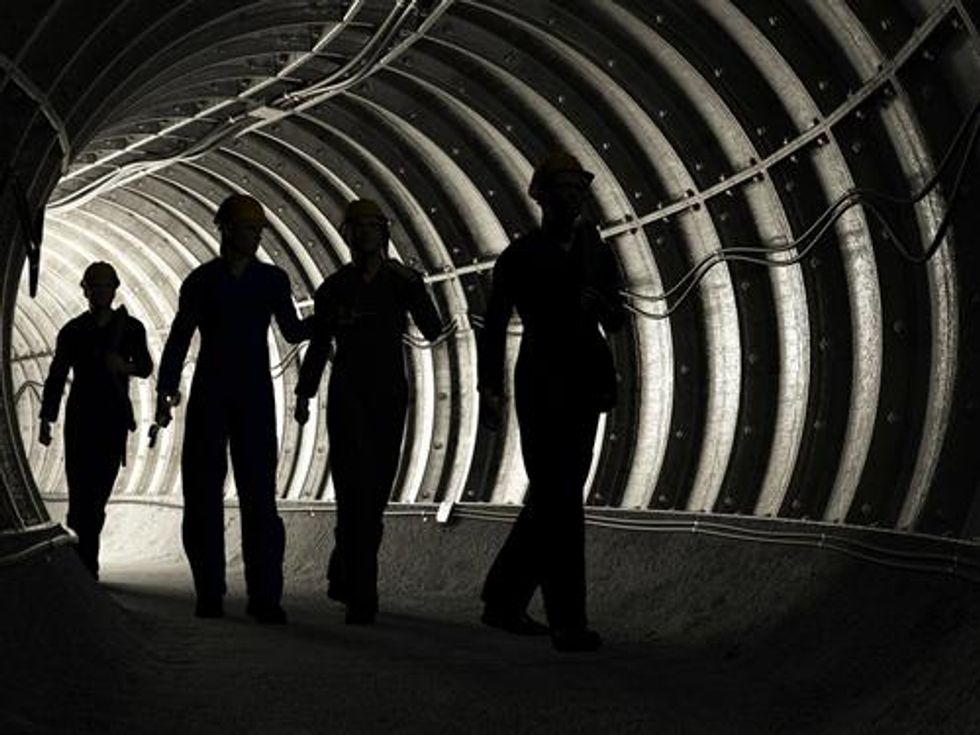 Silver mine production rose 5 percent in 2014, reaching 877.5 million ounces, but still was not enough to meet physical silver demand, which declined 4 percent to reach 1.07 billion ounces. 
According to the Silver Institute
, a key factor in the decrease in physical silver demand was a fall in coin and bar demand — unsurprising considering that demand from that sector reached a record level in 2013. Meanwhile, the organization attributes the
rise in silver mine production
to higher output from primary silver and
copper
 mines, as well as "significant production gains in Central and South America."
For investors interested in silver, it's key to understand what is meant by the term "primary silver mine." Put simply, a primary silver mine is an operation where silver is the main commodity produced. While it might seem strange to make that distinction, it's necessary because most silver is produced as a by-product — in other words, the metal is mainly produced at mines focused on other commodities, such as 
gold
or copper.
Given that context, it's interesting to look at the top primary silver mines of 2014. Without further ado, here they are.
1. Cannington mine, Australia
Mine production: 24.73 million ounces
Located in Northwest Queensland, Australia, the Cannington mine is a fly-in, fly-out mining and processing operation. It achieved first production in 1997, and consists of three operations: an underground hard-rock mine site and surface processing facility, a road-to-rail transfer facility and a concentrate-handling and ship-loading facility at the Port of Townsville.
Cannington is owned by South32 (ASX:S32,LSE:S32), a diversified resource company formed in May 2015 following a demerger from major miner BHP Billiton (ASX:BHP,NYSE:BHP,LSE:BLT). The split was aimed at allowing BHP to focus on the "four pillars" of iron ore, copper, coal and petroleum, and South32 contains assets and businesses outside of those areas. South32 bills Cannington as the world's largest and lowest-cost producer of silver and lead, but it also produces zinc.
2. Escobal mine, Guatemala
Mine production: 20.3 million ounces
The Guatemala-based Escobal mine is owned by Tahoe Resources (TSX:THO,NYSE:TAHO), which also operates the La Arena gold mine in Peru and is developing the Shahuindo project, also in Peru.
Tahoe is mining Escobal via underground longhole stoping methods with processing by differential flotation. In 2014, its initial year of production, the mine produced a whopping 20.3 million ounces of silver; it also recorded gold, lead and zinc output. As of July 1, 2014, proven and probable mineral reserves sat at 31.4 million tonnes at an average silver grade of 347 g/t; 350.5 million silver ounces are contained in the life-of-mine plan, and a 20-year mine life was forecast in a November 2014 feasibility study.
3. Fresnillo mine, Mexico
Mine production: 20.1 million ounces
The Fresnillo mine is owned by Fresnillo (LSE:FRES) and located in Zacatecas, Mexico. The site includes an underground mine and flotation plant, and has 930 employees and 830 contractors. In total, the company has six other mining operations, plus various development and exploration projects.
Impressively, the Fresnillo mine has been in near-continuous operation since 1554. Total reserves now stand at 299.3 million ounces of silver and 550,000 ounces of gold; the mine also produces lead and zinc. The average ore grade for those reserves is 266 g/t silver and 0.64 g/t gold. At this point, the Fresnillo mine's life stands at 10.2 years.
 
Securities Disclosure: I, Charlotte McLeod, hold no direct investment interest in any company mentioned in this article. 
Related reading: 
10 Top Silver-producing Countries

---
(August 28, 2013)
Top 3 Primary Silver-producing Mines of 2012
Silver is a metallic chemical element that has a wide variety of uses, primarily in industry, jewelry and decor. It is extremely useful in cell phones, laptops and solar panels because of its thermal and electrical conductivity.
Global fabrication demand for silver dropped slightly in 2012, to 846.8 million ounces, according to the Silver Institute. Supply of the commodity from above-ground stocks also fell 7.5 percent that year, to 261.3 million ounces. Still, the world's leading silver mines continued to operate successfully. The top three for 2012 are located in Australia, Mexico and Russia.
Cannington mine, Australia
The Cannington mine is a fly-in, fly-out mining and processing operation located in Northwest Queensland, Australia. It produced 32.23 million ounces of silver in 2012, the most of any mine in the world, as per the Silver Institute. The deposit was discovered in 1990, and full production was achieved in 1997. Its life expectancy is 25 years and it has proven and probable silver reserves of 24 million tons. Cannington also contains reserves of lead and zinc.
The mine is wholly owned and operated by BHP Billiton (NYSE:BHP,ASX:BHP,LSE:BLT), a major producer of commodities, including aluminum, copper, silver and uranium. The company has been operating since the mid-1800s.
Cannington was BHP's sixth-most profitable mining operation in 2011 and contributed $1.19 billion to the company's earnings before interest and tax, The Australian reported. In comparison, the project's net operating base was only $202 million. As such, analysts place the value of the Cannington mine as high as $5 billion.
Fresnillo mine, Mexico
In second place is the underground Fresnillo mine, located in Mexico, northwest of Zacatecas. The asset, which its operator, Fresnillo (LSE:FRES), says is the world's largest primary silver mine, produced 26.38 million ounces of silver in 2012.
Fresnillo notes on its website that it is the world's largest primary silver producer and the second-largest gold producer in Mexico. The Fresnillo mine is its flagship property, but overall, the company has seven mines in operation throughout Mexico, plus three projects in the developmental stage.
The Fresnillo mine has been in near-continuous operation since 1554 and has a long tradition of silver mining, states the company. Its total reserves include 308.5 million ounces of silver and 733,000 ounces of gold, and its mine life clocks in at 12.5 years. The average ore grade of the silver at the mine is 281 grams per ton.
Dukat mine, Russia
The Dukat mine is the largest silver deposit in Russia and the third-largest in the world. It was discovered in 1965 and now operates in conjunction with three others to form the Dukat hub. The Dukat hub, officially formed in 2008, is located in the Magadan Region of the Russian Far East and is the flagship operation of Polymetal International (LSE:POLY).
The Dukat mine — combined only with output from the hub's underground Goltsovoye silver mine — produced 15.5 million ounces of silver in 2012, according to the Silver Institute. As a whole, during the 2012 fiscal year, the Dukat hub produced 19.2 million ounces of silver. The hub's production timeline is expected to extend through 2023.
Dukat's operating company, Polymetal​, is a leading gold and silver mining group that works on assets in Russia and Kazakhstan. It first acquired the Dukat mine in 2000, and open-pit mining began at the site in 2001. Citigroup reissued its neutral rating on shares of Polymetal in a report sent to investors on August 12.
Investing News Network websites or approved third-party tools use cookies. Please refer to the  cookie policy for collected data, privacy and GDPR compliance. By continuing to browse the site, you agree to our use of cookies.