Silver Falls Below $20; Analysts See Lower Prices Ahead
Silver fell as low as $19.75 per ounce this week, and some analysts believe that it may yet sink to the lows it hit during the summer.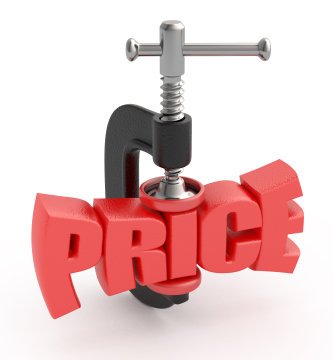 Continuing a trend it began last week, silver has so far spent the entirety of this week under $21 per ounce, even falling as low as $19.75 this morning. And, unfortunately for fans of the white metal, a number of analysts believe that prices will worsen before they improve.
Silver hit $20.75, its highest price thus far this week, early on Monday morning, and began to fall not long after that. By midday, the precious metal was sitting at $20.34, and by the end of the day it had sunk as low as $20.22, its lowest price since August 9, as per Bloomberg.
Tuesday was a quieter day for silver, which traded between $20.22 and $20.48. Wednesday, however, brought more declines. Though the white metal began the day not far off from its price range the previous day, it had sunk to $20.12 by mid-morning and reached $19.83 by mid-afternoon.
The culprit, according to Capital Trading Group, seems to have been the release of minutes from the US Federal Reserve's Federal Open Market Committee meeting. They show that the Fed will continue quantitative easing "at full force," though tapering is reportedly "in the cards relatively soon," Forbes reported yesterday.
Today silver saw little notable price action, ultimately closing at $19.99 per ounce.
Will prices fall further?
As mentioned, some analysts believe the answer is yes. For instance, Kitco News quotes both Glen Ring, editor of View on Futures and a longtime technical chart watcher, and Andrew Thrasher, a chartered market technician and investment analyst at Financial Enhancement Group, as saying that the lows silver hit in the summer are "more important technical-chart support areas for silver in the short term." That means the white metal could sink another $2 before it finds support.
Luc Luyet, a senior analyst at MIG Bank in Lausanne, Switzerland, expressed a similar sentiment in a report written earlier this week. "The short-term technical structure is negative as long as prices remain below the resistance at $20.92. The break of the key support at $20.50 favors a move towards the next key support at $18.23," Bloomberg quotes the report as saying.
Market participants should thus not be surprised to see silver sink a little lower moving forward.
Company news
Mid-tier precious and base metals producer Sierra Metals (TSX:SMT) announced that mineral reserves at its Peru-based Yauricocha mine have increased by 53.5 percent, to 2,230,000 tonnes.
Total proven and probable reserves for Yauricocha now sit at 6,394,000 tonnes averaging 94.8 grams per tonne (g/t) silver, 2.09-percent lead, 0.7-percent copper, 2.53-percent zinc and 0.8 g/t gold (360.6 g/t silver equivalent). That's up from 4,163,000 tonnes at the end of 2011.
Meanwhile, Yauricocha's total measured and indicated minerals resources total 6,139,000 tonnes averaging 114 g/t silver, 2.37-percent lead, 1.02-percent copper, 3.39-percent zinc and 0.95 g/t gold (464.4 g/t silver equivalent). The 2011 amount was 4,181,000 tonnes.
The mine's life has risen to seven years, but Sierra anticipates that amount will rise next year, when a new report is complete.
Junior company news
On Wednesday, Argentum Silver (TSXV:ASL) provided a NI 43-101 compliant inferred mineral resource estimate for the El Tajo vein at its Coyote silver project, located in Mexico.
At a cut off of 70 g/t silver, the vein's inferred mineral resource sits at 583,000 tonnes grading 192 g/t silver and 0.27 g/t gold (207 g/t silver equivalent), according to the company. Altogether, the mineral resource contains 3,600,000 ounces of silver and 5,053 ounces of gold.
The same day, Avrupa Minerals (TSXV:AVU) received $150,000 worth of funding from Callinan Royalties. The money is to be put toward exploration at the company's Portugal-based Alvito license, which will be designated an alliance property under Avrupa and Callinan's recent exploration alliance agreement.
Earlier today, Teras Resources (TSXV:TRA,OTCQX:TRARF) revealed assay results from the second deep core hole completed in the northeast area of its Cahuilla gold-silver project, situated in California. It also provided results for four reverse-circulation drill holes completed in the same area.
Peter Leger, president and CEO of Teras, commented, "[t]he drilling program is moving forward in a positive direction as planned. The second core hole CAH-304 was consistent with CAH-303 in extending gold/silver mineralization well beyond our current NI 43-101 resource at depth. The reverse circulation drilling in the northeast project area has also expanded the precious metal mineralization outside of the current NI 43-101 resource."
Also today, Zazu Metals (TSX:ZAZ) began a NI 43-101 compliant preliminary economic assessment (PEA) on its Alaska-based Lik zinc-lead-silver project. The company plans to complete the PEA by the first quarter of 2014.
Securities Disclosure: I, Charlotte McLeod, hold no direct investment interest in any company mentioned in this article.
Related reading:
Silver Trades Down as Thomson Reuters GFMS Predicts Higher Demand in 2013