Mexico's Silver Mining Hotspot Status Thrives
Companies' investments indicate that Mexico is likely to continue to be the prime choice for achieving goals in the silver space.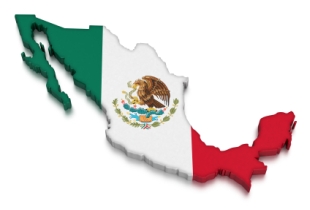 Mexico not only holds the crown for silver production, but also appears to be the top destination for exploration and development of the white metal. According to Zeal, a financial services company, almost 60 percent of all silver companies own a project in Mexico.
Despite the mining industry's challenging conditions, which have caused many  exploration and development cutbacks, companies still are steadily investing in silver projects in Mexico, raising the question: "what's so great about Mexico?"
Expect positive results
There are a host of circumstances that make Mexico highly attractive to players in the silver space. People have been mining silver in Mexico for centuries, and the nation has a long history centering around its abundant supply of the metal. As technological advancements have allowed more of the metal to be extracted at faster rates, more companies have flocked in to exploit the opportunities. And the positive results keep rolling in.
Take, for example, a company like Aurcana (TSXV:AUN), which recently announced that an updated resource estimate for its La Negra mine reveals a 50-fold increase from the prior measured and indicated estimate of 2.3 million ounces of silver. Similarly, Arian Silver (TSXV:AGQ,LSE:AGQ) announced earlier this year that an updated resource estimate for its San Jose property shows a 32 percent increase in contained silver.
In addition to having metal, Mexico is known for having high grades of silver. Most of the world's silver is produced on a by-product or co-product basis. But in Mexico, where the world's largest primary silver producer, Fresnillo (LSE:FRES), operates the world's largest primary silver mine, investors can find an abundance of companies exploring, developing and expanding projects where the white metal is the priority. And many are doing that with low-cost production goals.
Mining-friendly Mexico
For mining companies, there is, of course, more to be considered than merely whether there is silver in the ground and how much it costs to pull it out. Social unrest is an example of a growing challenge for miners around the globe. Many communities are becoming more defensive and unfriendly towards miners and their projects. But Mexico is characterized as a mining-friendly society and the country appears to harbor little opposition to the business.
The political environment has also proven to be conducive to mining. The government has made a notable effort to make its mining industry attractive and encouraging for foreign investors. As opposed to many of its peer nations, Mexico does not milk its miners with special industry taxes or royalties. Some warn that these circumstances will change.
But Mexico held a presidential election in July. While elections often create a lot of uncertainty, both companies and investors displayed the degree to which the nation has won their confidence. The normal course of business and investment was not disrupted leading up to or following the election, which transferred power to Enrique Pena Nieto of the Institutional Revolutionary Party (PRI).
Meghan Brush, investor relations at IMPACT Silver (TSXV:IPT), said that as the PRI is pro-business, IMPACT does not expect much of a difference in government policies that directly affect mining.
Mining activities abound
Here are examples of some of the recent acquisitions and current projects that highlight companies' optimism and confidence in Mexico.
In less than a month, Great Panther Silver (TSX:GPR,AMEX:GPL) announced two investments. The company purchased a 100 percent interest in the El Horcon project from a private Mexican company for $1.6 million. CEO Robert Archer said the site has the potential to become a satellite mine for the company's Guanajuato operations.
Great Panther also purchased surface rights for its San Ignacio project, where the company reported the discovery of new silver-gold zones with the first drill hole.
IMPACT Silver is building two new mines. Oscar is a high-grade underground mine where production is expected to begin before year end. Capire will be the company's first open-pit mine, and will initially be the site of a pilot production program. First concentrate shipments are anticipated this winter. The company says both projects are on schedule and on budget.
Avino Silver & Gold Mines (NYSE:ASM,TSXV:ASM) announced the results of a technical report for its Avino property, which plays a role in the company's aim to become a significant low-cost producer. The results include a mineral resource estimate and preliminary economic assessment for the oxide tailings generated from historical mining operations.
Avino also entered into an option and joint venture agreement with Endeavour Silver (NYSE:EXK,TSX:EDR) for the Laberinto property. Endeavour can acquire up to a 75 percent interest in the property in return for annual instalments of up to $200,000 over four years and $3 million in exploration work over four years.
Endeavour purchased a 100 percent interest in the El Cubo silver-gold mine from AuRico Gold (TSX:AUQ,NYSE:AUQ) for $100 million in cash and $100 million in Endeavour shares (11,037,528 shares). AuRico is entitled to an additional $50 million based on certain conditional events.
Securities Disclosure: I, Michelle Smith, do not hold equity interest in any companies mentioned in this article.