Best Junior Silver Stocks of 2019 on the TSXV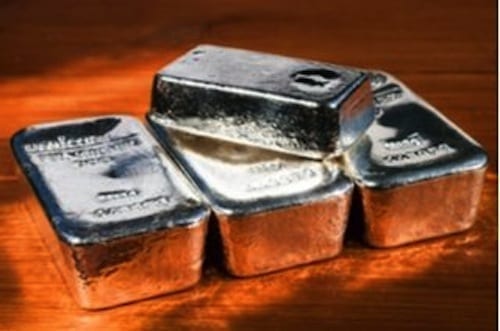 Which TSXV-listed junior silver stocks are the top performers so far this year? We've compiled a list to guide investors.
The silver price followed gold's lead and surged during the third quarter of the year. The metal hit a high of over US$18.40 per ounce on September 2, climbing more than 13 percent in Q3.
With silver garnering the attention of many investors, several junior silver companies found success during the quarter. Now that Q2 has come to a close, the Investing News Network has rounded up the best junior silver stocks on the TSXV that have seen the biggest share price gains year-to-date.
The list below was generated on October 3, 2019, using TradingView. All companies listed had market caps above C$10 million at that time.
1. Discovery Metals (TSXV:DSV)
Year-to-date gain: 168.42 percent; current share price: C$0.51
Discovery Metals is focused on silver and silver-zinc–lead projects located in Northern Mexico. At its wholly owned Cordero project in Chihuahua state, Discovery is exploring one of the world's largest silver resources and one of the world's largest silver-zinc-lead metal endowments.
On August 2, the miner completed its acquisition of Levon Resources, granting Discovery 100 percent ownership of the Cordero project. The asset has an estimated indicated mineral resource of 990 metric tonnes grading 32 grams per tonne silver equivalent. Additionally, the project boasts an inferred mineral resource of 282 metric tonnes grading 56 grams per tonne silver equivalent.
On September 10, the company announced the start of a drill program of approximately 30,000 to 35,000 meters. Discovery aims to focus on delineating and discovering the highest-grade phases and domains of the mineralized system and on testing new high-priority areas.
2. Santacruz Silver Mining (TSXV:SCZ)
Year-to-date gain: 150 percent; current share price: C$0.15
Santacruz Silver Mining is a Mexican silver-mining company with two white metal projects: Veta Grande and Rosario. The latter includes both the Cinco Estrellas property and the Membrillo prospect. The miner also owns two exploration properties called Minillas and Zacatecas.
On July 2, shares of Santacruz rose over 12 percent when it acquired a 50 percent stake in PCG Mining through its subsidiary Carrizal Holdings. PCG Mining is a holding company that owns 100 percent of private Mexican mining company Carrizal Mining, which owns a 20 percent stake in Veta Grande.
At the end of August, the miner reported results from the second quarter, noting that it produced 373,318 ounces of silver equivalent and sold 277,748 ounces of silver equivalent.
3. Silver One Resources (TSXV:SVE)
Year-to-date gain: 139.39 percent; current share price: C$0.40
Silver One Resources is a silver exploration and development company with its flagship project, Candelaria, in the prolific mining region of Nevada. In addition to Candelaria, the miner holds a 100 percent interest in three silver assets located in Mexico.
As the company entered into the third quarter, it announced that it has begun trading on the OTC market. "Our belief is an OTCQB listing will provide increased access to US investors and a broader shareholder base. Further, it will allow US-based investors the opportunity to further share in the company's continued growth," CEO Greg Crowe said at the time.
At the beginning of September, Silver One commenced exploration at its Cherokee silver-gold-copper epithermal project in Nevada. The asset hosts multiple high-grade epithermal-style precious metal– and base metal-bearing veins within a system that has been traced for over 11 kilometers along strike.
4. Bear Creek Mining (TSXV:BCM)
Year-to-date gain: 104.81 percent; current share price: C$2.13
Bear Creek Mining is a silver exploration and development company with mining efforts focused on Peru. The miner's flagship Corani asset is an advanced-stage property that hosts one of the largest undeveloped silver deposits in the world, with a projected 18 year mine life.
Although Corani is in the development stage, the asset currently boasts proven and probable reserves of 225 million ounces of the white metal.
On September 20, the company started trading on the OTC market.
5. Kootenay Silver (TSXV:KTN)
Year-to-date gain: 100 percent; current share price: C$0.27
Kootenay Silver is a Canada- and Mexico-based silver exploration company that is engaged in the development of two major silver projects in Mexico. The company's flagship properties are the La Cigarra silver project in Chihuahua, and the Promontorio and La Negra silver discovery in Sonora.
On August 22, the miner closed a US$5 million non-brokered private placement with Eric Sprott. The profits from the deal are being used to advance exploration at the Columba silver project, with the potential to add a further drill rig in the hopes of expediting the current drill program.
Towards the end of the quarter, Kootenay completed additional drilling at Columba, intercepting 699 grams per tonne silver over 2.1 meters and 755 grams per tonne silver over 1.75 meters.
Don't forget to follow us @INN_Resource for real-time news updates.
Securities Disclosure: I, Nicole Rashotte, currently hold no direct investment interest in any company mentioned in this article.