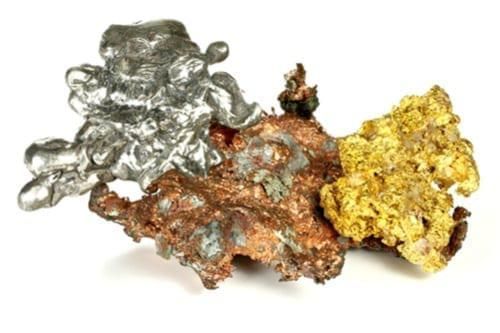 Precious metals rose this week in the wake of increased trade war tension between the US and China. US President Donald Trump announced he is eager to move forward with a plan to impose tariffs on Chinese imports.
Both gold and silver prices were up Friday (August 31) on the back of a weaker dollar and concerns over an escalation in the US-China trade dispute following new threats by US President Donald Trump.
As of 10:06 a.m. EST, the yellow metal was trading at US$1,202.10 per ounce and headed for its fifth straight monthly decline. As for the white metal, it was trading at US$14.58 per ounce as of 10:10 a.m. EST.
On Thursday (August 30), Bloomberg reported that Trump is eager to move ahead with a plan to impose tariffs of US$200 billion on Chinese imports as soon as a public-comment period concludes next week.
"Trump's plans have had a significant impact on sentiment and the slightly weaker dollar is supporting gold," said Peter Fertig, analyst at Quantitative Commodity Research, adding that gold has also been aided by the emerging-market currency crisis.
A lower US currency makes gold cheaper for holders of other currencies and has the potential to boost demand.
For their part, platinum and palladium both ticked up for the week. As of 10:27 a.m. EST platinum was trading at US$792 per ounce, while palladium landed at US$976 per ounce.
Precious metals top news stories
Our top precious metals stories this week featured McEwen Mining (TSX:MUX,NYSE:MUX) and Chief Owner Rob McEwen arranging a combined investment of C$6 million in Ontario-focused Great Bear Resources (TSXV:GBR), Gold miner Nordgold (LSE:NORD) producing 448,000 gold-equivalent ounces during H1 2018 and Northam Platinum (JSE:NHM) producing 571,843 ounces of equivalent refined six-element (6E) platinum-group metals (PGMs) in Q2 2018.
McEwen Mining (TSX:MUX,NYSE:MUX) and Chief Owner Rob McEwen arranged a combined investment of C$6 million in Ontario-focused Great Bear Resources (TSXV:GBR).
As stated in a Great Bear press release, of the company's private placement financing to raise C$10 million, McEwen has agreed to purchase C$4.8 million, while McEwen Mining will purchase C$1.2 million.
"I'm excited to join the Great Bear team in the development of what I believe could be a significant new gold discovery in the Red Lake camp. Their technical work is excellent and I'm delighted to join forces with them to further unlock, once again, the riches of the world-class Red Lake gold camp," said McEwen.
Gold miner Nordgold (LSE:NORD) managed to produce 448,000 gold equivalent ounces during H1 2018, despite waste stripping at its Berezitovy mine in Russia, and lower grades at both the Bissa-Bouly and Taparko mines in Burkina Faso, the company announced on Tuesday (August 28).
During the period, Nordgold improved its ore mining efficiency thanks to higher ore mining volumes at some of its open pit mines (Neryungri, Lefa, Taparko and Bissa-Bouly).
This uptick resulted in the stripping ratio decreasing by 15 percent year-on-year amid a 35 percent year-on-year increase in ore mining.
"We have delivered a robust performance in the first half in line with expectations. Our financial and operating results were impacted by the waste stripping at Berezitovy mine and lower grades at our Burkina Faso mines, though these were largely in line with the mine plans," said Nikolai Zelenski, CEO.
Northam Platinum (JSE:NHM) produced 571,843 ounces of equivalent refined six-element (6E) platinum-group metals (PGMs) for the period ended June 30, the company announced on Monday (August 27).
Northam stated that its PGMs production rose 4.5 percent year-on-year, largely due to strong operational performance at its Zondereinde mine in Limpopo, which produced 348,888 ounces of equivalent refined 6E, an increase of 7 percent from this time last year.
"Owing to the group's mining capacity exceeding its processing capacity before and during the current financial period, there has been an inventory build-up," Northam said.
Also in the news
Also making news this week is Orosur Mining (TSX:OMI, LSE:OMI) and the financial difficulties that have led the company to make the decision to shut down operations in Uruguay.
Orosur has fallen into a pretax loss of US$27.18 million in the 2018 financial year.
"FY18 has been a challenging year for Orosur. The weaker mineralization encountered at our SGW UG mine in Uruguay placed the company in a precarious situation, leading to weak operating and financial performance for the year and also a number of financial impairments," stated Ignacio Salazar, CEO.
"The company reacted quickly and decisively; drastically reducing costs and restructuring its various business units. The company applied to place its key operating subsidiary in Uruguay, Loryser, into voluntary creditor protection. This process is underway," he added.
Gold miner Orinoco Gold (ASX:OGX) also made news this week when it secured a AU$8-million convertible note agreement with Magna.
The funding will be used to fast track the development of Rio do Ouro, which is at final stages of licensing approval. Additionally, funds will also be allocated to an exploration programme with immediate drill targets at Digo Digo, Eliseo, Phase 2 at Antena and Rio Do Ouro.
"We are delighted to be a part of Orinoco's world class gold district in Brazil. The potential to grow the business with low capex high grade ounces is what attracted us to Orinoco and their management team. We look forward to a strong working relationship going forward," said Ari Morris, managing director.
Finally, Rover Metals (TSXV:ROVR) has been awarded an C$85,000 exploration grant from the Northwest Territories' mining incentive programme to advance the Cabin Lake gold project, north-west of Yellowknife.

Rover will use the funds to conduct a multi-stage exploration programme starting in September, which will be aimed at further outlining the iron formation and delineating additional gold mineralization along the shear corridor and its intersections with satellite iron formation.
Don't forget to follow us @INN_Resource for real-time news updates!
Securities Disclosure: I, Nicole Rashotte, hold no direct investment interest in any company mentioned in this article.
Editorial Disclosure: Great Bear Resources is a client of the Investing News Network. This article is not paid-for content.