Platinum Prices Stumble on Potential Diesel Car Ban in Germany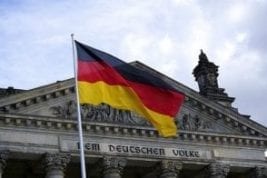 Platinum catalyst diesel cars are continuing to lose market share in Europe in favor of gas-powered hybrid models or electric vehicles.
The spot platinum price fell by $13.70 as the market reacted to a court ruling that Germany has the right to ban diesel cars.
The price of the precious metal, which is favored for use in diesel autocatalysts, decreased from $1,002 per ounce on Monday (February 26) to $988.30 on Tuesday (February 27) following the decision by the Federal Administrative Court in Leipzig.
The court said the cities of Stuttgart and Duesseldorf can legally ban older polluting diesel vehicles from areas affected most by pollution.
The case in Leipzig was brought by environmental lawyers representing ClientEarth and Deutsche Umwelthilfe after about 70 German cities exceeded European Union limits for nitrogen oxides in 2017.
Diesel cars are continuing to lose market share in Europe in favor of gas-powered hybrid models or electric vehicles, which are slowly becoming more common on roads. Sales of diesel-powered cars fell 7.9 percent across Europe in 2017, according to JATO Dynamics.
Many cities and countries around the world have pledged to ban vehicles with combustion engines in the coming decades. At the same time, governments are providing subsidies and other incentives to encourage consumers to purchase electric vehicles.
Last year, Paris City Hall said it will ban all gas and diesel-powered cars from the city's roads by 2030, and France has said it will do that same by 2040.
Platinum market update
Platinum prices have remained weak despite persistent supply concerns, according to a recent report from FocusEconomics. The platinum market has been in a supply deficit for years due to a lack of investment in major producer South Africa.
FocusEconomics says platinum has been trading at a discount to palladium since Q4 of last year as automakers switched to using more palladium, but price dynamics could cause demand for platinum to rise in the future.
Panelists polled by the firm expect platinum prices to rise in 2018 on higher demand for catalytic converters to meet stricter emissions regulations. The panelists anticipate prices averaging $961 in Q1 2018. Their minimum price forecast was $925 in Q1 2018 with a maximum price forecast of $1,015.
As of 3:00 p.m. EST on Wednesday (February 28), the platinum price was trading at $987.70.
Don't forget to follow us @INN_Resource for real-time news updates!
Securities Disclosure: I, Melissa Shaw, hold no direct investment interest in any company mentioned in this article.