Taking Stock: Q3 2013 Gold Juniors Round-Up
Over the summer, drill programs were started and completed, attractive drill results were published, and several companies completed either financings or acquisitions of companies and properties.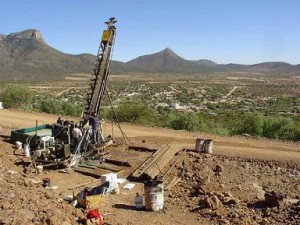 The third quarter of 2013 will not go down as a memorable quarter for most junior gold companies. As the gold price continued to fall – pressured by statements from the US Federal Reserve about scaling back quantitative easing, a strengthening US economy, and Indian restrictions on gold imports – the valuations of many gold exploration companies stayed depressed.
However, it was not all bad news. Over the summer, drill programs were started and completed, attractive drill results were published, and several companies completed either financings or acquisitions of companies and properties.
Here's a look at some of the junior gold companies that stood out in Q3.
Started drilling
In mid-July, Barisan Gold Corp (TSXV:BG) restarted exploration drilling at its Upper Tengkereng porphyry prospect in Indonesia. The company mobilized a drill rig and started drilling in late August after the Ramadan holiday. It planned to drill up to 3,000 meters, targeting high-grade zones intercepted in Hole UTD-002.
On Aug. 1, Colombian Mines (TSXV:CMJ) started drilling its Yarumalito porphyry gold project. The 3,500- to 4,000-meter drill program is being managed and funded by Teck Resources (NYSE:TCK,TSX:TCK.B), which has an option agreement with Colombian Mines valued at $15.5 million. Under the agreement, Teck may earn up to 70 percent of the project by spending at least $10 million on exploration and making combined cash payments and private placements of $5.5 million.
In mid-August Tarsis Resources (TSXV:TCC) started exploring its Yago gold-silver property in Mexico, which it recently acquired from Almaden Minerals (TSX:AMM). The company later confirmed high-grade gold values through channel sampling. Highlights included 13.65 grams per tonne gold and 57.5 g/t silver across 0.37 m at La Tejona, and 0.40 g/t gold and 92.5 g/t silver across 0.52 m at La Sarda.
And on Aug. 19, GTA Resources and Mining Inc. (TSXV:GTA) commenced a drill program on the newly discovered Exploits Zone at the Squid East project in the Yukon. This initial drilling will focus on the recently reported chip sampling which returned 1.96 grammes per tonne (g/t) gold over the entire 22.0 meter (m) trench length. Included in this is a higher grade interval of 6.39 g/t gold over 4.0 m.
On Sept. 10 Roxgold (TSXV:ROG), which is exploring its Bagassi South target in Burkina Faso, started a 1,600-meter diamond drilling program. Previous drilling intersected 41.7 grams per tonne gold over 4.4 meters and 24.95 g/t over 3.8 meters.
Finished drilling
In July, GTA Resources and Mining Inc. (TSXV:GTA) released final drilling results from the Phase 4 drilling program on its Northshore Property in Ontario, Canada. All holes from Phase 4 drilling intersected significant gold mineralization.
In September, Maritime Resources Corp. (TSXV:MAE) announced the completion of its 2013 field program at the Green Bay gold project in Newfoundland and Labrador, Canada. Very positive results have now been received from both the surface trenching program and from the mine water sampling. Channel sampling across the vein encountered high grade gold values.
Acquisitions
New Gold (TSX:NGD,NYSE:NGD) announced mid-July that it has acquired 86.2 percent of Rainy River's (TSX:RR) outstanding shares in a deal first made public in May. The takeover will add 4 million ounces to New Gold's reserves through Rainy River's project in Ontario.
At the end of August, Liberty Mines (TSX:LBE) said it entered into a binding term sheet with QMX Gold (TSX:QMX) to acquire the Snow Lake gold project in Manitoba for a cash payment of US$20 million. Liberty is targeting a potential 80,000 ounces of gold per year at Snow Lake at cash costs of $852 per ounce. The property has proven and probable reserves of 3.477 million tonnes graded 4.04 grams per tonne, or 451,900 ounces of contained gold.
On Sept. 4, Orefinders Resources (TSXV:ORX) acquired the Mirado gold project in Ontario after having spent $2 million exploring the property. The option agreement with Jubilee Gold Exploration (TSXV:JUB) involves 12 patented claims, and is subject to a 3 percent net smelter royalty.
At the end of September, Brazil Resources Inc. (TSXV:BRI,OTCQX:BRIZF) entered into an agreement with Brazilian Gold Corporation (TSXV:BGC), where Brazil Resources will acquire all of the outstanding common shares of Brazilian Gold for approximately $13.5 million.
PEA
In the third quarter, Santa Fe Gold Corporation (OTCBB:SFEG), Moss Lake Gold Mines (TSXV:MOK), and Majestic Gold Corp. (TSXV:MJS) all announced positive preliminary economic assessments (PEAs).
Santa Fe Gold's PEA estimates that revenues from the Carache and Lucas deposits would total $1.35 billion at a three-year average gold price of $1550 per ounce, with production of 874,000 ounces of gold from two open cut mines over an operating life ranging from 9 to 18 years.
The PEA for the Moss Lake gold deposit in Ontario indicates an open-pit mine capable of averaging 244,000 ounces of gold a year for a 10-year minelife.
Majestic Gold Corp. (TSXV:MJS) announced that SRK Consulting China Ltd. completed and delivered a positive PEA for the Song Jiagou Gold Project located in Shandong Province, China.
Production
In mid-August, Detour Gold (TSX:DGC) commenced commercial production at its Detour Lake mine in Northeastern Ontario. The company has a 2013 gold production target of 270,000 ounces and is focused on optimizing operating performance at the mine and mill to achieve 90 percent of nameplate capacity (55,000 tpd) by year end.
Also in August, Klondex Mines (TSX:KDX,OTCQX:KLNDF) delivered the first shipment of mineralized material from the Fire Creek gold deposit to Newmont Mining (NYSE:NEM,TSX:NMC) for processing. The Fire Creek project is located in North-central Nevada. A July agreement with Newmont includes the processing of up to 9,000 tons of mineralized material in 2013. Shipments may continue through the end of 2014 as high-grade material is generated.
In September Coronet Metals Inc. (TSXV:CRF,OTCQX:CORMF) started commissioning its Liberty Gold Processing Facility in Nevada, which will provide capacity of 20 tons of concentrate a day in the first phase. Coronet also said it intends to raise $600,000 in a non-brokered private placement.
Financings
Raising money is tough in these markets, but some junior gold miners managed to swing financings in Q3. Here is a selection.
Richmont Mines (TSX:RIC,NYSE:RIC) closed a Senior Secured Credit Facility for up to C$50 million with Macquarie Bank to advance its Island Gold Deep project in Ontario. "The loan provides Richmont with additional flexibility and financial strength to unlock Island Gold Deep's potential and allow the Corporation to enter its next phase of growth," Richmont President and CEO Paul Carmel said in a statement.
Northern Vertex Mining (TSXV:NEE) announced that it will proceed with a private placement equity financing totalling approximately $5 million. Proceeds will go towards reactivating the Moss mine gold-silver heap leach project in Arizona, where Northern Vertex has an earn-in agreement with Patriot Gold (OTCMKTS:PGOL).
Colossus Minerals (TSX:CSI) announced an equity financing worth $33 million. Net proceeds from the offering will be put towards its Serra Pelada gold-platinum group metals project in Brazil, including completion of the processing plant, a dewatering system and working capital.
Teck Resources (NYSE:TCK, TSX:TCK.B) Canada's largest diversified mining company, became a shareholder in Midas Gold (TSX:MAX) through a $9.8 million private placement. The purchase of 12,740,000 common shares gives Teck a 9.9 percent stake in Midas, which is developing the Golden Meadows gold-antimony-silver project in Idaho. The financing comes after a deal announced in May whereby Midas sold a 1.7 percent net smelter return royalty on production from Golden Meadows to Franco-Nevada (NYSE:FNV, TSX:FNV) for $15 million.
Securities Disclosure: I, Andrew Topf, hold stock in Teck Resources.
Related reading:
Gold's Impact on the Global Economy: $210 Billion