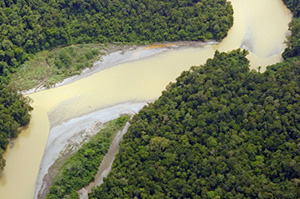 By Dave Brown – Exclusive to Gold Investing News
Situated on the Pacific "Ring of Fire," the island nation and archipelago of Papua New Guinea is richly endowed with natural resources,  including considerable oil, copper and gold, which account for 72 percent of export earnings.
According to United States Geological Survey base estimates, the tiny country has approximately 20 percent more extensive gold resources than Canada.  Last year, gold production for the nation was only 65 percent of the total extracted in Canada.  Projects in the area may be worthwhile for opportunistic bullish investors as demand for gold has recently pushed its price beyond the much vaunted $1300 per ounce threshold.
Since the 1970s, the mining of these rich mineral deposits has dominated the Papua New Guinea economy. Papua New Guinea is relatively young both geologically and politically, and mining in the region is characterized by large and highly mechanized operations, in contrast to its agricultural production. Complete realization of the resource potential has been inhibited by heavily forested mountainous terrain, a relatively high cost of developing infrastructure, legal and social stability issues, and a system of land title which makes identifying the owners of land for the purpose of negotiating appropriate agreements challenging.
Geopolitical Considerations
The current government faces a challenge of ensuring transparency and accountability for revenues flowing from several large scale proposed mining projects. The government of Prime Minister Michael Somare has expended much of its energy to remain in power as the region has experienced past political instability. He was the first prime minister ever to serve a full five-year term. The government has brought stability to the national budget, largely through expenditure control; however, it relaxed spending constraints 3 years ago as elections approached.
The government faces some difficulties including providing physical security for foreign investors, restoring integrity to state institutions, regaining investor confidence, promoting economic efficiency by privatizing moribund state institutions, and balancing relations with Australia. Analysts suggest the global financial crisis had a minimal impact on the country because of continued high demand for Papua New Guinea's commodities exports.
Approximately 5 years ago, the government established the Mineral Resources Authority (MRA) with the view to strengthening the investment, management and co-ordination for the mining industry sector. For the first time in the nation's brief history, there will be a mix of small, medium and large projects undertaken. The overall scenario suggests that Papua New Guinea may be on the cusp of a new mining boom different to past booms fueled by various single project developments throughout the country.
Last December, a consortium led by a major American oil company received approval on a plan to commercialize the country's estimated 227 billion cubic meters of natural gas reserves through the construction of a liquefied natural gas (LNG) production facility that could begin exporting by 2013 or 2014, representing the largest investment project in the country's history.  This project has the potential to double GDP in the near-term and triple Papua New Guinea's export revenue, and more significantly for other resource and exploration companies it demonstrates a favorable political context in which to operate.
Investment Opportunities
Newcrest Mining Corporation (PINK:NCMGY) is currently operating the country's largest mine in production at the Lihir Mine, following last month's aquisition. The mine is located on Niolam Island, 900 kilometres north of Port Moresby in the New Ireland Province of Papua New Guinea. Lihir is a volcanic sea mount that rises steeply from sea level to approximately 600 metres above sea level. The ore body was discovered in 1982 and exploration was conducted between 1983 and 1995 when construction of the mine and process plant commenced. Production began in May 1997, and since that time the mine has produced more than seven million ounces of gold. The mine currently has 28.8 million ounces in reserves and 43 million ounces in measured and indicated resources. Mining of the deposit is planned to continue until around 2023, after which time ore will be reclaimed from the stockpiles and processed for at least a further decade. Newcrest is deploying a strategy of seeking early stage entry into high-quality gold projects in the Asia-Pacific Region including a recent joint venture of further exploration in Papua New Guinea.
Barrick Gold Corp. (TSX: ABX), the world's largest gold miner, operates the second largest mine in Papua New Guinea at the Porgera facility located at an altitude of 2,200-2,700 metres in the Enga Province. The mine is located about 130 kilometres west of the established town of Mount Hagen, 600 kilometres northwest of the nation's capital city of Port Moresby, and about 680 kilometres by road from the coastal port of Lae from which all materials are freighted. The Porgera operation employs both open-pit and underground mining methods.  Last year, Barrick reported production totals of approximately 551,000 ounces of gold at cash costs of $515 per ounce with proven and probable mineral reserves of 7.7 million ounces of gold.
Allied Gold (TSX:ALG) is a mid-tier Australian based gold producer and explorer, currently focused on exclusively owned projects in Papua New Guinea  and the Solomon Islands.  The company operates the Simberi Mine and in December 2009 acquired Australian Solomons Gold Ltd whose principal asset, Gold Ridge mine, is located in the Solomon Islands.  From 1998 to 2000, the mine produced in excess of 200,000 ounces before being closed due to civil unrest. Allied Gold is redeveloping this asset, which it expects to add an approximate125,000 ounces of additional production to the group.
New Guinea Gold (TSXV:NGG) is a junior exploration company operating, with direct and indirect interests in eight gold and two porphyry copper-gold-molybdenum properties. The company has completed more than 90,000 metres of drilling, reporting quantities of gold or copper-gold-molybdenum mineralization discovery at all the properties. Gold production has commenced at the company's Sinivit Mine, and is currently focused on expanding operations and production.