British Columbia Gold Rush
By Dave Brown – Exclusive to Gold Investing News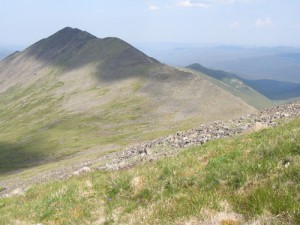 In an interview with the Financial Post last week, the founder of Barrick Gold Corp. (TSX: BAR), the world's biggest gold miner said, "the future of gold mining likely lies in mixed-metal mines."  Peter Munk, the company's chairman, further noted that "Gold finds are becoming more and more difficult right now. What most large companies do now is look for mixed-metal mines, where gold is a part of other metals and other minerals."  Although Barrick does not have any current exposure to development projects or mine production in British Columbia, there are a number of interesting properties in B.C. which can provide mixed metal exposure right in the Toronto-based company's proverbial back yard.
British Columbia's mining industry reported pre-tax net earnings of $2.3 billion during 2009 in spite of the worldwide economic slowdown, according to a recent PricewaterhouseCoopers (PwC) report. The earnings of $2.3 billion declined from the all-time record of $3.2 billion reported in 2008, but remain at historically high levels. The industry weathered the global economic downturn better than most, but B.C. mines were faced with lower shipments and weaker prices across the board in 2009 due to a drop in overall economic activity just about everywhere.
The report found 79 percent of mining executives unsatisfied about the mine permitting process in B.C., but the report notes the province recently granted a permit to the first major new metal mine in more than a decade: Roca Mines Inc.'s Max Molybdenum project south of Revelstoke.  Two other operations have also completed permit applications with Thompson Creek Metals' (NYSE:TC) newly acquired Mount Milligan property and Copper Mountain owned by Copper Mountain Mining (TSX: CUM).
Net gold mining revenues increased from $231 million in 2008 to $309 million in 2009, for an increase of $78 million or 34 percent.  This could indicate a particularly strong position as the reported average price of gold increased at a more modest 12 percent from US $ 871.71 to US $974.02 per ounce.  This price has continued its ascent in 2010 finishing the first quarter at an average of US $1,110.16 per ounce.
Potential Opportunities
British Columbia hosts a number of interesting gold and mixed metal projects in various phases of production, development, and exploration, with opportunities that might prove worthwhile for investors:
Northgate Minerals Corporation (TSX:NGX) is a gold and copper producing company with operations, development projects and exploration properties in British Columbia, Ontario, and Australia.  The company is forecasting gold production of 310,000 ounces in 2010 with approximately 102,500 ounces of gold to be produced from the Kemess South mine, in addition to 47.6 million pounds of copper.  During the first quarter of 2010, Northgate commissioned an international engineering firm to assess the economic prospects of mining part of the Kemess North deposit using an underground block caving method. Strong results of the resource model showed a target zone was identified of at least 70 million tonnes of mineralization containing 1.4 million ounces of gold and 500 million pounds of copper in the eastern part of the Kemess North deposit from 300 to 600 meters below surface.
New Gold (TSX:NGD) an intermediate producer with a portfolio of global properties, posted 59 percent growth in revenues in 2009, has focused on cutting production costs, reducing average production costs per ounce of gold from $565.00 in 2008 to a projected $450.00 this year. Robert Gallagher, president and CEO of the company has been diligent in aggressively growing through acquisition and believes production at the New Afton (Kamloops) site, which is scheduled to be operational by 2012 will cover operating costs for New Gold's entire company (at current prices), allowing it to produce 430,000 ounces of gold annually at a significant profit margin. Mr. Gallagher has issued such optimistic guidance on the New Afton property that he anticipates it will more than double cash-flow generation.  The mixed metal asset has probable mineral reserves estimated at 1.05 million ounces of gold, 3.09 million ounces of silver and 993 million pounds of copper.
Imperial Metals Corporation's (TSX:III) key properties are the Mount Polley open pit gold  and copper producing mine in central British Columbia, the Huckleberry open pit copper and molybdenum producing mine in northern British Columbia, the development stage Red Chris property in northwest British Columbia, and the development stage Sterling gold property in southwest Nevada.  On August 5, the company reported one of the longest mineralized intercepts obtained to date at Red Chris, which the Supreme Court of Canada allowed to advance to final permitting earlier this year.
Taseko Mines Limited (TSX:TKO) has a number of promising mixed metal assets with the 75 percent owned Gibraltar copper and molybdenum mine, the extensive gold and copper project named Prosperity, the Harmony gold project and the early stage Aley niobium project.  The Prosperity deposit is a gold and copper porphyry with a 1.0 billion tonne measured and indicated resource containing 13.3 million ounces of gold and 5.3 billion pounds of copper.  In November 2009 Taseko's feasibility study reflected values of 7.7 million ounces of recoverable gold and 3.6 billion pounds of recoverable copper.
Supreme Resources (TSXV:SUP) is a diversified gold and base metal exploration company focused on the 100 percent owned TAS Project located adjacent to the prolific porphyry copper brownfield of the Copper Mountain Mining camp,.  This close geographic proximity of the TAS property to Copper Mountain's project might justify considerable interest to investors close on the heels of the recent announcement of final approval from the B.C. mines ministry for the mine project near Princeton.  In addition, Supreme Resources also owns the Ample-Goldmax property.
Future Outlook
Although British Columbia's mining industry has traditionally been dominated by coal, the near term future seems to indicate promise for gold and copper with most of the new mines and advanced projects skewing towards these areas.  In early February of 2009, the government announced a $10 million commitment for engineering, environmental assessment and aboriginal consultation for a new power line project along the Northwest Transmission Line (NTL).  According to the Mining Association of BC, "the project has the potential to attract $15 billion in new capital investments".  Last April the government also increased weight limits for trucks to haul larger mining loads from the Yukon.  These are positive steps and evidence that the industry and provincial and federal governments are committed to advancing projects which is a key to attract potential investment.
August 9th's Gainers: Top 5 Best Performing Gold Stocks of the Day
| | | | | |
| --- | --- | --- | --- | --- |
| Company | Symbol | Price | Currency | Growth |
| European Goldfields | TSE:EGU | 9.07 | CAD | 7.34% |
| Nova Gold Resources | AMEX:NG | 6.58 | USD | 1.86% |
| Golden Star Resources Ltd. | AMEX:GSS | 4.43 | USD | 1.84% |
| Centerra Gold Inc. | TSE:CG | 13.16 | CAD | 1.70% |
| Allied Nevada Gold Corp. | TSE:ANV | 20.11 | CAD | 1.16% |