Gold Mining and Exploration in Indonesia
Indonesia's total estimated gold reserves are about equivalent with those of the US; however, in 2009, Indonesia's gold production amounted to less than half of US output.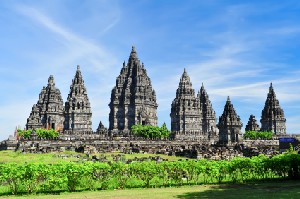 This article was originally published on Gold Investing News on November 1, 2010.

Indonesia consists of more than 17,500 islands and the vast polyglot nation hosts a population of around 238 million. The country boasts a rich endowment of natural resources, including considerable deposits of crude oil, natural gas, tin, copper, coal and gold.
Indonesia's prolific petrochemical production rates it within the top 10, currently at number 7 for natural gas exports in the world. Indonesia shares land borders with Papua New Guinea, East Timor, and Malaysia. Regional neighboring countries include Australia, Singapore and the Philippines.
The United States Geologic Survey indicates that Indonesia's total estimated gold reserves are approximately equivalent with those of the United States; however, last year, Indonesia produced less than half the total of gold compared with the United States. For investors with a more risk tolerant profile, this divergence might suggest a potential for undervalued regional gold opportunities.
Current economic situation
Indonesia has survived the global financial crisis relatively smoothly, as the result of its strong reliance on domestic consumption as a catalyst for economic growth. It is currently the largest economy in Southeast Asia and maintains membership within the G-20 major economies.
Although the economy slowed significantly from growth rates over 6 percent recorded in 2007 and 2008, it still expanded at 4 percent in the first half of 2009. Indonesia outperformed its regional neighbors and joined China and India as the only G20 members posting growth during the crisis.
In recent years, Indonesia's debt-to-GDP ratio has significantly been reduced because of increasingly robust GDP growth and sound fiscal stewardship. On July 13, the Japanese Credit Rating Agency upgraded Indonesia's investment grade from BB+ to BBB.
The government used fiscal stimulus measures and monetary policy to counter the effects of the crisis and offered cash transfers to poor families; in addition, campaign spending in advance of legislative and presidential elections in April and July helped sustain consumption. The government made economic advances under the first administration of President Yudhoyono, introducing significant reforms in the financial sector, including tax and customs reforms, the use of Treasury bills, and capital market development and supervision.
Indonesia struggles with poverty and unemployment, inadequate infrastructure, corruption, a complex regulatory environment, and unequal resource distribution among regions. The 2009 reelection can be seen as an affirmation of public support for the president and his vice president, highly regarded economist Boediono, dubbed "Indonesia's financial rudder" and listed as one of the Wharton School's 125 Influential People and Ideas in 2007. The election success could also suggest broad continuity of current economic policy, although, the start of their term has been marred by corruption scandals.
Investment climate and risk
The government expectations suggest weaker production from natural resources in 2011, partially due to new domestic processing requirements, that require mined ore and minerals to be refined locally after a five-year transition period. This will require significant capital expenditures, which will reduce some corporate non-tax liabilities, reducing the government's revenue growth. There is considerable uncertainty around the extent of impact on revenue estimates and how successful the government will be at enforcing this requirement by 2014. The government is currently reconciling the challenge of attracting international investment and improving Indonesia's insufficient infrastructure to remove impediments to economic growth, while addressing climate change mitigation and adaptation needs, particularly with concern of forest and peatland conservation.
Opportunities
International mixed metal producer Freeport-McMoRan Copper & Gold (NYSE:FCX) mines, processes and explores for ore containing copper, gold and silver with operations in the remote highlands in the province of Papua. The Grasberg mining complex is a relatively large producer of both copper and gold, and contains significant recoverable reserves of copper as well as gold. Open-pit mining of the Grasberg ore body began in 1990 and is expected to continue until mid-2015, at which time the Grasberg underground mining operations are scheduled to begin. Grasberg is at the heart of a highly prospective minerals district, where ongoing exploration may further expand the recoverable resources. As of December 31, 2009, the company reported consolidated recoverable proven and probable reserves estimated at 104.2 billion pounds of copper, 37.2 million ounces of gold, 2.59 billion pounds of molybdenum, 270.4 million ounces of silver and 0.78 billion pounds of cobalt.
Top tier global gold producer Newmont Mining Corporation (TSX:NMC) (NYSE:NEM) is involved in poly-metallic mining joint venture on the island of Sumbawa along with the PT Newmont Nusa Tenggara (PTNNT) at the Batu Hijau mine facility. The open pit mine has primarily been producing copper concentrate with a gold byproduct since 2000. At the current production rate, the company expects to be operating for the next two decades. PT Newmont Nusa Tenggara (PTNNT) is an Indonesian joint venture company partially owned by Nusa Tenggara Partnership and by PT Pukuafu Indah.
East Asia Minerals Corporation (TSXV:EAS) is a mineral exploration company with gold and copper exploration properties in Indonesia, as well as uranium exploration properties in Mongolia. In Indonesia the company has a 70-85 percent interest in six advanced gold and gold-copper properties. Also of potential interest for investors is that East Asia Minerals owns eight uranium properties, including the advanced Ingiin-Nars, Ulaan Nuur and Enger uranium projects, and two phosphate properties in Mongolia.
November 1st's Gainers: Top 5 Best Performing Gold Stocks of the Day
| | | | | |
| --- | --- | --- | --- | --- |
| Company | Symbol | Price | Currency | Growth |
| Silvercorp Metals Inc. | TSE:SVM | 9.89 | CAD | 3.67% |
| NovaGold Resources Inc. | NYSE:NG | 11.62 | USD | 3.57% |
| Greystar Resources Ltd. | TSE:GSL | 4.46 | CAD | 3.48% |
| Eldorado Gold Corp. | TSE:ELD | 17.83 | CAD | 3.24% |
| New Gold Inc. | TSE:NGD | 7.72 | CAD | 2.25% |