Gold Mining and Exploration in Finland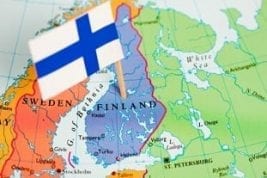 Finland was a late bloomer, in terms of gold exploration. Now, an under-explored country, a stable political environment, and well-developed infrastructure are attracting explorers to the region.
By Leia Michele Toovey
Finland was a late bloomer, in terms of gold exploration. It was not until 1868 that exploration commenced in the region, some 2000 years later than the rest of Europe. Now, an under-explored country, a stable political environment, and well-developed infrastructure are attracting explorers to the region.
Finland has a diverse geologic history, which has led to the creation of hundreds of gold deposits of a variety of ages and mineralization styles. In the past, gold production in Finland was principally as a by-product from the mining of paleoproterozoic base-metal massive sulfide deposits. This situation has changed during the last decade with the closure of some base metal mines and the commencement of production from recently discovered, gold-only deposits.
Gold mineralization occurred during distinct episodes of crustal evolution in Finland. During the Archaen, greenstone belts with low grade copper–cobalt nickel massive sulfides formed. The formation of volcanic arcs, which were later wedged-up adjacent the Karelian craton (called accretion) led to massive sulfide mineralization, which created low grade (0.1 to 1.0 ppm), but large gold deposits.
Within the accretionary setting the Tampere schist belt in southern Finland formed, which is host to the Kutemajärvi gold deposit. The Kutemajärvi gold deposit was mined in 1994-2003 when it produced 13 tons of gold from 1.4 Mt of ore, and was reopened in June 2007. It is owned by Dragon Mining and now operates under the name of the Orivesi Mine.

Most of the gold occurrences in Finland are congruent with the rest of the Baltic shield. However, in Northern Finland, within the greenstone belts of Central Lapland there are a few deposits with atypical mineral assemblages. These are similar to the gold-only deposits found across the region, but they host significant enrichment with copper, cobalt, nickel and even
uranium.
The areas with greatest potential for the discovery of new gold deposits in Finland are the late Achaean and Paleoproterozoic greenstone belts in eastern Finland and Lapland. There is also potential for discovery of
iron
oxide-copper-gold systems in the western Central Lapland greenstone belt.
Central Lapland
The Central Lapland Greenstone Belt is a greenstone belt located in the northern part of the Fennoscandian Shield. It is considered one of the most promising areas for gold discovery in Finland. The mineral deposits in this region contain varying amounts of sulphides and sulpharsenides as well as gold.
The iron oxide-copper-gold deposits of Central Lapland
These deposits are a significant potential source of copper, and gold. These deposits are very large in size, and have controversial origins. Iron oxide-copper-gold (IOCG) deposits and a group of diverse, economically significant copper-gold deposits. BHP Billiton's (NYSE:BHP) Olympic Dam mine in Australia is an example of a world-class IOCG deposit.
Gold companies in Finland
Here's a sample of a few miners and explorers operating in Finland:
Agnico-Eagle Mines (TSX:AEM)
Owners of the famous Kittilä mine, also known as Suurikuusikko mine, in the Lapland Province of Finland. Kittilä is one of the largest gold mines in Europe, producing 177,374 ounces of gold in 2015. The mine is anticipated to remain in production through 2035.
Mawson Resources (TSX:MAW)
Mawson Resources holds a number of gold exploration properties in Finland including the Rompas, Rajapalot and Palokas gold projects. Most of the companies work in 2016 has been focused on Palokas, with the most recent results being released on April 26. Highlights included intercepts of 2.9 metres grading 5.9 grams per tonne of gold and one meter gradin 17.9 grams per tonne of gold.
Aurion Resources (TSXV:AU)
Aurion Resources is advancing its Kutuvuoma gold project in Northern Finland with its partner, B2Gold (TSX:BTO). It also holds the Ahvenjarvi and Sila projects in the country. All three projects are located within 38 kilometers of Agnico Eagle's Kittilä mine.
On February 29, Aurion and B2 released results from a first-pass metallurgical test program at Kutuvuoma.
Dragon Mining (ASX:DRA)
Dragon Mining owns three properties in Finland, The Jokisivu Gold Mine, The Orivesi Gold Mine, and The Vammala Production Centre. The Jokisivu Gold Mine is located 40 kilometers south west of the Vammala Production Centre and hosts a Measured, Indicated and Inferred Resource totaling 222,200 ounces of gold. The Vammala Production Centre is located in the Sastamala region in southern Finland, 165 kilometers northwest of Helsinki. This region is well endowed with gold and nickel mineralization.
Nordic Mines
Headquartered in Sweden, the company's focus is exploring for gold and other metals, and to establish mining operations. Currently, Nordic Mines owns two projects in Finland and three in Sweden.
Don't forget to follow us @INN_Resource for real-time news updates!

This article was originally published on Gold Investing News on February 7, 2011.