Five Gold Exploration Companies That Score High in Colombia
Colombia is now home to 12 of the world's gold deposits larger than 1 million oz – most of which are in development. Many junior explorers are trying to capitalize in Colombia by finding the next significant deposit – about 20 companies in total.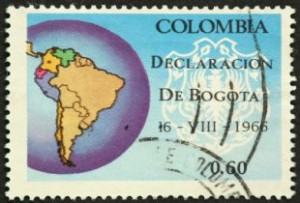 By Jeff Desjardins, Visual Capitalist
The year has been a disappointing one for the BRICs, with China being the only country to bring significant GDP growth to the table. However, with a 4.2% GDP growth estimate for 2013 and low inflation, Colombia has still been flying under the radar as a growth story. Led by a wave of foreign investment focused on mining and oil, Latin America's fifth largest economy has been well on its way to reaching its economic potential.
Colombia is now home to 12 of the world's gold deposits larger than 1 million oz – most of which are in development. Many junior explorers are trying to capitalize in Colombia by finding the next significant deposit – about 20 companies in total.
Using our Tickerscores system, we recently calculated the scores for each exploration company in Colombia. Tickerscores is an independent and comprehensive framework that uses 20+ empirical variables and a sophisticated weighting algorithm to rate each company's "health" based on market conditions.
Colombia Breakdown
The average exploration company in Colombia scored a 42 out of 100 with a $2.5m cash position, 16.9% management common share ownership, +$7,836 in YTD insider transactions, 16.0 months of cash left at our blended burn rate, and 56.7% of total expenditures being spent on G&A. Note: we classify "exploration" companies as those that have not yet produced a resource estimate.
It should also be mentioned that, on average, exploration companies in Colombia have dropped in value more than most other jurisdictions we cover. Year-to-date, Colombian explorers are down around 55%, which could present an opportunity especially for a contrarian.
Here are some of the companies that rated the highest in our system and that have interesting upcoming catalysts:
Galway Gold Inc. (TSXV:GLW) – Score: 85/100
Galway is rated as the indisputable #1 in our Tickerscores system for Colombia with a rating of 85. Through its wholly owned Colombian subsidiary, Galway Gold holds an option to acquire a 100% interest in the Reina de Oro gold concession.
The company has a solid balance sheet with $14+ million in cash and excellent liquidity ratios. Management is putting money in the ground (16.3% of expenses are G&A) and owns 33% of the common stock, which shows management interests are well-aligned with shareholders. Insiders have purchased over $70,000 in shares year to date. With over 80 holes drilled on the Vetas Property, the top intercept looks promising coming in at 11.4m of 15.32 g/t. Using our drill score economics algorithm, Galway receives the third best drill score in Colombia.
Solvista Gold Corp. (TSXV:SVV) – Score: 80/100
Solvista had our 2nd highest ranking in Colombia exploration and has two quality projects in the jurisdiction: Caramanta and Guadalupe. Phase 2 drilling has been completed on Caramanta and Phase 1 is done on Guadalupe. With $6.8m of cash in treasury and drill holes such as 149.66m of 2.10 g/t AuEq and 456.3m of 1.40 g/t AuEq, we see no reason to turn the drills off.
Year to date, insiders have been buying shares (+$31,655) and management has also been disciplined in getting money in the ground with only 19.4% of expenses going to G&A. Also to note, Kinross owns a 6% stake in Solvista.
CB Gold Inc. (TSXV:CBJ) – Score: 66/100
CB Gold, our 3rd ranked company in the region, has a solid cash position of $5.6 million according to their latest financials. Three parallel vein zones have been identified at the Vetas Gold Project, with top assay results coming in at 114.98m of 7.57 g/t and 16.87m of 17.07 g/t. An initial resource estimate is expected by the end of 2013, which will include 160+ assay results. Note: Insiders have been selling shares significantly this year (-$149,600).
Cosigo Resources (TSXV:CSG) – Score: 48/100
Cosigo is the 8th best scoring company in the region, but catches our eye because of its potential catalysts. The company had waited three years to drill its property in the Taraira Gold Belt, and in June the drilling finally commenced. With 20 shallow drill holes up to 95m depth, the company is now awaiting assays.
Cosigo rated above average in our system with $1.6m in cash and 20% common stock ownership by management.
Colombian Mines Corp. (TSXV:CMJ) – Score: 44/100
Colombian Mines was our 9th ranked Colombian explorer. Colombian is currently drilling the El Dovio project with its Phase 1 program in a VMS deposit setting. The company has $825k cash with most money going in the ground (7.8% of expenses is G&A). Though year-to-date insider transactions is positive (+$6,443.50), overall the management only owns 5.5% of the company's common shares. The average ownership in Colombia exploration is 16.9%.
About Tickerscores
Our algorithm that we use for Tickerscores breaks down each junior producer based on four major areas, which are weighted according to the current economic climate. Each area has multiple sub-variables that are also weighted. The four major areas are: financials, management, project, and performance and valuation.
The "Financials" section studies liquidity, debt ratios, cash flow, and cash relative to other producers in the jurisdiction. "Management" examines insider ownership, institutional ownership, YTD insider transactions, previous merger and acquisition experience, and experience with a major producer. "Project" looks at drill hole economics, location, infrastructure, and jurisdiction. "Performance and Valuation" is measured by performance vs. a basket of other comparable companies.
From these 20+ variables, a score out of 100 is calculated for each company. The scoring system is extremely stringent and a score of 60+ is considered a very well-rounded company. Companies that score well have excellent growth prospects, financial stability, and could provide market-beating returns.
Tickerscores provides investors access to independent investment research on over 300 precious metals stocks. Tickerscores is independent, empirical, and provides investors with unprecedented access to junior mining research.