Anglo Pulls Out of Pebble, Northern Dynasty Stock Craters
Anglo American will no longer pursue the Pebble project in Alaska with Northern Dynasty Minerals, and has written off its $300-million investment.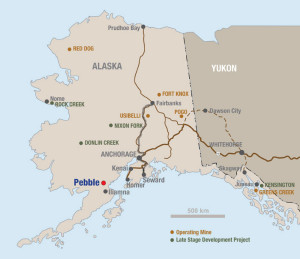 The 50-50 partnership between Anglo American (LSE:AAL) and Northern Dynasty Minerals (TSX:NDM), aimed at mining the huge Pebble copper-gold-molybdenum deposit, in Alaska is over.
Anglo American announced on Monday that it was pulling out of the project, located near Bristol Bay, while at the same time writing off its $300-million investment.
The market reaction to the pull out was swift and harsh for Anglo's partner, Northern Dynasty Minerals. From a price of $2.33 last Friday, Northern Dynasty plunged 33.9 percent to close on Monday at $1.54. On Tuesday the stock continued to fall, ending up 3.25 percent lower, at $1.49.
"Despite our belief that Pebble is a deposit of rare magnitude and quality, we have taken the decision to withdraw following a thorough assessment of Anglo American's extensive pipeline of long-dated project options. Our focus has been to prioritise capital to projects with the highest value and lowest risks within our portfolio, and reduce the capital required to sustain such projects during the pre-approval phases of development as part of a more effective, value-driven capital allocation model," Anglo American CEO Mark Cutifani said in a statement.
Reading between the lines, Anglo American is referring to the high capex estimated to develop the deposit, which is potentially the world's richest copper-gold mine. Recall that Anglo American is selling part of its stake in the massive Minas-Rio iron ore mine in Brazil after having to write down $4 billion of the $8.8-billion project. Could it be that Pebble is just too rich even for the blood of Anglo American, the world's fourth-largest diversified miner?
A 2011 preliminary economic assessment (PEA)states that the deposit contains an estimated 55 billion pounds of copper, 67 million ounces of gold and 3.3 billion pounds of moly in the measured and indicated categories. However, the PEA pegs the capital costs at just under $5 billion, of which Anglo had committed to staged investments of $1.5 billion. Clearly, Pebble is a mine that needs deep pockets to bring the metal out of the ground.
Mining.com reported that "[w]ith those funds off the table it is difficult to see how Northern Dynasty – now worth $140 million in Toronto – could come up with estimated $80 million a year needed to advance the project to its earliest possible construction start date of end-2017." Obviously investors felt the same way, and decided now was the time to get out of the company.
Mining blogger Jack Caldwell has a different take, however. In a blog post published yesterday, Caldwell wrote that Anglo's departure had less to do with economics than a lack of local support. The project has attracted a fair share of opposition for its proximity to a large and lucrative salmon fishery, including a plea from actor Robert Redford, who wrote in the LA Times earlier this year that the area was "just too important, environmentally and economically, to be sacrificed for the sake of foreign mining profits."
According to Caldwell, Anglo's pull out is a victory for Pebble's opponents and possibly for those who are against large mining projects with potential adverse environmental effects:
"Just how long can you throw money at so controversial a project with such strong opposition? How much would it cost to get the EPA off your back and the Republicans in Washington on your bandwagon? Seen from London, it must have looked like an eternity and an infinite sum to boot.
"Somebody will say it, so I might as well: just goes to show how concerted opposition to a mine can derail it. For it is hard to see how the remaining owners can do it alone. This pull-out by Anglo is a seminal event, make no mistake about that. It represents a milestone for the mining opposition, and a swagger-away by a mining company, that has no precedent that I can think of."
Still, it appears that the project isn't completely dead. On the same day that Anglo made its exit, Northern Dynasty attempted damage control by saying it plans to begin the permitting process for Pebble by the end of this year. And according to CEO Ron Thiessen, as per The Wall Street Journal, Northern Dynasty is not on the hook to pay Anglo back the $540 million it has thus far invested in the project.
But, without a major miner to bankroll it, it seems that Pebble is destined to remain, as the name suggests, an unfulfilled promise; a tiny rock whose potential as a mine remains unlocked.
Securities Disclosure: I, Andrew Topf, hold no direct investment interest in any company mentioned in this article.