Investing in Election Season: The Polls to Watch in 2019 — Part 2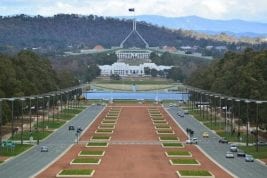 The Investing News Network takes a look at some of the elections coming up in 2019 that investors with an interest in the resource industry would do well to take note of — notably Australia, South Africa and the Philippines.
Elections mean a lot to the resource industry — governments can make life easy or a lot harder depending on which way the polls go.
The last few years of elections around the world have been all about disruption — from Brexit and Trump — to consolidation — with both Putin in Russia and Xinping in China solidifying their holds on power.
Here, the Investing News Network (INN) takes a look at some of the elections coming up in 2019 that investors with an interest in the resource industry would do well to take note of — notably Australia, South Africa and the Philippines. Read part 1 of this series here.
From last week's list, Nigeria just went to the polls, with incumbent president Muhammadu Buhari re-elected, though his opponent rejects the results.
As Africa's largest oil producer and an OPEC founding member, Nigeria's results were watched by major oil companies and export destinations around the world. Turnout was low, and the divide between the north, and the oil-rich south of the country is prominent as the south voted for Buhari's challenger.
For now, let's take a look at the next bunch of elections on the medium-term horizon.
Australia — Federal Election (Estimated May 2019)
In the land down under, it's looking like a change of government may be on the horizon if the polls are to be believed. Australia's current Prime Minister has been in the job since August last year after yet another leadership change — something Canberra has become famous for since 2010.
Australia is a nation built on mining, with major and historical projects across each of its states — it's the home of mining giants BHP (ASX:BHP,NYSE:BHP,LSE:BLT) and Rio Tinto (ASX:RIO,LSE:RIO,NYSE:RIO), a massive stable of mid-tier miners and plenty of explorers — and that's not counting any of the international miners with a slice of the action.
Mineral resources account for over 50 percent of total exports from Australia, with coal listed as the most valuable export in 2018.
It makes sense then, that the mining industry occupies the minds of government departments from local to national, with few who challenge the sector surviving (electorally) to tell the tale.
In 2019, the centre-right Coalition government under Prime Minister Scott Morrison is up against the resurgent centre-left Labor party, led by Bill Shorten.
A hot topic between the parties vying to lead Australia has been the Carmichael coal mine in Queensland — which has varying levels of government support and opposition — both local, state and federal. The Labor party is divided on supporting the project — which is toxic in the urban south of Australia, but supported locally.
The Carmichael mine is being pushed by the sprawling Indian company, the Adani Group.
While pollsters have a bad rap in recent years, the Coalition sat up and took note after its state-level counterpart in Victoria slipped further into opposition in late 2018 with a bruising electoral defeat. The upcoming New South Wales state election, due to be held in March, will be another signpost on the road to the federal election outcome.
South Africa — Presidential and General Election (May 8)
In South Africa, incumbent president Cyril Ramaphosa of the African National Congress will be up for his first election as president, after completing the remainder of his predecessor Jacob Zuma's second term.
Zuma resigned in early 2018, having been abandoned by his party amid accusations of corruption.
Frontrunner against Ramaphosa will be the Democratic Alliance leader Mmusi Maimane, who took the reign of South Africa's centrist opposition party in 2015. A pastor, Maimane took over from Helen Zille — an arch-rival of Zuma who had been the face of opposition to the all-powerful African National Congress from 2007 to 2015. She remains Premier of the Western Cape province, which is a bastion of Democratic Alliance supporters.
The African National Congress is the party of Nelson Mandela, and has held power since the end of apartheid, and controls a thumping majority in the national parliament in Cape Town.
South Africa has a long and storied history of mining, and is the ancestral home of Anglo American (LSE:AAL), which maintains a significant presence there.
Coal, iron ore, gold, platinum, zinc and diamonds are the bread and butter of the highly diversified South African mining sector, which hosts major international companies like India's Vedanta (NSE:VEDL), with its Gamsberg zinc ore complex in Northern Cape, and Canada's Ivanhoe Mines (TSX:IVN), which is developing the Platreef PGE-gold-nickel-copper project in Limpopo province.
Philippines — General Election (May 13)
In the Philippines, the 2019 election will act as a mid-term election for President Rodrigo Duterte, who has lead the Asia-Pacific nation since 2016.
All seats in the lower house are up for election, where Duterte's left-wing populist Partido Demokratiko Pilipino leads the all-powerful (by numbers) Coalition for Change bloc.
Duterte has been a controversial President for his term so far, making global headlines for encouraging a bloody war against drugs, which has seen 5,000 people killed by police since he took office.
He has also taken aim at the mining industry, proposing strict environmental regulations that would limit mining, and threatening to shut operations that don't rehabilitate mining areas to his satisfaction (which is re-planted trees as tall as he was).
The Philippines, which as the second-largest nickel producer in the world, was under threat of a depressed mining industry in 2018 as a result of Duterte according to analysts.
Whatever his antics – polling shows that most Filipinos support Duterte and his approach to governance.
What's next?
We've now explored 7 major elections with an impact on the resources world; read part 1 of this series here. Next week, INN will look at jurisdictions with elections towards the end of 2019 — Canada, Argentina, Bolivia and Poland.
INN will look into the issues facing the resource industry and their economies at large when the respective polling days roll around.
Want to know more about elections in a jurisdiction not listed? Let us know!
Don't forget to follow us @INN_Resource for real-time updates!
Securities Disclosure: I, Scott Tibballs, hold no direct investment interest in any company mentioned in this article.