Mining giant Rio Tinto PLC has finally engaged in a long anticipated competition for junior uranium company Hathor Exploration Ltd. with a friendly $572-million bid, escalating a challenge against an earlier hostile offer from uranium giant Cameco for the promising Saskatchewan property.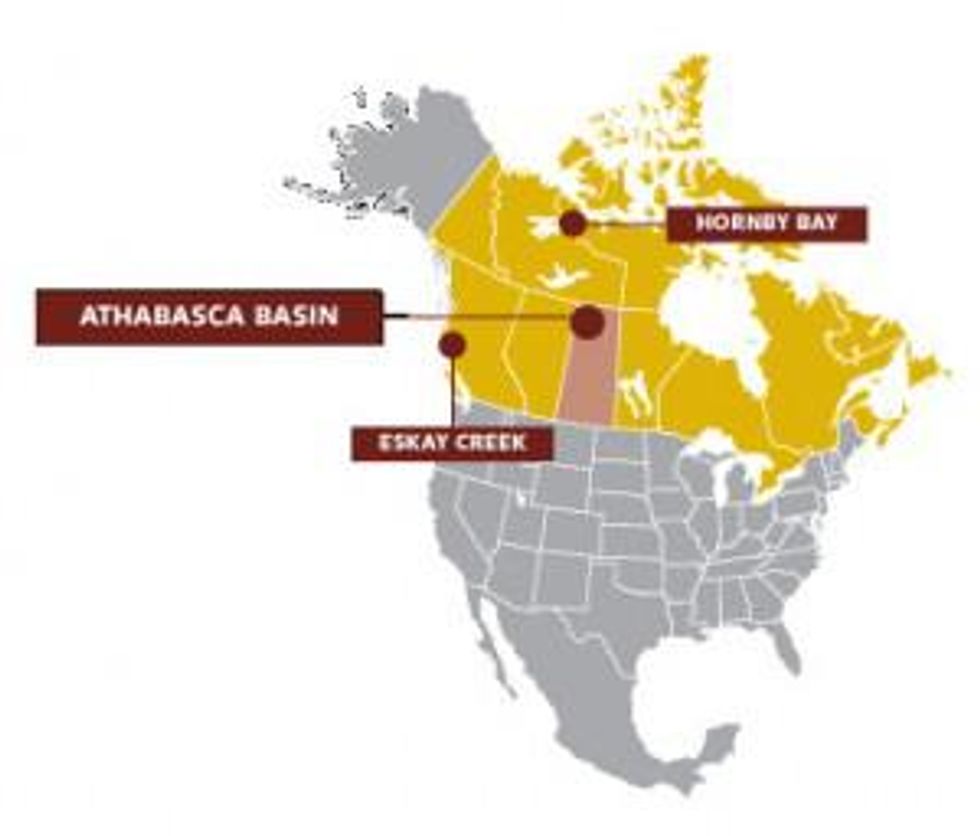 By Dave Brown – Exclusive to Uranium Investing News
London based mining giant Rio Tinto PLC (LSE:RIO, NYSE:RIO, ASX:RIO) has finally engaged in a long anticipated competition for junior uranium company Hathor Exploration Ltd. (TSX:HAT) with a friendly $572-million bid, escalating a challenge against an earlier hostile offer from fellow uranium top producer Cameco (TSX:CCO, NYSE:CCJ) for the promising Saskatchewan property. At a 55 percent premium to the company's trading price on August 25, the $4.15 per share cash offer represents an improvement to the Cameco hostile offer of $3.75 per share.
Rio Tinto's offer has been accepted by Hathor management and board of directors, who recognize the premium relative to the prior offer from Cameco and are unanimously endorsing it as fair to all Hathor shareholders. A Special Committee for Hathor reviewed all conditions and aspects for the deal and deliberated on a series of terms, including solicited verbal opinions from Scotia Capital Inc., financial advisor of the committee and from Canaccord Genuity Corp. the financial advisor to Hathor before reaching a conclusion. For its part, Cameco is reviewing Hathor's announcement and will update shareholders when appropriate.
In an interview on BNN, Rob Chang, Metals and Mining Research Analyst with Versant Partners, indicated the most recent offer is, "probably still undervaluing Hathor a little bit.  But in the current context a likely first bid."  Chang anticipates a counter bid from Cameco, "Cameco has the strongest position within the Athabasca Basin. It has the most synergies that it could reasonably achieve so I think there was a number that they probably were thinking of when this whole [bidding] process started and they may go to that or may go somewhere below that depending on what the number is."
For uranium investors this offer finally exposes the broader trend of corporate reorganization with merger and acquisition activity from the second quarter as previously summarized in a PwC report. Although, Chang was not able to provide valuation commentary on any of these direct participants, Versant Partners does follow a company within the Athabasca basin, Fission Energy (TSXV:FIS), "On Fission Energy we have a $1.50 price target and definitely a 'buy' rating on that [company] and it is under review based on the extra information we have at hand."
Investors will note that other uranium exploration targets in this area will become of potential interest as the process can often lead to accretive developments for joint ventures and takeover targets. With the biggest deal quarter since before the credit crisis of 2008 and the considerable drop in spot market uranium prices serving as contexts, the opportunity is overdue for low cost uranium mining producers to look at the strategic assets as considerable bargains.  Chang explained, "if we are looking out and if we are thinking 3 or 4 years from now would this price [for Hathor] be fair? Possibly not, once the global economic crisis settles down and people start returning to the fundamentals of the uranium market which show that uranium prices probably need to be a lot higher than they are now."
Additional room for higher bids
In a statement, Doug Ritchie, the Chief Executive Officer for Rio Tinto indicated his outlook, "The medium and long-term outlook for the uranium market is positive, with uranium assuming a significant role in the world's primary energy needs."
Athabasca basin properties
The Athabasca basin covers about 100,000 square kilometres located primarily in Saskatchewan with a smaller segment in Alberta. Although uranium was not discovered in the region until the 1940s, it presently supplies approximately 20 percent of the world's uranium. The basin surface is mainly comprised of sandstone sediment ranging in depth between 100 metres to 1 kilometre. Uranium targets in the area are typically very high grade, with average grades exceeding 1 percent in most of the deposits. Other prospective exploration companies in the basin include Acme Resources (TSXV:ARI), Athabasca Uranium (TSXV:UAX), Bayswater Uranium (TSXV:BYU), ESO Uranium (TSXV:ESO), Kirrin Resources (TSXV:KYM), Logan Resources (TSXV:LGR), Purepoint (TSXV:PTU), Titan Uranium (TSXV:TUE) Unity Energy Corp. (TSXV:UTY) and Uravan Minerals (TSXV:UVN).
Securities Disclosure: I, Dave Brown, hold no direct investment interest in any company mentioned in this article.
Featured
Investing News Network websites or approved third-party tools use cookies. Please refer to the cookie policy for collected data, privacy and GDPR compliance. By continuing to browse the site, you agree to our use of cookies.