Canada to Export Uranium to China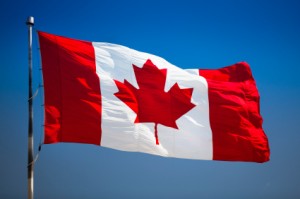 Canadian companies are now able to export Canadian uranium to China under a recently signed "supplementary protocol" to a 1994 pact on nuclear cooperation. The protocol, signed by Canadian Foreign Affairs Minister John Baird and Liu Tienan, the head of China's National Energy Administration, should benefit uranium production companies in Canada and also investment in junior exploration companies with projects in Canada.
"This is great news for our province and our uranium producers. Our companies are well positioned to supply product to an expanding market and to a country that has the world's fastest growing nuclear energy program," enthused Tim McMillan, Energy and Resources minister for the province of Saskatchewan, Canada's uranium heartland, where the world's top uranium producer Cameco (TSX:CCO) operates two mines and number of exploration projects are in the works.
China is currently the world's biggest energy consuming nation and operates 14 reactors with an additional 26 under construction and 171 planned or proposed. The total of planned or proposed reactors account for 41 percent of nuclear power plants in the world and 34 percent of planned or proposed nuclear power plants.
In a research publication issued earlier this month by JPMorgan Chase & Co., resource analyst Mark Busuttil expects growth in Chinese uranium imports should stimulate an increase in uranium prices beginning this year. "China will likely continue to import more uranium than its existing reactors require with the expectation of a significant roll-out of capacity," Busuttil wrote. The report indicated that spot market uranium prices may rise from the $55 range later this year to the $85 range within two years.
Projected increased demand for Chinese uranium imports seems to offer support for a cautiously optimistic recent report released on mining merger and acquisition activity released by advisory firm Ernst & Young. The firm anticipates that companies with a bullish outlook on China are expected to be the dealmakers in the remainder of the year. Ernst & Young indicated that while overall M&A in the mining industry declined by 19 percent in the first half of this year, expectations of a demand rebound in uranium are also triggering acquisitions to secure future supply, with deal value and volume increasing on an annualized basis.
Uranium for civilian use or global security threat?
While the Canada-China uranium deal is likely good news for the uranium space, some observers have raised concerns over what China could do with the raw uranium, which can be used both for civilian purposes in nuclear power generation and for military purposes in the construction of nuclear weapons.
"It is a dangerous part of the world in terms of nuclear proliferation," Paul Meyer, senior fellow at the Simons Foundation, a non-proliferation institute based at Simon Fraser University in Canada, was quoted saying in an iPolitics article published in February, when the Canada-China deal was first announced.
The article notes that Canada and China have different rules regarding nuclear material under the 1968 Nuclear Non-Proliferation Treaty, a near-universal agreement to promote the peaceful use of nuclear technology and to reduce nuclear weapons: "Canada, as a member without nuclear weapons, must not contribute to the construction of weapons in another country. China, as a country with nuclear weapons, is obliged to enter negotiations to reduce its nuclear arms."
In that vein, last month China led a discussion among the five original nuclear-armed states to define arms control terms, a step that might ultimately bring greater clarity about its nuclear arsenal and strategy. "Of the five original nuclear-weapons states within the nuclear Non-Proliferation Treaty, China is the most secretive about its arsenal, its stockpile of fissile material and its nuclear doctrine," CNBC reported. A committee consisting of representatives from China, United States, Russia, Britain and France as well as Germany are expected to begin talks this summer on a glossary of nuclear terms seen as a necessary step for wider talks on disarmament.
Iran's nuclear program
On Monday, European Union and Iranian officials met in Turkey to reach some level of agreement on Iran's nuclear program, which is relevant to China in that the People's Republic and Russia are Iran's traditional allies. It's worth noting that earlier this month a federal grand jury in the United States indicted two men, an Iranian and a Chinese citizen, "on charges of conspiring to send materials from the United States to Iran for the purpose of enriching uranium," Reuters reported.
While neither China nor Canada was represented at Monday's discussions, the Canada-China uranium protocol does not seem to pose the threat of uranium exports passing on to Iran. Negotiators from the five original nuclear-armed states, including China and Germany, previously agreed they want Iran to stop enrichment of uranium to 20 percent, ship the fuel it has already enriched to that level out of the country, and cease operation of its mountainside Fordo uranium enrichment facility. Moreover, the proposed expansion of China's nuclear program to meet its growing energy needs is a factor that points more to China's use of Canada's raw uranium for civilian purposes than for nuclear proliferation to Iran.
Securities Disclosure: I, Dave Brown, hold no direct investment interest in any company mentioned in this article.