Asian Nuclear Programs Key to Improved Uranium Demand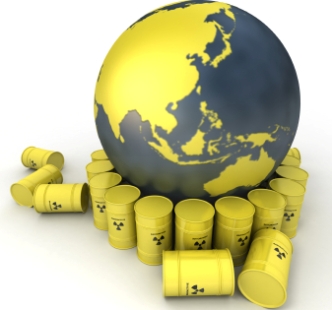 TradeTech's spot price indicator bounced 25 cents to $41 per pound on fresh demand. "This news offered a welcome respite for producers after weeks of discouraging developments in the production sector," said TradeTech. "These low price levels have led many producers to undertake optimization efforts to curtail expenses with several making announcements of planned and potential production cutbacks."
Low U3O8 spot prices may be haunting the uranium market for now, but demand from energy-hungry nations continues to grow. Both China and India are making headlines again for their pursuit of uranium resources to fuel their ambitious civilian nuclear power programs.
Last week, Prime Ministers Stephen Harper and Manmohan Singh concluded talks concerning a deal that will allow for sales of Canadian uranium to India, which plans to build 12 new reactors by 2021. The new builds are expected to triple uranium demand from the Southeast Asian nation. The agreement, once officially signed, will be a boon to Saskatchewan's uranium market. The Canadian province is second to Kazakhstan in global uranium production.
Speaking at China's Communist Party Congress in Beijing this week, Sun Qin, chairman of China National Nuclear Corporation, reaffirmed his country's commitment to making nuclear power a key part of its energy mix. "There will be problems here and problems there but finally the world will have to depend on nuclear energy — it won't be today's nuclear energy, but something like fusion," explained Sun.
Earlier this month, Uranium Investing News reported that China has lifted its ban on new nuclear plants, but only for coastal areas. But Sun said the inland builds are part of the 13th Five-Year Plan (2016-2020) and that China "is conducting research and risk evaluation on the construction of the inland nuclear power plants."
By 2015, the Asian nation expects to grow its installed nuclear capacity from around 12 million kilowatts to 40 million kilowatts, which would reportedly consume at least 7,500 tons of U3O8 each year, according to China's recently approved nuclear power development plan. China hopes domestic production will help meet at least half of the projected demand, with the remainder coming from foreign imports. Today, the country gets about 95 percent of its uranium imports from Kazakhstan, Namibia, Australia and Uzbekistan and is focusing on increasing its overseas exploration activities in these regions. "We will step up uranium mining projects in foreign countries," said Sun. "The target overseas markets include Australia, Africa and Central Asia."
Company news
On Monday, Alpha Minerals (TSXV:AMW) announced additional results from the ongoing drill program at its Patterson Lake South property, a 50/50 joint venture with Fission Energy (TSXV:FIS). PLS12-023 intersected approximately 13 meters of strongly-anomalous radioactivity over the core interval between 63 and 76 meters downhole, with visible uranium mineralization and extensive alteration. PLS12-024 intersected approximately 24 meters of strongly-anomalous radioactivity over the core interval between 59 and 93 meters with a 13-meter-wide interval of mineralization that includes intermittent intervals, totaling 2.14 meters, of off-scale (>9999 cps) radioactivity.
On Tuesday, Mesa Exploration (TSXV:MSA) announced that it has acquired a 100-percent interest in the Oatman gold project and the Belmont silver project from American Bonanza Gold (TSX:BZA) for $75,000. Bonanza retains a 3 percent NSR royalty, half of which Mesa can purchase for $2,000.
"We are very pleased with this acquisition, both projects are highly prospective and are adjacent to historic productive mines. The Bounty potash project continues to remain the principal development project for the company where we are currently working towards securing drilling permits," said Foster Wilson, president and CEO of Mesa.
Forte Energy (ASX:FTE) began a reverse-circulation drill program at its A238 prospect in Mauritania. The 8,200-meter program will test the highly-prospective areas along strike in the Zednes shear zone to the northwest and the southeast of the prospect.
On Wednesday, Cameco (TSX:CCO,NYSE:CCJ) concluded a $500-million debenture offering. The uranium producer plans to use the proceeds to support its expansion plans. Cantor Fitzgerald analyst Rob Chang told his clients that the funds will strengthen Cameco's buying power and that the company may have its eye on Uranerz Energy (TSX:URZ,AMEX:URZ). Cameco has ISR uranium projects near the soon-to-be-producing Nichols Ranch project in Wyoming, where Cameco has said it wants to expand production. "At current levels, making a bid for Uranerz may be an opportunistic (and discounted) approach for exposure to an asset that will be in production by next quarter and ramping up to over 1 million lbs U3O8 by 2015/2016," said Chang.
European Uranium Resources (TSXV:EUU) provided an update on the progress of the feasibility study for its high-grade Kuriskova uranium deposit in Slovakia.
Composite samples for ongoing metallurgical testwork have been shipped to AREVA's (EPA:AREVA) laboratory facility, where metallurgical test work will begin shortly. This test work is part of European Uranium's ongoing programs and studies to complete a feasibility study on the Kuriskova deposit. The results of this metallurgical test program will be used for flow sheet optimization and further development of design parameters and costing for the feasibility study.
Securities Disclosure: I, Melissa Pistilli, hold no direct investment interest in any company mentioned in this article.