Turkey's Dadas Shale: A World-class Unconventional Oil Play
Boasting a similar geological structure to that of the Woodford and Eagle Ford shales in the US, Turkey's Dadas Shale has the size and potential to ignite the country's energy sector.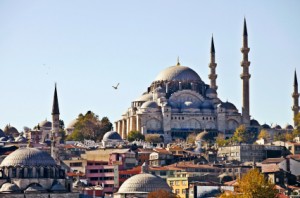 Turkey's importance, both as a regional energy transit hub and energy consumer, is growing.

In line with its economic expansion, Turkey's crude oil consumption has increased significantly over the last decade. With limited domestic reserves, Turkey imports nearly all of the oil it needs; however, with an increasing number of exploration firms targeting the region, that could very well change.
The latest US Energy Information Administration report on the country estimates Turkey's proven oil reserves at 270 million barrels, located mostly in the country's southeast region. Its oil production peaked in 1991 at 85,000 barrels per day (bbl/d), but then declined substantially before bottoming out at 43,000 bbl/d in 2004.
In 2010 and 2011, Turkey had one of the fastest-growing economies in the world — and with this economic expansion, its oil consumption grew. Despite this growth, the country's domestic production has not yet experienced a meaningful increase. However, that has not hindered analysts' optimism about the region; in fact, more and more exploration and production companies are being drawn to the country by one of the largest oil play discoveries in recent times.
The Dadas Shale
The Dadas Shale has the size and potential to ignite Turkey's energy sector, according to analysts. Boasting a similar geological structure to that of the Woodford and Eagle Ford shales in the US, the play has a huge amount of oil and enormous potential. Sizeable oil booms were launched by the discovery of the Dadas Shale's North American counterparts, and Turkey is looking to replicate that success.
The Dadas Shale is an "exciting shale oil play in Southeast Turkey that covers an area about the size of the Barnett Shale in Texas," Malone Mitchell of TransAtlantic Petroleum (AMEX:TAT,TSX:TNP) said in an interview with Oil & Gas Financial Journal, adding that it is Silurian in age and sits on top of the Bedinan sandstone. While a press release from Anatolia Energy (TSXV:AEE) notes that Turkey's national energy company, TPAO, estimates that 110 billion barrels of original oil in place exist in the Diyarbakir Basin, nobody has effectively managed to produce large amounts of oil from the Dadas Shale yet.
The potential of Dadas has already attracted attention from major oil companies, including ExxonMobil (NYSE:XOM) and Royal Dutch Shell (NYSE:RDS.A,LSE:RDSA), but the real story lies in junior firms. It is these juniors that are making serious progress in tapping Turkey's lucrative shale basins, and many are poised to enter the big league in the event that Turkish shale takes off.
Growing in appeal
From a political perspective, Turkey has recently adopted a more open and transparent stance regarding foreign investment. That was highlighted when TPAO signed an accord that allows Shell to explore for oil and gas in the Mediterranean Sea and onshore in Southeastern Turkey.
Oil & Gas Investments Bulletin (OGIB) notes in an article published earlier this year that the country has made itself appealing from an economical standpoint by implementing both a flat 12.5-percent royalty on oil produced and a 20-percent corporate tax rate, which together make its fiscal terms amongst the best in the world. Turkey also boasts extensive oil and gas transportation infrastructure, as well as seismic, drilling and other oilfield equipment that is available at competitive prices. Investors concerned about the stability of the country will also be pleased to note that it is a democratic, secular, constitutional republic, a G-20 major economy and a long-standing member of NATO.
Adding even more incentive is that Turkey's oil is better priced than that of North America. Oil from Turkey and the surrounding regions is priced using Brent crude pricing, which for some time now has averaged $20 more per barrel than the West Texas Intermediate benchmark.
Challenges
Despite these benefits, some factors, including a lack of access to Turkey's historical geological and production data, are still holding the country's oil sector back. While the national government has been generous with foreign oil and gas companies, it still maintains a tight lease on data that could potentially unleash its shale bounty.
In comments to OGIB, Anatolia Energy CFO Pat McGrath said that while all the other pieces are in place, the main question for the industry right now is: "how and when we will be able to access the old producing fields, now held by the national oil company. These fields hold great potential for re-activation using unconventional technology. In the meantime, the national oil company just maintains marginal production through conventional wellbores."
Active junior players in the region
Anatolia Energy is an international company engaged in the exploration and development of oil and gas assets in Turkey. The company is based in the heart of the major oil-producing Anatolia Basin, and according to its website, holds a large land position of well over 700,000 gross acres with its Turkish partner, Calik Enerji.
It is focused on four play types in Turkey, namely the Silurian Dadas shale-oil trend, Paleozoic Bedinan sand trend, Cretaceous Mardin strike-slip trend and Garzan reef trend. The company drilled its first well in the Dadas Shale last year, uncovering results that reveal much about the shale's potential.
Core analysis shows that porosity is between 2 and 10 percent, which proves the shale reservoir's capability to store hydrocarbons, according to drill results. Permeability of up to 1 millidarcy at reservoir pressure was also measured, affirming that the shale reservoir has the ability to naturally flow hydrocarbons. The quartz content ranges between 20 and 30 percent in most of the core samples, indicating a fairly brittle reservoir, the type that is preferred for fracture stimulation effectiveness.
Anatolia boasts massive upside in that its Turkish portfolio has 11.6 billion barrels of original oil in place; 47 million barrels of net unrisked prospective resources; a large diversity in acreage — 11 licenses in four play types (both conventional and unconventional); and no debt.
Transatlantic Petroleum is an international energy company engaged in the acquisition, development, exploration and production of oil and gas. It currently holds interests in developed and undeveloped properties in Turkey, Bulgaria and Romania.
The company holds 4.3 million acres in Turkey that include 57 onshore exploration licenses and nine onshore production leases, according to OGIB. It already has four operated rigs running: two in the Thrace Basin and two in Southeastern Turkey.
In its latest update, the company confirmed that it expects production during 2013, excluding any impact from exploration drilling, to total 1.8 to 2.1 million barrels of oil equivalent (boe), or an average production rate of between 5,000 and 5,700 boe per day. Crude oil is expected to account for approximately 60 percent of production volumes.
The company has also noted success at different depths of the Dadas play. Chad Potter, TransAtlantic's vice president of finance, told OGIB, "[w]e're coming at it from multi-play idea on each license; where there is stacked pay, all likely sourced from Dadas shale."
"Stacked pay" is an industry term for several underground oil formations located on top of each other. This type of formation allows producers to drill off several horizontal wells at different depths from one surface location, allowing them to lower costs and make production more profitable.
TransAtlantic boasts near-term potential in that production at its Molla license is expected to pick up in the first quarter of 2013. Another exploration well (Goksu-3H) was naturally flowing as of October last year, and additional horizontal drilling is planned. Production from Goksu-3H has continued at an encouraging rate, "averaging 425 bbls of oil per day over its first 30 days of production, 412 bbls of oil per day over its first 60 days of production, and 477 bbls of oil per day over a recent seven day period," according to the company's update.
The stock could rise in the short to medium term as the company implements an aggressive 2013 exploration plan that includes drilling 17 wells in the Tekirdag field area development program, eight wells testing the Hayrabolu structure area and 11 wells in other licenses. TransAtlantic has also allocated $15 million for seismic activities and infrastructure in the Molla area so that it can appraise both the Mardin and Bedinan discoveries.
Securities Disclosure: I, Adam Currie, hold no direct investment interest in any company mentioned in this article.