War, What is it Good For? Tungsten
Demand for tungsten in light bulbs is being phased out; however, there is another place for tungsten mill products that doesn't get discussed much in polite company: war.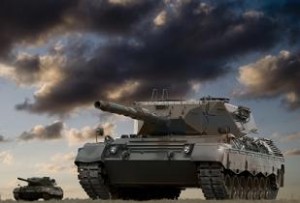 Think of tungsten and a light bulb should come to mind. No, I don't mean like when a cartoon character has a bright idea — I'm talking about a plain, screw-in light bulb.
For the uninitiated, filaments for light bulbs are one of the most common uses for tungsten — mill tungsten, to be exact. But with regular light bulbs being phased out, there is another place for tungsten mill products that perhaps doesn't get discussed much in polite company: war.
That's right. Mill tungsten products fit the bill when it comes to making armor, missiles and bullets.
A little history
During World War I, tungsten was established as a strategic military metal. However, it was only years later that military requirements skyrocketed, spurred in part by Germany's introduction of tungsten carbide armor-piercing shells. As Tungsten: The Story of an Indispensable Metal explains, having tungsten carbide at the core of projectiles allows them to pierce the walls of "armored tanks virtually as if they were paper, and having penetrated, scattered lethal pieces of most intense heat and destruction."
Indeed, all types of military tools — tanks, guns, shells and missiles — depend on tungsten. It was back then — and still is — a vital metal during times of war.
Why tungsten?
Tungsten is quite literally a heavy metal. Put simply, one square inch of tungsten is almost two times heavier than a lead cube of the same size. Tungsten is also almost three times heavier than iron.
Another point in tungsten's favor is its hardness. When added to other metals, like nickel, iron and cobalt, stronger alloys are created. Further, of all the metals, tungsten has the highest melting point, meaning that when it's combined with other metals, their heat resistance can also increase.
Given those characteristics, it's hardly surprising that tungsten can be destructive if you package it into a projectile and send it barreling at high speed into another metal. Indeed, speaking to BBC News, military analyst Robert Kelley said that "tungsten makes very good bullets," adding, "[i]f you introduce tungsten into your bullets you've got to introduce tungsten into your armour"
The BBC goes on to explain that since tungsten was first used in wartime applications, there have been some changes. One of those is the creation of "kinetic bombardment" weapons. These new projectiles are in essence missiles that work without explosives, which means using them involves "firing what are, in effect, spears of tungsten at incredible speed towards your target." These projectiles can cause mass devastation in a very localized area.
So what?
Given its diverse applications, tungsten is still very much a strategic metal for most countries, especially due to the fact that the majority of it comes from China, where export quotas are in place. Securing tungsten supply outside of China is thus imperative. However, though there are a few companies either gearing up for tungsten production or producing it already — including Wolf Minerals (ASX:WLF), Largo Resources (TSXV:LGO), North American Tungsten (TSXV:NAC), Carbine Tungsten (ASX:CNQ) and Almonty Industries (TSX:AII) — investment in tungsten projects is significantly down.
That lack of tungsten investment is partially due to the fact that lately tungsten prices have been down around the $370 metric ton unit mark, which, while reasonable, isn't necessarily ideal for companies looking to kickstart their projects. In addition, tungsten is also not a very glamorous metal like gold; some have even gone as far as to call it misunderstood.
That said, the future looks bright for tungsten, as Mark Seddon highlighted in a recent Mining Report interview. He estimates that new supply is bound to enter the market only in mid-2015, with production shortages resulting in rising prices until at least 2016 to 2017. Seddon believes that to counteract that upcoming shortage, "[p]retty much one major new project [will need to] com[e] onstream every year."
Unfortunately, the impending lack of tungsten supply could impact the military, especially given that the United States has sold off most of its tungsten. So, in the spirit of preparedness, investing in tungsten is likely to prove a strategic move.
Securities Disclosure: I, Vivien Diniz, hold no direct investment interest in any company mentioned in this article.
Related reading:
Tungsten Demand on a Downswing to 2018; Non-Chinese Tungsten to be Significant