10 Top Countries for Magnesite Mining (Updated 2023)
Mar. 21, 2023 01:45PM PST
Magnesium Investing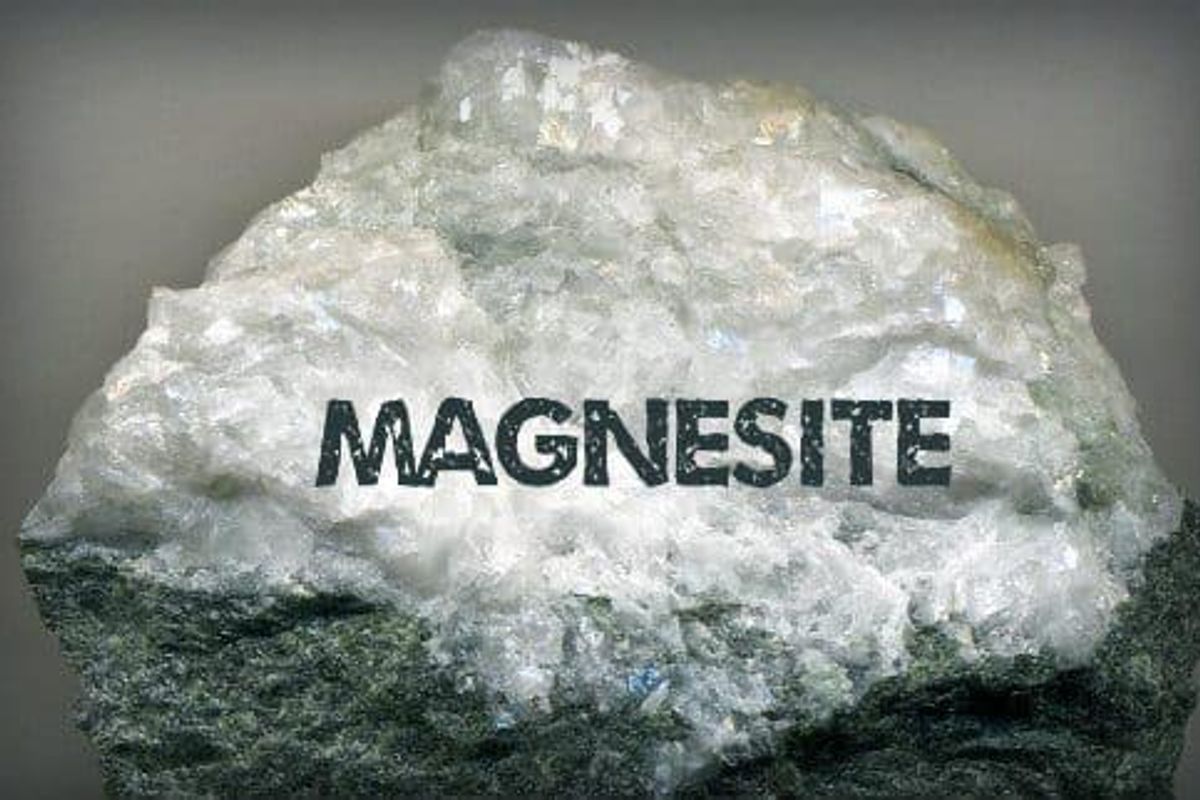 Here's a look at the top countries for magnesite mining in 2022, as per the most recent data from the US Geological Survey.
Magnesite, an industrial metal, plays a key role as a refractory material in steel fabrication, as a catalyst and filler in the production of synthetic rubber and as a material in the production of magnesium chemicals and fertilizers.
The global magnesite market had an estimated value of US$3.8 billion in 2022, and is projected to reach US$4.5 billion in 2030 on rising demand from the construction, chemical, metallurgical and automotive industries.
The US Geological Survey estimates that worldwide magnesite resources stand at 13 billion metric tons (MT). Worldwide, magnesite production reached 27 million MT in 2022, down from 29 million MT in the previous year.
---
While Russia dominates in terms of magnesite reserves, China leads the world in magnesite production. Here the Investing News Network looks at the top countries for magnesite mining.
1. China
Mine production: 17 million MT
China is the world's top country for magnesite mining by far, accounting for roughly 63 percent of worldwide output. The country's production decreased slightly last year compared to 18 million MT in 2021. The Asian nation is also the principal exporter of the material to the US and many other markets across the globe.
China also represents a major market for magnesite in its own right, accounting for about 65 percent of total global consumption. However, strict environmental regulations in the country have resulted in the closure of several key magnesite mines.
2. Australia
Mine production: 2.6 million MT
Australia's magnesite production has risen steadily in the past few years, moving it up from near the bottom of the list of top magnesite-mining countries to the second spot. In 2022, the nation recorded a slight decrease in magnesite-mining output — its production fell to 2.6 million MT from 2.7 million MT the previous year.
Private company Queensland Magnesia is responsible for the bulk of Australia's magnesite production. Some examples of magnesite-focused junior mining companies operating in Australia are Korab Resources (ASX:KOR) and Volatus Capital (CSE:VC).
3. Turkey
Mine production: 1.8 million MT
Next is Turkey, whose magnesite output came to 1.8 million MT in 2022, just 100,000 MT fewer than it produced in 2021. Magnesite production in the country has significantly decreased in recent years, falling from 2.7 million MT in 2017.
Turkey has a long history of magnesite mining, both for export and for use at domestic refractories. Akdeniz Mineral Resources, a joint venture with private company Grecian Magnesite, is a large producer and exporter of caustic calcined magnesite products.
4. Brazil
Mine production: 1.5 million MT
Brazil's magnesite production has remained relatively flat in recent years, although 2022 production levels decreased by 100,000 MT over 2021. A critical point in Brazil's magnesite industry came in 2017 with the merger of RHI of Austria and Magnesita Refratários of Brazil to form RHI Magnesita, which then became the world's largest refractory materials producer. RHI Magnesita is also reported to own the largest magnesite reserve outside of China.
5. Russia
Mine production: 950,000 MT
Russia's magnesite-mining output has dropped significantly in recent years, sinking from 1.5 million MT in 2020 to 950,000 MT in 2022. The country hosts the largest reserves of magnesite in the world, coming in at 2.3 billion MT.
One of the key players in the Russian magnesite space is Magnezit Group, which is actively working to expand production capacity at its Kirgiteiskoye and Talskoye deposits by overhauling existing facilities and building new facilities.
6. Austria
Mine production: 800,000 MT
Austria's magnesite mining output has remained relatively flat in recent years, with levels in a range of 760,000 MT to 800,000 MT. Austrian magnesite producer Styromag operates five mines in the country; it produces roughly 120,000 MT of material per year.
7. Spain
Mine production: 620,000 MT
Spain's magnesite output has more than doubled since 2016, coming in at 620,000 MT in 2022. Spain's Magnesitas Navarras is a leading European magnesia producer.
8. Greece
Mine production: 510,000 MT
Greece produced 510,000 MT of magnesite in 2022, a decrease of 40,000 MT from the year before. The country is home to one of the top magnesia producers in the world, Grecian Magnesite, which has facilities in Spain, Turkey and the Netherlands. Greece's magnesite mines and production facilities are located in the Chalkidiki peninsula in Northern Greece.
9. Slovakia
Mine production: 480,000 MT
Slovakia produced 480,000 MT of magnesite in 2022, a slight decrease of 20,000 MT versus what it produced a year earlier. Slovakian producer SLOVMAG is majority owned by Russia's Magnezit Group. It specializes in mining magnesite ore and producing refractory products from sintered magnesia.
10. Iran
Mine production: 190,000 MT
Rounding out the list, Iran put out 190,000 MT of magnesite in 2022, down by only 10,000 MT from the previous year. Magnesite ores are widely distributed in Iran, with significant resources in the provinces of East and West Azarbaijan, Hamedan, Kermanshah, Fars, Kerman, Semnan and Sistan-Baluchestan.
Don't forget to follow us @INN_Resource for real-time news updates!

Securities Disclosure: I, Melissa Pistilli, hold no direct investment interest in any company mentioned in this article.
Investing News Network websites or approved third-party tools use cookies. Please refer to the cookie policy for collected data, privacy and GDPR compliance. By continuing to browse the site, you agree to our use of cookies.