For lithium investors the strong focus of technological innovations, including the latest in electric hybrids, pure electric solutions and hydrogen-powered models have already made the event a success as a showcase of both advanced concept models in addition to a more immediate term, and practical product display.
By Dave Brown – Exclusive to Lithium Investing News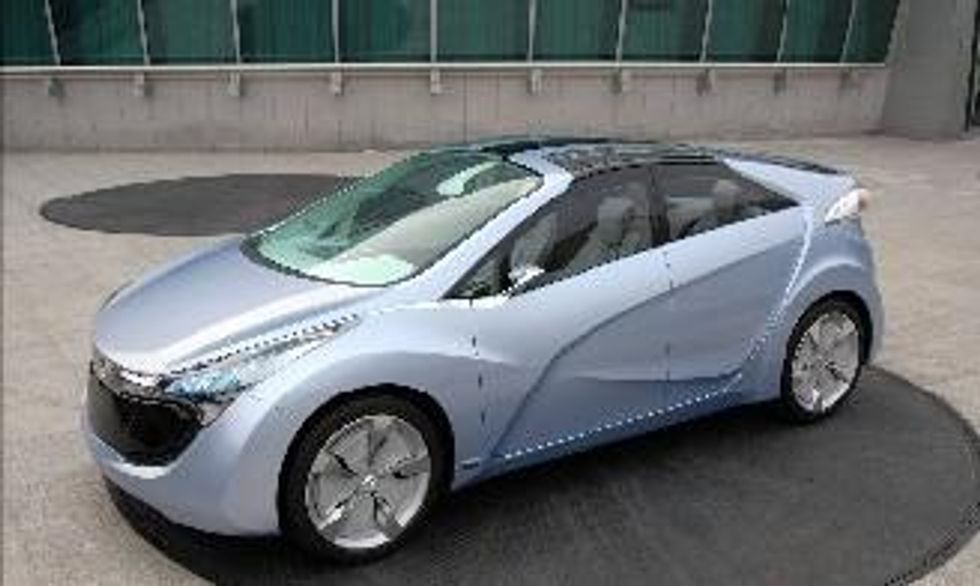 The slick marketing campaign of the 2011 Canadian International Auto Show promises a remarkable destination, as "a unique journey that can be summed up in three simple words: Discover. Connect. Experience." This week, the Toronto Auto Show is marking its 38th edition and since 1974 the content has expanded and improved, with attendance growing from the inaugural 85,000 to an expected crowd of more than 300,000.  It is the largest consumer show of any kind in Canada in both size and attendance. Last year, the attendance was reported at 258,652, which improved on the previous year's total of 253,384. In total, the show boasts over 125 exhibitors with approximately 1,000 cars and trucks on display and an estimated value of the exhibits at $60-million with another $30-million for the vehicles, not including the classic car exhibit; some of which are priceless.
For lithium investors the strong focus of technological innovations, including the latest in electric hybrids, pure electric solutions and hydrogen-powered models have already made the event a success as a showcase of both advanced concept models in addition to a more immediate term, and practical product display.
Hyundai:  From discovery to experience or from concept into production
The Hyundai (SEO: 005380) Blue-Will concept vehicle is an advanced technology plug-in hybrid capable of travelling up to 64 km on electric power. The Blue-Will is expected to achieve an estimated 2.2 l/100 km attributed to its cutting-edge fuel economy features, which include roof-mounted solar cells and a proprietary thermal energy recapture system.
In an interview with Lithium Investing News, Chad Heard, Public Relations Manager for Hyundai Auto Canada Corp. indicated that the Blue-Will concept is primarily a styling and engineering exercise, and  "while a Concept Car isn't subjected to the same level of quality and durability testing that a production car is, the project is none-the-less an involved one and does illustrate the company's engineering capabilities."
Developing new vehicles requires a significant investment of time and resources and according to Heard, Hyundai is demonstrating a serious commitment to competing in the EV area with advanced powertrains like the Sonata Hybrid, "the Sonata Hybrid powertrain was developed to be modular, making it easier to implement in future applications."
For lithium investors the outlook seems compelling, "Hyundai really sees the Lithium-ion polymer batteries in the Sonata Hybrid to be the future of advanced electric and electric-assist vehicles. That's why we were the first auto maker to bring this type of battery to the market in a hybrid electric vehicle and it will be a key component to help Hyundai remain a leader in fuel efficiency and environmentally-conscious transportation."
Mitsubishi: Four decades worth of electric vehicle (EV) research and development
The new 100 percent lithium battery-powered 2012 Mitsubishi Motors (TYO:7211) i-MiEV for the North American market was developed based on a gasoline-powered "I" car, a practical four-door model in the Japanese market.  The zero tailpipe emission i-MiEV will be the first North American production vehicle to be powered by a proprietary "Mitsubishi innovative Electric Vehicle" (MiEV) technology, described by the manufacturer as "cutting edge drivetrain engineering that will serve as the basis for future environmentally-friendly vehicles." Conventional automotive systems, including the gasoline engine, transmission and a fuel tank are replaced by advanced components including a lithium-ion battery pack, electric motor and an efficient battery charging system.
The PX MiEV showcases several technologies that are likely to find there way into future Mitsubishi products. The concept PX MiEV is a plug-in hybrid that combines extended cruising range with vastly improved performance over gasoline-only vehicles, all in a midsize package.
Lara Brown, Manager of Public Relations for Mitsubishi Motor Sales of Canada, demonstrated confidence of the long term commitment that Mitsubishi has made to this aspect of transportation, "The EV is the ultimate eco-car, providing a solution to all the issues of atmospheric pollution, global warming as well as freeing us from our dependence on oil. It is our belief that the EV will become the mainstream vehicle in the future and we remain unchanged in that belief. For this reason, we have concentrated our management resources on the EV."  The reception of these models at trade shows and other proprietary market research by Mitsubishi has also proven a success, "our Clean Across Canada Tour in the Fall of 2010, trade shows and consumer events have allowed Mitsubishi to educate and inform the public about our EV and environmental initiatives. North America has a strong market of EV's and we are excited to become a part of it in 2011 when our i-MiEV arrives in Canada."
Other electric vehicles and hybrids at the show
FORD MOTOR COMPANY OF CANADA
Focus BEV
The Ford (NYSE:F) Focus Electric is the first fuel-free, rechargeable passenger car from Ford. The zero-CO2-emissions, gasoline-free version of Ford's popular small car is the flagship of the company's growing fleet of hybrid, plug-in hybrid and all-electric vehicles coming to North America and Europe by 2013. A full recharge is expected to take three to four hours at home with the 240-volt charge station. The Focus Electric will be powered by an advanced lithium-ion battery system engineered by Ford in cooperation with supplier LG Chem,(SEO:051910). The battery system utilizes heated and cooled liquid to help maximize battery life and fuel-free driving range.
GENERAL MOTORS OF CANADA, LTD.
2012 Chevrolet Volt
Chevrolet Canada is introducing the 2012 Volt electric vehicle with extended range, establishing a five-door, four- passenger automobile "designed to provide the benefits of an electric vehicle without the range limitations associated with other electric vehicles in the market." The vehicle was engineered, built and delivered to customers in 29 months, before going on sale in the US. The Volt will go on sale at Chevrolet dealers in Canada in the summer of 2011.
2012 Buick LaCrosse eAssist
The 2012 LaCrosse with eAssist features a new fuel-saving technology. In comparison to the four-cylinder/six-speed powertrain in the 2011 LaCrosse, the eAssists uses a state-of-the-art lithium-ion battery system and electric motor-generator to enable regenerative braking capability to improve fuel efficiency by up to 24 percent, according to the company. The eAssist technology is estimated to provide a class-leading highway fuel consumption rating of 5.4l/100km, while maintaining the legacy expectations of Buick's flagship sedan. The eAssist system will be available this summer.
KIA CANADA INC.
2011 Optima Hybrid
After extensive research and development, Kia will soon be introducing its first hybrid vehicle. According to the company, the model will feature a parallel drive system, using a state-of-the-art lithium polymer battery that is lighter and smaller than those used by 2010 Toyota, Ford and Nissan midsize hybrid sedans.
NISSAN / INFINITI
2011 Nissan LEAF
The 2011 Nissan Motor Co (TYO:7201) (PINK:NSANY) LEAF is billed as "the world's first affordable, zero-emission car that will usher in a new era of mobility when it goes on sale in Canada later this year." The Nissan LEAF is an all electric drive, medium-size hatchback that seats five and has a range of 160 kilometres (EPA LA4 cycle) on one full charge.
2012 Infiniti M35h
The 2012 Infiniti M35h employs a 3.5-litre DOHC 24-valve V6 engine combined with a 50 kW electric motor in order to provide a hybrid system net power of 360 horsepower. The company reports that it can drive on electric power alone at speeds up to 100 kilometres per hour and can travel on electric propulsion for up to 1.9 kilometres. Company tests have shown that in mixed diving, the Infiniti M35h is able to drive in electric-only mode for as much as 50 percent of the time.
SUBARU
Hybrid Tourer Concept
The Subaru Hybrid Tourer concept car on display at the Auto Show in Toronto highlights Subaru's announcement of a new gas/electric hybrid system based on Subaru's boxer engine. The powertrain features a gas/hybrid two-motor system with an electric power/drive motor in the front and another drive motor in the rear. The electric motors are powered by new high-performance lithium batteries. Powering the Hybrid Tourer is "a 2.0-litre horizontally-opposed direct fuel-injection turbo gasoline engine that improves fuel efficiency and reduces emissions. The turbo is mated to Subaru's Lineartronic (CVT)."
Featured
Investing News Network websites or approved third-party tools use cookies. Please refer to the  cookie policy for collected data, privacy and GDPR compliance. By continuing to browse the site, you agree to our use of cookies.