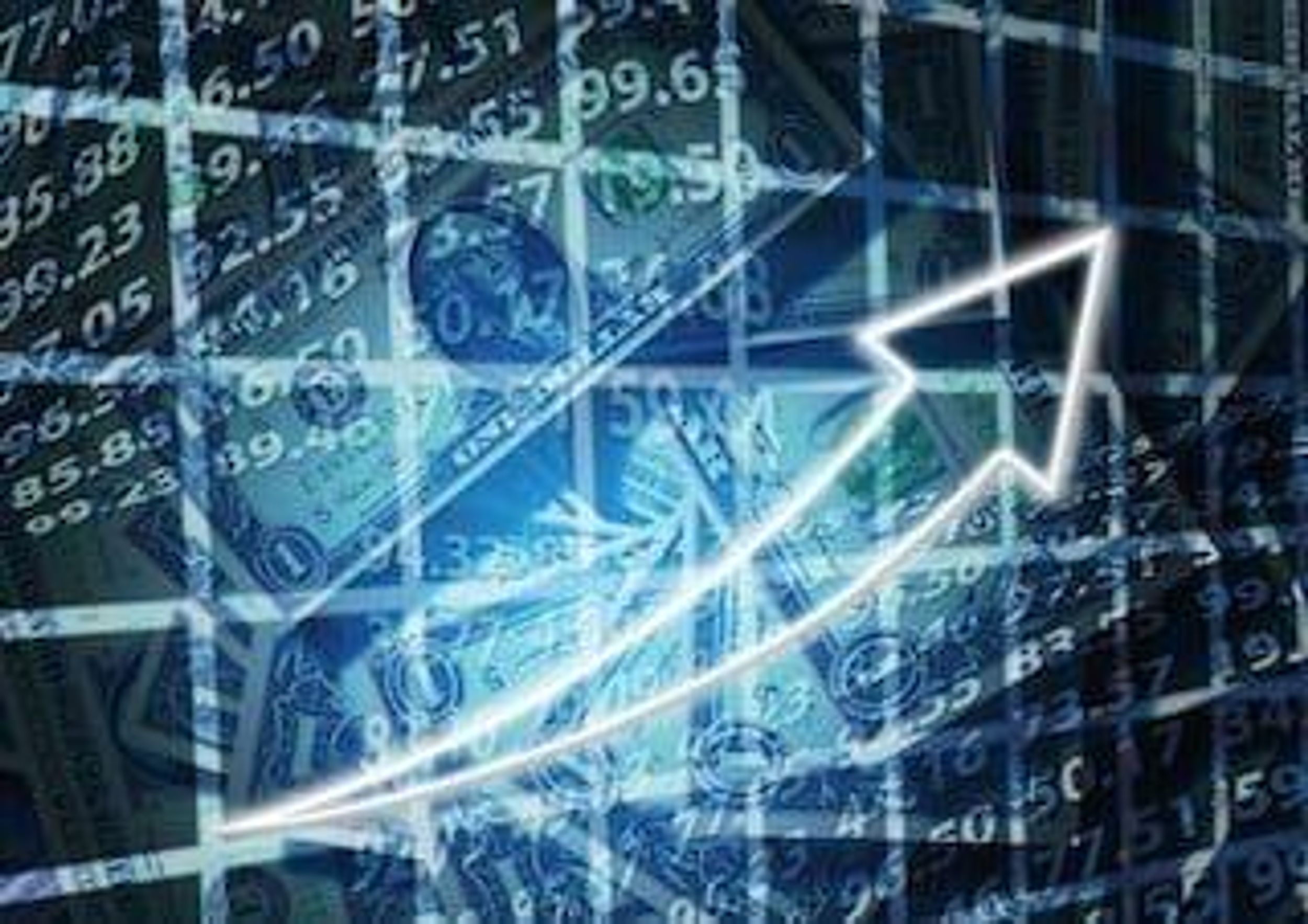 A slew of lithium-focused companies enjoyed strong returns during Q3, but what does the landscape look like going forward?
With Q3 2017 coming to a close, we thought we'd look back on the quarter, since it has certainly been a great one for existing and potential lithium producers. Many of the names, particularly the non-Aussie producers in the space were already enjoying a great year coming into July. But that was nothing compared to the liftoff we saw this quarter. Below, you can see a handful of companies that have enjoyed strong returns, and their performance in the quarter.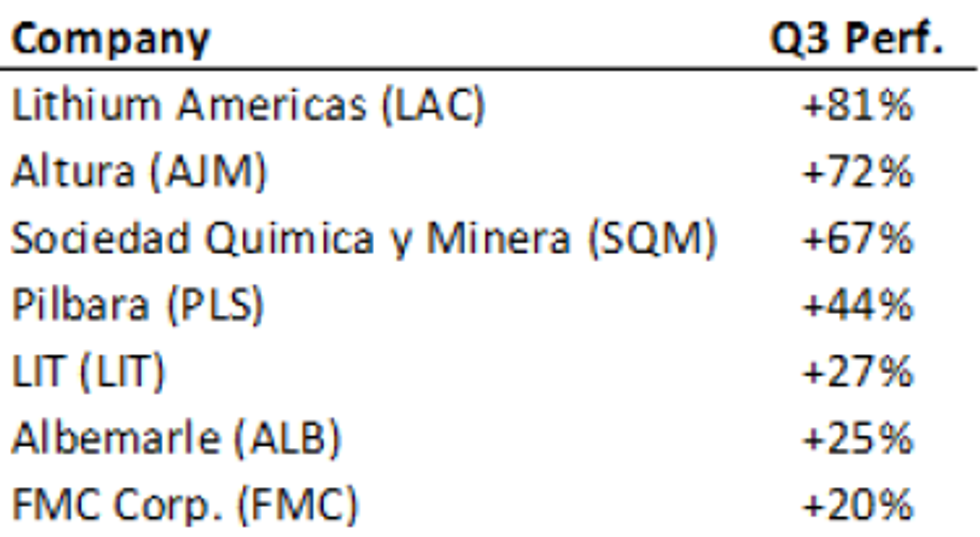 How'd they fare?
All of the above stocks delivered impressive results, with Lithium Americas leading the pack. Altura, which has done a great job getting broader exposure to investors, was right behind them. Additionally, we thought it was interesting to note that passive investors (via the LIT ETF), while not faring better than everyone, did manage to beat investors of ALB and FMC.
In the quarter, FMC and Albemarle were the first to report earnings. And while both posted strong results, FMC continued to rip higher while ALB endured a much needed pullback. However, investors quickly bought the dip allowing the stock to recover promptly. Furthermore, the stock broke out right after SQM's investor day. In fact, if we look at the charts of many of the above stocks, they all took a turn higher on that same day. It looked like a big buy program swept through the lithium stocks as a result of the positive sentiment generated from the investor day.

Where do we go from here?
While this momentum is fun and exciting for investors who are already in the names, we asked ourselves what the landscape looks like going forward. Well, for starters, while we don't think valuations are outrageous, it's definitely reasonable to believe that they are a bit ahead of themselves after the run up. And it looks like many market participants agree with that sentiment, as the bigger gainers have come off of their highs (SQM was up 93% and LAC over 100% at their peaks).
However, whether shorter term investors ran for the exits, or longer term players decided to trim their positions, in our opinion the overall longer term story is still in tact. And as more and more investors start to learn about the lithium story and enter the trade, it's quite possible that we see more run-ups like the one we exhibited this past quarter. So while it's never a good idea to buy into the momentum, investors who believe in the story and are waiting for an opportunity to enter, might find it beneficial to take a look at their preferred lithium stocks on pullbacks. Alternatively, for those believing that the run up is madness, and that lithium is just another fad, the opposite may well be true. These individuals can use the rips to build short positions.
And as always, for help in the research process, readers can check out our valuations and overall thoughts on these companies through our company specific analyses (see Altura, and Albemarle pieces) as we continue to roll them out over the coming weeks.
As a reminder, our thoughts are 100% our own, and should not be taken as investment advice. Investors should do their own due diligence prior to making investment decisions.
By Shrey Patel and Jonah Raskas of The Lithium Spot
About the authors — Jonah's passion for the Lithium space is fueled around Market Research, valuation and of course, making some smart investments! His passion for Market Research started out early on his career when he worked in the White House's SpeechWriting office. There, Jonah was tasked with researching for the President's and Vice President's speeches on a diverse set of topics ranging from Defense to Agriculture to Policy Announcements. Following that, Jonah's career took a turn to Wall Street where he worked for two separate investments banks. It was there that he worked on the capital markets desk getting an up close sense of valuation and the market. He worked on many different offerings ranging from IPO's to Secondary offerings as well as in depth analysis on a wide range of companies. Most recently, Jonah's core strength of market research has helped him earn widespread praise from a variety of consulting and MBA internship opportunities. Having just completed his MBA at the Gabelli School of Business (summa cum laude) in Marketing & Accounting, Market Research is again at a focal point for his job in Brand Management for a Fortune 500 company.
Shrey's interest in Lithium began when he was asked to cover the space during his time on the specialty chemicals team at GAMCO Investors. Interning for a well-respected analyst, and a famed value investor, he learned a tremendous amount while researching and writing an in-depth industry report on the rapidly emerging Lithium sector, and covering Albemarle Corporation. With an undergraduate background in Biomedical Engineering and Economics from UNC (University of National Champions!), and an MBA in Finance and Accounting from the Gabelli School of Business, Shrey approaches the industry from both a technical as well as a business perspective. This background also affords him the ability to get into the nitty-gritty fundamentals while maintaining a perspective on the broader, global interconnections of the industry and economy. Through his time on both the buy and the sell-sides, as well as his experience managing capital raised from friends and family, Shrey brings tremendous research and investing insight to the table.
Source: thelithiumspot.com
Featured
Investing News Network websites or approved third-party tools use cookies. Please refer to the cookie policy for collected data, privacy and GDPR compliance. By continuing to browse the site, you agree to our use of cookies.